Coal and oil will remain key energy commodities well into the 21st century, but I expect natural gas to increase its share of the global energy mix substantially. The long-term drivers of demand for natural gas are twofold: relative abundance and environmental friendliness.
The rapid development of massive U.S. unconventional natural gas plays has changed the supply outlook for the world's largest gas consumer. Just a few years ago, most forecasted that the U.S. would need to import ever-larger quantities of liquefied natural gas (LNG) to meet growing demand; domestic supplies were dwindling, and Canada would no longer be able to supply enough gas via pipeline to meet demand.
In recent quarters, America's problem has been one of too much natural gas; as recently as two months ago, many investors fretted over the potential for U.S. gas storage to reach capacity. A severe economic downturn crippled domestic demand for natural gas conspired with a surge in supply from unconventional gas plays to test the limits of U.S. storage facilities.
A drilling boom amid high gas prices in early 2008 meant there were a large number of new wells feeding gas into the country's storage facilities through much of 2009. U.S. gas production didn't top out until February, according to data from the EIA. That production decline didn't stem from a lack of reserves, but low prices that prompted producers to sharply reduce drilling activity through late 2008 and early 2009.
Thanks to abundant domestic supply, U.S. imports of LNG have remained subdued in recent years.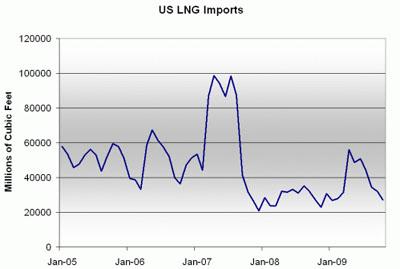 Source: EIA


U.S. natural gas prices remain around USD$5.50 per million British thermal units (BTU), less than half their 2008 highs. This is shocking given that U.S. gas storage is slightly below the five-year average, thanks to a prolonged patch of frigid temperatures across the country. Only a few weeks ago, most analysts expected storage levels to be well above average at the end of this year's heating season.
There are also longer-term demand-side drivers for gas. Gas emits 50%–60% less CO2 than coal to produce the same amount of electricity. And gas emits far less of other pollutants, including sulfur dioxide, nitrous oxides and mercury. This makes it the fuel of choice for electricity generators looking to build new capacity amid uncertainty over future carbon and environmental regulation.