It isn't rocket surgery. Gold appeals—and thus rises—when the better alternatives don't. . .
DURING THE 1980s
and '90s. . .when U.S. consumer prices rose at what would have been record rates if it hadn't been for the '70s. . .the price of gold fell by three-quarters.
Peering back at the recent past therefore, analysts and economists all agree:
When looking for a sure-fire "inflation hedge," you surely won't find it in gold.
Thing is, however, U.S. investors and savers didn't need an inflation hedge back in the 1980s and '90s. Not in
gold
, at least. Because the better alternatives—productive assets such as real estate and stocks. . .or the "risk-free" assets of cash, Treasuries and investment-grade bonds—all paid way more than inflation anyway.
Who needs a lump of dumb metal if just holding cash pays 4.5% real returns each year on average, as it did in the '80s?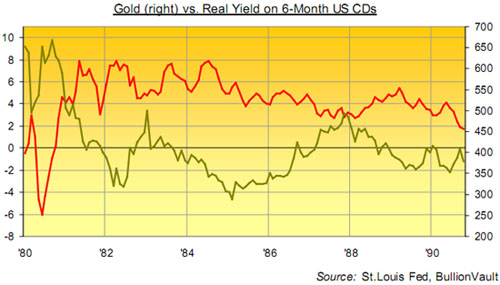 Why bury your savings in a rare, deeply liquid but unyielding asset when stocks keep rising by one-fifth per year—and paying a 2.4% yield each year on top—as they did in the '90s. . .?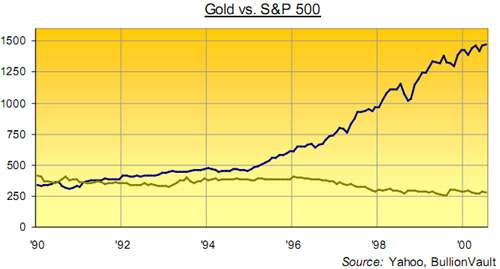 And why buy and hold anything else when stocks, cash, bonds and property all fail together, as they have so far this century. . .?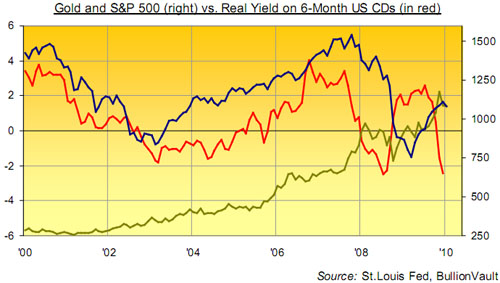 It isn't rocket surgery. In two of the last four decades, people have twice turned to
buy gold
. . .pushing the price higher. . .when alternative stores of wealth failed at the task. During the intervening two decades, gold wasn't required.
And today? Second-guess where the major alternatives will head—cash, bonds, stocks and real estate—and you might just work out what to do about reliably rare, indestructible gold.
Adrian Ash
BullionVault
Gold price chart, no delay
|
Buy gold online at live prices
Formerly City correspondent for The Daily Reckoning in London and head of editorial at the UK's leading financial advisory for private investors, Adrian Ash is the editor of Gold News and head of research at BullionVault —winner of the Queen's Award for Enterprise Innovation, 2009—where you can buy gold today vaulted in Zurich on $3 spreads and 0.8% dealing fees.
(c)
BullionVault
2010
Please Note:
This article is to inform your thinking, not lead it. Only you can decide the best place for your money, and any decision you make will put your money at risk. Information or data included here may have already been overtaken by events—and must be verified elsewhere—should you choose to act on it.