I predicted on December 4th for my partners that gold could pullback to the $1,040 to $1,070 U.S. ranges, with a minimum of $1,070 likely. So far the gold pivot lows have been to $1,074, bounced up, retraced to $1,090, ran to $1,145, retraced to $1,090 again. I got the partners in my service out of several gold positions issuing 'take profit' alerts on the B wave bounce to $1,135 recently, and we have held a few.
Gold now appears to be in the C wave down in this corrective pattern from the Dec 3 highs. It appears to me the $1,040 U.S. target is more likely now, and possibly lower. I have a GLD ETF chart below.
I see a gap at 102.50 on the GLD chart, and there is a chance that will fill. This would represent a 50% Fibonacci pullback of the entire advance from April 2009 into December 2009. A 61% retracement would push gold even lower towards the 97–98 areas on the ETF. I would not be going long gold right now until we see the patterns complete. I would also avoid going long gold stocks just yet. They will bottom before gold bottoms, but the timing is still off.
The dollar is likely to bounce a bit further and a break over 79 on the dollar to the upside certainly leads to another leg down in gold.
With that said, we will monitor some gold stocks for some washout pivot lows to possibly trade into at the right time. I have avoided getting back into GSS, for example, because the chart is not yet right.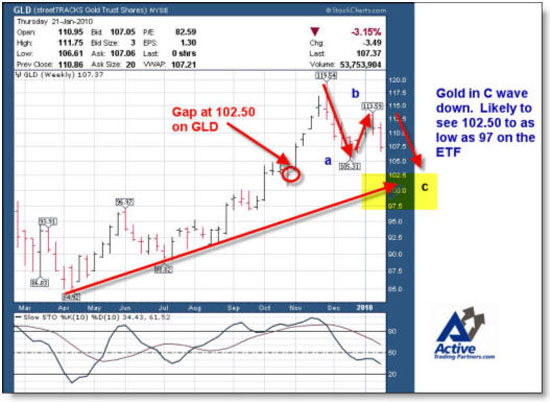 Dave Banister is the Chief Investment Strategist and commentator for
www.ActiveTradingPartners.com
.