A forecast for Comex Gold sent out to subscribers Monday night came within a dime of nailing the low of yesterday's $33 plunge. That's the good news, and some subscribers evidently were able to make hay with the prediction. The bad news is that it looks doubtful that the 1106.80 print that marked the February contract's intraday low will hold, given the recent strength in the U.S. dollar. You can see how powerful the greenback's uptrend is in the chart, below, of the NYBOT Dollar Index. Yesterday the index scored its most impressive gain in six weeks, rallying to within a hair of a "Hidden Pivot resistance" at 78.69. The actual high was 78.45, and although it could turn out to be an important top, this looks doubtful given the shallow pullback that has occurred so far. If the resistance point is decisively exceeded today, however—say, by 0.10 points or more—or if it is exceeded on a closing basis for two consecutive days, we'd infer that the rally is bound for at least 80.78—roughly three percent above current levels.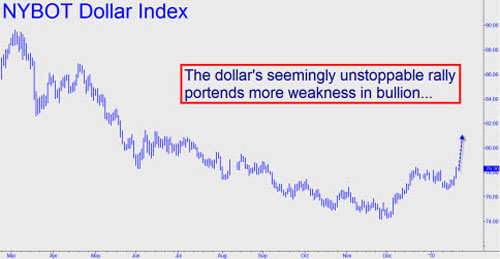 Gold (and silver) would likely come down hard if that were to occur, continuing a correction begun in early December from around $1227 an ounce. The correction has already gone as low as $1,075 (basis the February contract), but renewed weakness in the precious-metals sector could easily create a lower low.
Suffice it to say, if the dollar Index were to reach the 80.78 target, the corresponding pullback we might expect in gold would be even larger in percentage terms than the dollar's gains.
That said, we should mention that we see any prolonged bout of weakness in gold and silver as a buying opportunity, since our long-term outlook for both remains quite bullish.