2009 saw the FTSE Industrial Metals and Mining sector return more than 350% for the year. The dollar index fell by 4.2% and gold raced to a new record of US $1,226, eventually dropping to a 24% gain over the year.
In summary, 2009 has been a phenomenal year for gold. BUT will this success pass over to 2010?
This year is truly the major test. It's the year we've been waiting for, the one that could spell out what will happen for the years to come.
The new year brings with it mixed signals. Analysts have come out with their usual price predictions for 2010. But we don't think you should pay much attention to them. This year—more than any other—will be filled with turn of events that will dumbfound analysts.
Last week we saw the markets first real movement in 2010. News that China's banks had lent out close to $88 bn in the first week of January 2010 (which is not far off last year's monthly average) was met with typical Chinese swiftness in action. China had decided to act to tighten monetary policy sooner rather than later.
In reaction the gold price and equity markets across the world fell. The graph below shows the price of gold reacting to the news from China. But just as before, buying support for gold came through to buoy the price above US$1,100.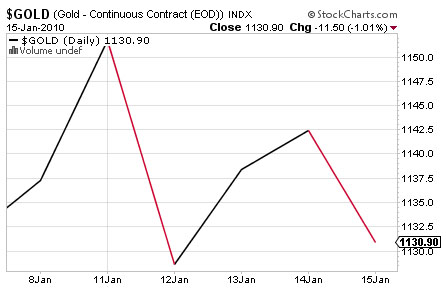 The weekly movement highlights the volatility of gold at the moment.
The three major questions overhanging this year's gold price are:
When will governments raise interest rates?
What will happen to the USD?
How will governments handle the quantitative easing policies they've put into action over the last year?
At the moment nothing is clear, and as long as it stays that way it is good news for gold. Gold thrives in times of uncertainty and turmoil.