On Friday, as the markets around the world awaited the most important economic indicator—the U.S. non-farm payrolls—gold held steady and off its lows posted at the beginning of the year. Then, when these figures were released and showed a loss of 85,000 jobs (worse than analyst's expectations), the markets reacted accordingly. The USD quickly lost some 100 pips against the Euro, and gold shot up almost $20. While I think the move in gold was perhaps a little overdone, what it shows is that this market wants to move higher.
While numerous analysts suggest that gold is in a bubble, the only bubble I can see is in bond prices. And, to me, the 2009 surge in U.S. Treasuries represents a bubble that will soon burst. In order to combat the worst recession since WWII, the Fed reduced the policy rate to an unprecedented low level and implemented a series of quantitative-easing policies. As a consequence, these monetary policies have created huge fiscal deficits and the status of the USD as the world's reserve currency is now at risk. What is so difficult to comprehend about this? You cannot spend your way out of a recession, and you cannot create an abundance of money out of thin air without debasing your currency.
There is no doubt in my mind that as we progress through this year, as we see global economies slowly recover, we will see further downgrades of numerous countries, we will see continued buying of gold from various central banks, investors will continue to diversify their portfolios into gold via purchases of bullion and gold ETFs, and the dollar will resume its downward trend.
Technicals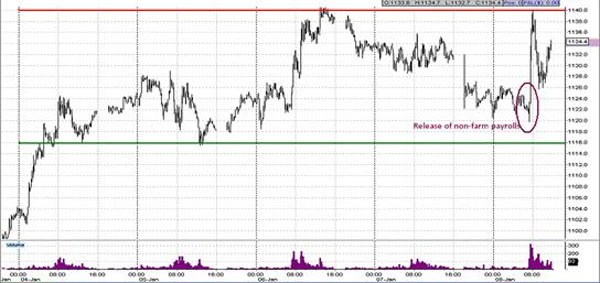 Almost as soon as the non-farm payrolls figures were released, the gold price soared US$20 on the back of a weakening USD. It looks as if gold has corrected from after posting a recent low of $1,075 and the upward trend is about to resume. However, there is a good chance that gold may trade sideways between $1,140 and $1,116 before breaking through $1,140. I believe a retest of the previous high of $1,225 is now imminent.