The first United States Mint numismatic product sales report in 2010 shows rising demand for silver coins, despite a holiday shortened week. The increases break a three-week trend of softening sales, with the latest levels nearing those that were last seen toward the middle of December.
The 2009 Silver Proof Set enjoyed the most collector attention. Weekly numbers increased by 7,021 compared to the prior pick up of 6,465. The U.S. Mint has sold 641,775 of the 18-coin sets since they were launched on July 17 for $52.95.
U.S. Mint authorized purchasers scooped up another 217,000 of the 2009-dated American Silver Eagle Bullion Coins during the last seven days (131,000 since Jan. 1), bringing the total sold since last year to 28,897,500. The eagles are being rationed due to a shortage of inventory, which means weekly sales increases do not dictate true demand. Still,
Silver Eagle Sales in December
came in as the fourth best month in 2009, and ranked as the second best December ever. Demand is obviously strong.
Most of the 2009 silver coin products are either sold out or no longer available, as the following tables of sales highlights.
U.S. Mint Collector Silver Coins Sales
(Sales compare previous to current Mint figures) .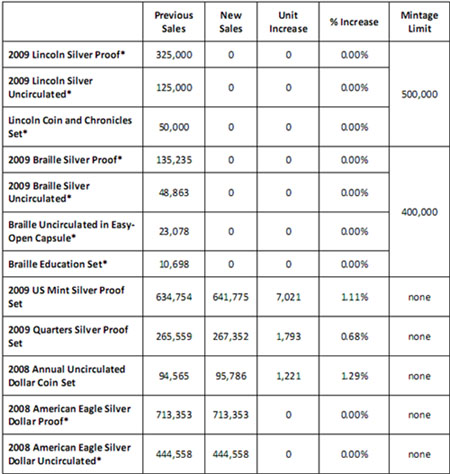 *Silver coin products with an asterisk are no longer available. Prior year products are listed until replaced by the new year offering, or for reference. Sunday, Jan. 3, is the "as of date" for the US Mint
collector coin
sales figures shown above.
2009-Dated Silver Eagle Bullion Coin Sales in Jan 2010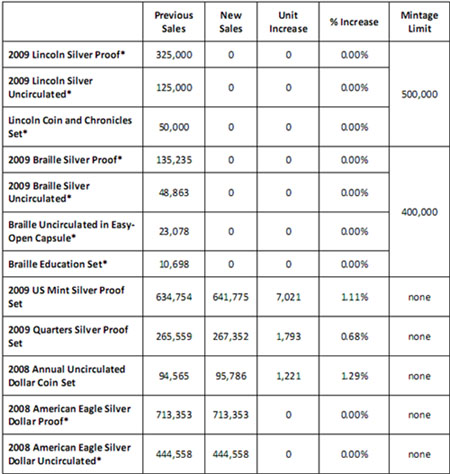 As a reminder, 2010-dated bullion Silver Eagles will go on sale Jan. 19. No announcement has been made for the numismatic proof and uncirculated versions.