The gold market's been a moneymaker for lots of people: bullion holders, owners of gold grantor trusts and mining stocks, and yes, even some people turning in their scrap gold to refiners. Oddly, the stockholders of one such refiner have been losing lately.
Last May, Money4Gold Holdings, Inc. (OTCBB: MFGD)—'til then a development company—completed its acquisition of MGE Enterprises Corp., (dba MyGoldEnvelope.com).
MyGoldEnvelope, like many other such firms, uses TV heavily to solicit jewelry and scrap gold owners to sell their metal for melt value. In the eight months since the acquisition, MyGoldEnvelope has expanded its operations outside the U.S., to Canada, the UK, Ireland, Germany, Austria and Spain. Nearly two-thirds of the company's revenue is generated outside its U.S. market.
MyGoldEnvelope has collected a lot of gold, some of which is lining its principals' pockets. Gross profits ballooned 52%, at last look, while selling, G&A expense rose 189%.
A lot of that expense comes in the form of stock-based compensation. MyGoldEnvelope uses it stocks as currency for a lot of its dealings, including executive compensation (i.e., it allows its stock to be diluted in these compensation deals).
Family of the company's CFO, in particular, were busy in late 2009 converting preferred stock into 2.6 million common shares. In two such transactions alone, the company float expanded 1.5%, which may explain why the company's share price ratcheted downward when revenues and gold prices were rising.
Money4Gold Holdings (MFGD) Share Performance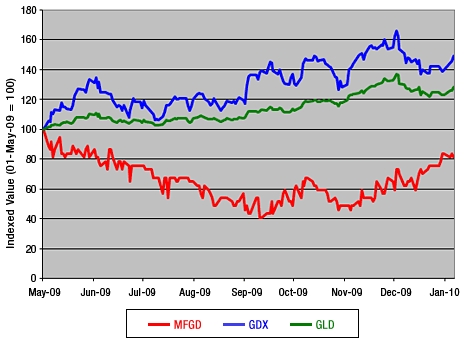 MFGD's stock price is now on the rebound, but still under water. The stock's lost nearly 19% since last May, while holders of the SPDR Gold Shares Trust (NYSE Arca: GLD) and the Market Vectors Gold Miners ETF (NYSE Arca: GDX) enjoy 28% and 49% gains, respectively.
MFGD shares are also more volatile than the aforementioned, which may give the stock the means to ultimately outperform (we examined the risks attached to gold shares in a recent feature,
Gold Stock Volatility's Double Edge
). MFGD's annual share price volatility is three times that of the GDX miner's portfolio and nearly eight times as risky as the GLD bullion trust.
The potential for outperformance, of course, depends on how many dilution surprises lie ahead.