The broad averages are not so much climbing a wall of worry as ascending a bunny slope of indifference. The result has been a bear rally so tedious that tape-watchers risk death by apnea if they should fail to jiggle jangle their limbs at regular intervals. However, the rally has been just about perfect for traders and investors who use covered writes, selling near- or out-of-the-money call options against stock they own. This strategy can be a loser if shares rise or fall precipitously. However, when they ascend a slope as gentle as the one that has unfolded since early autumn, it produces a continuous stream of option-premium income that can significantly boost the yield on a stock or portfolio of stocks.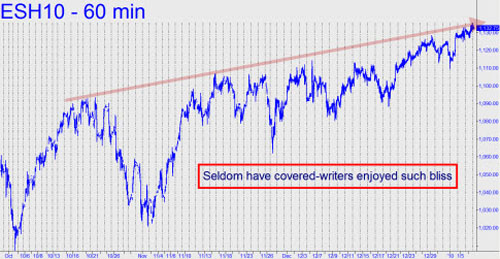 The actual slope of the S&P rally since late mid-September implies annual gains of about 15 percent, but that yield could probably have been be doubled with well-timed shorting of call-options against stock. How long is this felicitous condition likely to last? Probably long enough to lull covered-writers into thinking they've stumbled upon a money machine that can make back for them whatever they lost in devastating bear market of 2007–2008.
And who could blame them for believing that stocks will continue to rise much as they have? Wild daily swings have become relatively rare, mainly because the maniacal leadership of the bank stocks is gone. Instead, shares of companies that have been earning their growth the old-fashioned way—companies like Apple, IBM, and Johnson & Johnson—have supplied a seemingly sustainable buoyancy to the market. This is just an illusion, of course, but as long as it is with us, there can be no denying its power over investors.