I get so agitated when I hear prominent people on CNBC, Bloomberg, Fox and other mainstream channels saying it's impossible to know we are in a bubble until it bursts. That grand lie was first promoted by the father of central bank liars and deceivers, Alan Greenspan. Of course Greenspan knew better than anyone at the Fed that he was the great bubble blower of all time, given his understanding of Austrian economics.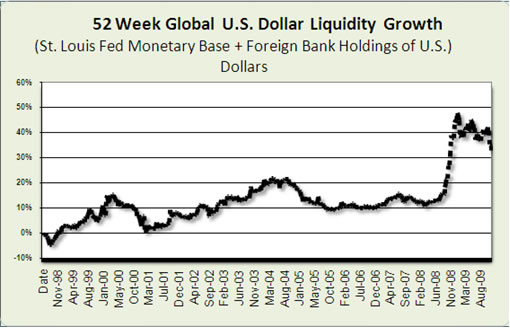 It's no mystery why we have had these great bubbles. The picture of Global U.S. Dollar Liquidity (USDL) is all you need to know, to understand why we have had major mal investment bubbles since the end of the last century.
Every time there was a crisis, starting with the 1987 stock market crash, followed by problems in Mexico, then in Asia, Russia, Long Term Capital Management, Y2K, etc., it was responded to by Alan Greenspan with huge amounts of money pumped into the system. So after the Asian Crisis actually caused this measure of monetary liquidity to drop to nearly negative 5% in 1998, Greenspan pumped money up to about 13% in 2000, thus fueling the dot-com bubble.
Fear gripped the hearts of central bankers in 2001 when, after Greenspan took his foot off the monetary accelerator, the stock market crashed and worries grew that we could be entering a deflationary period like the Japanese had been suffering through. Bernanke wrote his paper: "Deflation, Making Sure It Doesn't Happen Here," and away we went with the next surge of money created out of thin air. This time we went to 21% annual rate of Global U.S. Dollar Liquidity, and that, dear friends, is what fueled the housing bubble that has now led to this Great Depression.
You might have thought we would have learned something from these monetary pumping episodes, but apparently we have not. Bernanke has blasted away at money creation, to the point that we were at an annual rate of 48.07% in January. But look what has happened during the past three or four weeks! The annual rate of Global U.S. Dollar Liquidity has fallen sharply from 41.11% in September to just 31.28% at the end of last week!
I take this latest decline as a very serious warning that we are very, very near the next serious market decline. Keep in mind that with each decline, the point at which illiquidity becomes problematic has been higher. During the Asian Crisis, annual growth of this measure of liquidity hit negative 5%.
Following the 2000–2001 stock market crash, it fell to 0% annual growth. But the last bottom after the housing market peak hit a +10% bottom. During the housing bubble, this growth of liquidity began falling a couple of years ahead of the housing crash. So it could be that we still have some time before this decline hits prices. But then again, we may not have that much time. In my view it's better to err on the side of safety than to try to wring out the last you can get from the rally.