"Crude oil had been a great performer earlier this year, breaking out in mid-October and heading for the $95 area, but it began to turn down after failing to make much progress above $80.
As we can see on the daily chart, the price broke below $75 at the top of what was—and still could be—a bullish triangle pattern. Now, largely because of the rising U.S. dollar, price is falling toward the bottom of the triangle, the sloped yellow line, at the $71.50 area.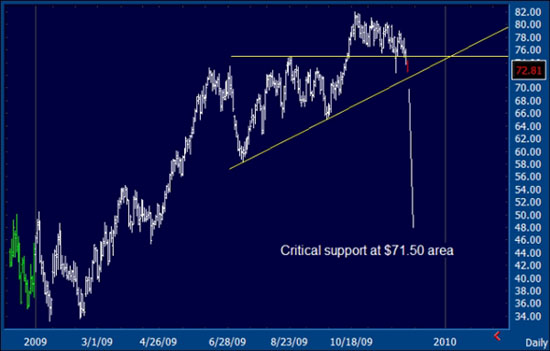 This line represents the uptrend support for crude off its July low. If it is broken, there is a risk of a stronger reversal even lower.
If the price can stay within the confines of the triangle, which won't come to an end at the apex until January of next year, it could still manage another break above $75.
There can be false starts with patterns, but as long as the support level is not broken to the downside, it can still have a chance. In such cases, it is often necessary to wait for the breakout rather than positioning ahead, given that the pattern has failed to do so already and could still see that $71.50 area on the downside."