Our immediate outlook for gold turned cautious yesterday when the February Comex contract pulled back sharply from within 40 cents of a Hidden Pivot target at $1,227.90. The target was reiterated in an analysis that went out Wednesday night, as follows:
"Bulls should have been heartened to see gold so resilient on a day when the dollar stood firm. The payoff appears to be coming this evening, with a bullish thrust by the February futures above the day's range. I still like $1,227.90 as a minimum upside target, or perhaps $1,230.00 if any higher, but we should turn cautious when that range is reached. It seems likely to show some stopping power, but if none is discernible that would sharpen the focus on the $1,337.00 target given here earlier."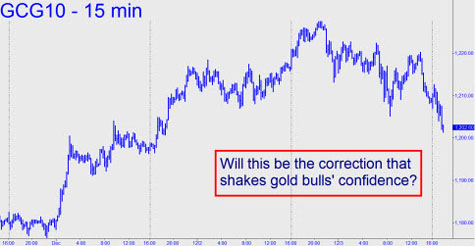 Subscribers had been alerted to the possibility of a tradable top at $1,227.90 before the futures first poked above $1,200. With yesterday's thrust to within a hair of our number, we are now focused on an unachieved target of larger degree at $1,337. That is our minimum upside objective for the next 10–14 days, but as is our custom, we won't consider it a done deal until certain technical benchmarks are met. The first would be a successful test of support at exactly $1,198.80, a little less than $3 beneath the correction low as of 7:30 p.m. EST Thursday. That number is a Hidden Pivot, and it is sufficiently compelling to imply that it will provide a tradable bounce if and when the February Comex contract touches it. If there is no bounce, however, it would be akin to the groundhog seeing his shadow: six more weeks of winter, or something like it, for this correction in gold.
A number to watch: $1,198.80.