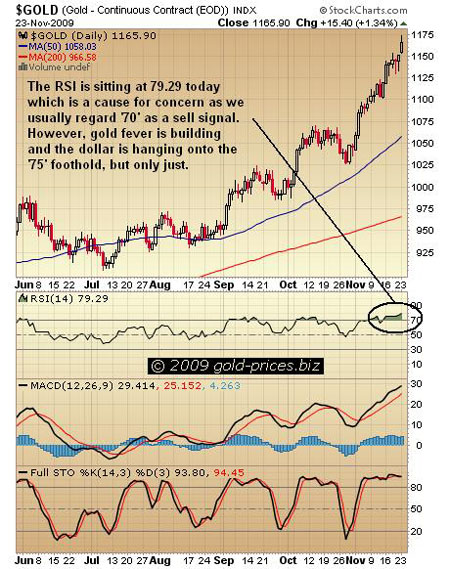 Gold got off to a good start, which carried through to New York where it traded above $1,170/oz before the session turned sour and the shine was taken off gold as trading came to a close.
Not to worry, the week started with a gain and most of it remains in place.
The above chart for gold shows that the technical indicators are banging their heads on the ceiling, in particular the RSI is sitting at 79.29 today, which is cause for concern as we usually regard '70' as a sell signal. However, gold fever is building and the dollar is hanging onto the '75' foothold, but only just.
Our strategy remains the same in that we are holding onto our core positions in the belief that both gold and silver will go higher.
Thanksgiving in the U.S. is on Thursday so we may see that trading turnover could well be thin over this period. For the rest of the world it will be business as usual and we could see the dollar dip below '75' with '72' being the next support level. It could all happen fairly quickly so stay awake.