Less than a week ago, the
Wall Street Journal
reported that the central banks of the world, even Russia's, were acting in concert to prop up the U.S. dollar. With gold's powerful thrust to new all-time highs yesterday, however, it looks like the bankers will have to come up with a new plan. Our longstanding target for the Dollar Index is 72.93, implying the dollar has a further 2.5% to fall before it is likely to find traction for a rally attempt. More important than the dollar prediction, however, is a $1,174.90 target for Comex December Gold that has been in play since spring. This "Hidden Pivot" price objective was triggered in May, and it and a lesser target at $1,134.50 have kept
Rick's Picks
subscribers properly bullish even as gold swooned, careened and flailed its way higher during the summer months and early fall.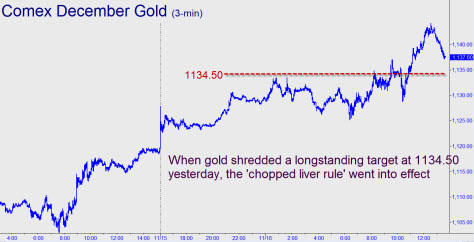 We hadn't expected December Gold to push past $1,134.50 so easily yesterday, but the fact that it turned this "hidden" resistance into suet in less than 12 hours is testimony to the tireless enthusiasm of buyers. A follow-through stroke to at least $1,174.90 is as close to a sure thing as any market-driven event we could imagine.
So what do we expect after $1,174.90 is hit? We've pushed expectations aside, ahead of the actual event. We'd prefer to let gold tell us what it will do next, based on how it interacts with the target. Because it has been so long in coming, however, and because the price pattern that produced it is so clear, we're pretty sure that the $1,174.90 pivot will not be a pushover. To take advantage of this prediction, we have advised long-term gold bulls to lighten up when the target is closely approached. It can also be shorted by day traders with a very tight stop-loss. If the futures should simply barrel past $1,174.90 without much effort, though, the "chopped liver" rule would be in effect (i.e., if a clear target shows little or no discernible resistance, we should infer that the underlying trend still has plenty of power behind it).