Silver's not so much a poor man's gold anymore and investors may soon realize that the white metal's the real treasure.
True, at $17 per ounce, silver is cheap—trading around 60 times less than gold's record price of more than $1,100. But year to date, it's climbed 52% in value compared with gold's rise of around 25%, according to data from FactSet Research.
Silver is a precious metal, after all, one that has historically outperformed gold in a bull market and doubles as an industrial metal—and supplies of it are depleting at a much more rapid pace.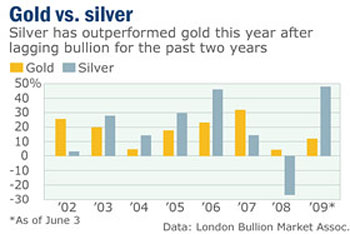 "Silver is unique in terms of being both a monetary and an industrial metal," the Bullion Services Team at GoldCore said in a recent report, pointing out that it's severely undervalued. "Silver remains the investment opportunity of a lifetime."
Gold's prices have climbed nearly 11% in the last two months. In that same time span, silver's up by only 3.1%.
And "investors looking for returns continue to wager on higher gold prices, whether it be on concerns over equity or currency markets. . .or to make quick short-term profits," according to CPM Group's latest Precious Metals Advisory.
But investors would be better served to turn their eye toward silver.
"Silver is highly correlated to the safe haven of gold and is, in effect, a leveraged sister of the precious yellow metal," according to GoldCore, an international bullion dealer. "Thus, informed investors use gold more for wealth preservation purposes and silver in order to make a return."
That's particularly important to keep in mind as investors change the way they perceive the paper-asset markets.
As stocks, currencies, bonds and other paper assets have begun to disappoint investors, investor attitudes have been shifting, said Mark Leibovit, chief market strategist for VRTrader.com.
"What begins as a trickle ends as a tidal wave when the panic peaks [and] when public revulsion at the U.S. dollar begins, the tidal wave will become a tsunami," he said.
Under that scenario, "silver, far more volatile than gold, will benefit most," he said.