December crude oil has rolled into the front-month position on NYMEX, but the big news this morning was actually over in the gasoline ring. A much-larger-than-expected decline in gasoline supplies sparked a rally in the petroleum complex.
Motor fuel supplies decreased by 2.3 million barrels from levels posted last week, according to the U.S. Energy Department's inventory report. The drawdown is much greater than the 558,000-barrel off-take foreseen by the industry-sponsored American Petroleum Institute, and the 800,000-to-1-million-barrel off-take eyed by Street analysts.
Late Tuesday, the API also said that domestic crude stockpiles would likely rise by 3.8 million barrels, far more than the 1.3 million-to-1.8-million-barrel build foreseen by analysts. The report sent oil prices skidding lower overnight, as December crude fell to $77.64 a barrel before rebounding near $79 ahead of this morning's inventory report. The decline extended the daylight session's pullback from a one-year peak.
The Energy Department reported that gasoline demand, at 9.2 million barrels a day, is up 4.2% from year-ago levels. Distillate fuel demand has averaged only 3.5 million barrels per day, down 12.1% from the same period last year.
U.S. Oil Inventory vs. NYMEX Three-Month Roll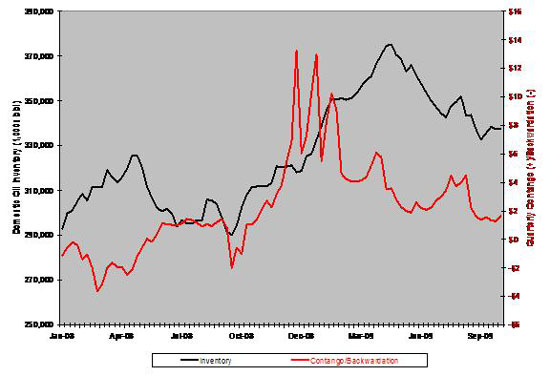 Last week, money managers turned more aggressively bullish, while commercials, swap dealers and other speculators either tipped more in the short direction or lightened up on their long exposure.
Traders took the entire petroleum complex higher this week. Nearby NYMEX crude gained 7.4%, while unleaded gasoline shot up 8.2% and heating oil rose 6.5%. 3-2-1 refinery runs still produced narrower margins than more distillate-heavy 2-1-1 operations, though the differential now isn't as great as last week's.
NYMEX Product Cracks
This week, the premium paid for West Texas Intermediate crude widened from $2.65 to $3.14 a barrel.
Meanwhile, crude oil's three-month roll narrowed this week to an average $1.42 a barrel. Last week's average was $1.57.