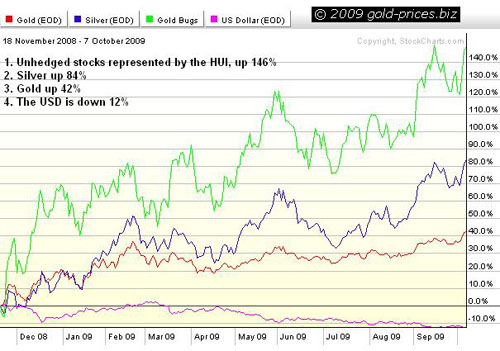 A quick look at the above chart and we can see just which investment vehicle has performed the best over the year so far. The unhedged gold and silver producers as represented by the Gold Bugs Index, known as the HUI is in pole position with a terrific gain of 146%.
This is good news for the holders of stocks as for a while the stocks went through a lackluster period losing their leverage to the precious metals sector. It now looks as though a return to the norm is well and truly in progress as the stocks provide a better return to the investor than the physical metal, which they should as owning them carries a number of risks.
In second place we have silver, which has put in a magnificent performance with a gain of 84%. Still nowhere near its all-time high so silver has a long way to go, however we do expect it to have outperformed gold by the time this bull market comes to an end.
Gold is playing its part admirably despite the detractors and the knockers predicting much lower levels for gold. Inflation aside it is standing at record levels and we expect it to continue to be the trail blazer for the next few years.
The U.S. dollar is heading south and down about 12% over the same period. Many are looking for a bounce at this point and a recovery to take place. We expect the dollar to drift lower despite putting in the occasional mini rally, which will put a temporary cap on gold prices. However, the time will come when the precious metals will rise regardless of the dollars behavior.