Gold has scored a lot of press lately, and for good reason: Its price just keeps making new records and breaking them.
But on a year-to-date basis, another precious metal has quietly outshone gold's returns: platinum.
Platinum is both an industrial metal and an investment vehicle, used to make jewelry, construct automobile catalytic converters and as a safe haven for bullion investors. According to
Platinum Today
, in 2008, miners across the globe produced 185.7 metric tons of platinum, but consumers used 197.4 metric tons—a deficit of 11.7 metric tons.
That deficit was a result of a supply-side shock. Power shortages in South Africa, where the majority of the world's platinum is mined, caused severe interruptions in mining operations.
Last October, both metals took a beating due to the financial crisis, and their prices had started to converge. Platinum was the harder hit, dropping 68% off its record to strike a 5-year low of $744.25/oz. on Oct. 27, 2008. Gold fared slightly better, hitting its low of $705 weeks later.
Since then, both metals have recovered from their low. But platinum in particular has taken off; since the beginning of the year, platinum's price has gained more than 50%, reaching a high of $1,367.90 last Tuesday: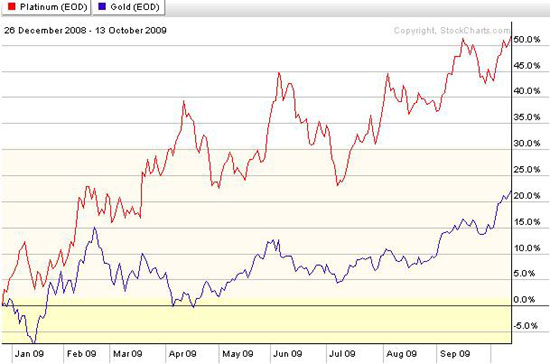 But not all of platinum's outperformance can be traced back to safe-haven investing. As with most things in the commodity world, China has also influenced platinum's recovery.
In H109, demand for platinum jewelry in China went up 81% YOY. That's a big deal, as China is said to account for over 60% of the world's total platinum jewelry demand.
Japan has also regained its appetite for platinum jewelry, with sales of new metal up 500%. Granted, that number is so large only because the starting point is so low; Japan recycles a lot of its old metal, so any increase in demand for new platinum inherently carries a big percentage increase.