Once again the U.S. dollar is on the skids, and while much of the action was probably focused on the Yen and the Pound, the greenback lost some 200 pips against the Euro and the dollar index dropped to a 14-month low amid concerns over the mushrooming U.S. budget deficit and debt burden. This decline in the dollar has led central banks to diversify, which could push the dollar down further. The dollar index is now below 76.
Meanwhile, gold continued its record-breaking run with December gold touching the $1,070/oz. level—the highest ever. Gold is up 19% this year, heading for the 9th straight annual gain, while the dollar has dropped 6.6% against a basket of six major currencies.
Bullion probably will top $2,000 in the next decade, investor Jim Rogers said in a Bloomberg Television interview. He also told
Moneynews
: "The dollar is a terribly flawed currency." It looks as if nothing can alter the greenback's downward pattern.
There are significant implications to the gold market breaking above $1,000; it is a major event. It is a sign for investors that the global monetary problems arising from mismanaged fiat currencies are worsening.
Bullion banks are desperately trying to knock the price of gold down. If you still can't see the signs, let me explain. The dollar is likely to continue to weaken and price of crude is likely to move higher. The third ingredient in this cocktail is gold. And, with a weaker dollar and higher oil prices, gold is going to move higher. With regard to the bullion banks, perhaps there is a new payout plan; the larger the losses, the larger the bonuses!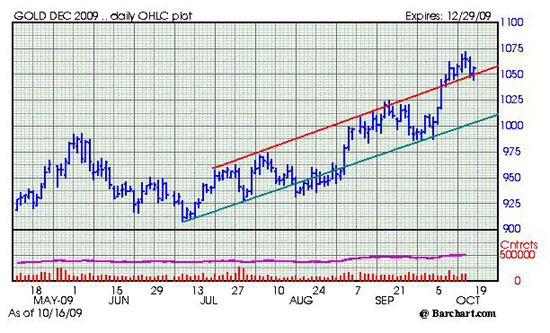 Gold has established a rising channel formation. The recent move above $1,000 represents a significant breakout to the up-side. In the short-term, gold may have run too high too quickly trading above the upper trend line. However, even though it may pull back to $1,025–$1,035 level, I believe the price is going to reach $1,100 shortly. Therefore any correction will offer buying opportunities.