Until the middle of this decade, Yen carry trade was all the rage. Traders borrowed money at ultra low rates in Tokyo, and then moved it into higher yielding assets. The difference between the low cost of Yen and higher yields elsewhere, the "positive carry," was pocketed. Hedge funds ran this trade, using huge leverage levels. This trade was blamed by some for the run up in base metal prices during this period, on the assumption that hedgers were loading up on metal with this leveraged capital.
We are skeptical that the carry trade and its demise had as much influence on changes in metal pricing. Had that been true, the unwinding of these trades would have created massive increases in inventory levels for metals and other commodities when the Yen began its heavy upwards move last year. We're talking hedge funds that turn on a dime, and which were having their credit lines obliterated at the time. Inventory levels for many commodities did rise through late 2008 and early 2009, but these increases were not large by the standards of even far milder recessions. As is their want, hedge funds were following trends rather than leading them.
As we move through 2009, the world has become a very different place. We've now gone from a Yen carry trade to a Dollar carry trade. The Fed has been working overtime to hold short rates down in the US—during Q2 the Fed was, by far, the biggest buyer at the short end of the yield curve. As more traders came around to believing the world would not come to an end this year, they began to borrow heavily at these low, fund-subsidized rates to buy riskier assets.
This "other" carry has become popular editorial fodder lately. It is used to neatly explain pricing that some—especially those of a bearish persuasion—consider irrational. Carry traders are blamed for the strength of the equity and commodity prices, and the weakness in the U.S. Dollar. This is usually part of a cautionary tale to remind readers that commodities collapsed in 2008 when it was "proven" that demand from hedge funds was the real source of all the buying that lifted commodities to new heights.
The carry trade is real, and given the Fed's largesse the opportunity to borrow at rock bottom rates is pretty enticing. We are, however, skeptical about the implied size of the trade. Most recent statistics on overall U.S. borrowing levels are not showing much evidence of a new surge. In fact, after being pushed up early this year by programs like TARP, U.S. lending has been leveling off or falling for several months. Some of this new carry trade could get handled internally—banking arms of big Wall St. institutions lending to their own trading arms, for instance—but it seems doubtful there would be enough of this to explain the decline in overall private lending.
It also seems odd that the U.S. would be the big beneficiary of the buying with monies generated by a Dollar carry trade. If the trade is being used to explain the weakness of the U.S. Dollar, and it is; that implies the money is moving offshore. That last step is required since selling the US$ is part of the trade. If that is what's happening, then where is the money that is propping up the U.S. markets coming from?
We think the answer is simpler. Yes, there is a carry trade, but it's smaller than some want to believe despite the still tender nature of the risk markets. The buying we are seeing across different markets is just, well, buying. A major debt crunch caused oversold conditions in most sectors, which has naturally been followed with buying. That doesn't mean markets are now at their "right" price level or that old pricing levels can guide current pricing, but it explains the charts without assuming boogies at work.
The Dollar and Gold…
We view the bullish move in gold, and continued fall in the Dollar, as currency moves without reading much else into them. The low yields in the U.S. had made it a less attractive destination for capital; as fear has waned, the liquidity Dollars offer has become less of an issue. That combination makes the greenback less appealing for traders and explains most of the mood.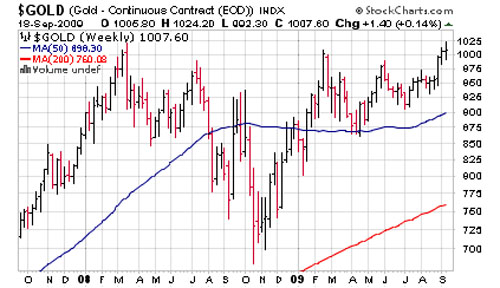 Gold's price gains are also primarily a currency move, at this point, into an asset class that is only weakly tied to any domestic economy. Many insist on reading inflation expectations into the gold price gains, but we don't. We think the U.S. will ultimately try to inflate away much of its debt load, but we don't expect to see that show up in CPI numbers any time soon. Eventually yes, but not soon enough to explain the current market. The Dollar is falling for its own reasons and gold, being viewed as a viable currency alternative, is enough for now to explain its Dollar-priced gains. We could add that gold supply fundamentals also speak to higher prices.
Central banks have been net buyers of gold lately, and that is a huge shift in the supply-demand balance. Equally important, if less noted in the West, the new governments in both Japan and India have made noise about letting their currencies appreciate. Japan has one of the world's largest private savings pools and India had been the biggest retail gold market. In addition, Beijing appears to be actively encouraging its populace to buy gold and silver as stores of wealth. It is also rumored that China will take the 400 tons (13 MM oz) of gold on offer from the IMF. That is certainly possible; but, given recent financings to Barrick and Newmont equal half that total, we think China has competition.
Right now, both longs and shorts have increased their gold positions enormously. We didn't make a big issue of gold hitting $1,000 because there is nothing special about that level. The marker is around the 2008 high of $1,030. It'll be tough for production stocks to make much more headway unless that level is breeched. Conversely, traders with hair triggers will unload on a decisive down move.
Is this another bull trap? We don't know yet, but we would say that the technical picture looks a lot better this time than on previous attempts. The price is not as stretched as it was in 2008. If you look at the chart above, you'll see previous moves to four digits were very brief and followed by immediate decline. That hasn't happened—yet—this time. There has been impressive support, but the Dollar is due for a bit of a bounce. We think gold's move higher is coming; but, if you are not positioned for it already, waiting for either a break above $1,030 or a pullback makes sense.
David Coffin and Eric Coffin produce the Hard Rock Analyst publications, newsletters that focus on metals explorers, developers and producers as well as metals and equity markets in general. If you would like to be learn more about HRA publications, please visit us
Here
to view our track record, see sample publications and other articles of interest. You can also add yourself to the HRA FREE MAILING LIST to get notifications about articles like this and other free analyses and reports.
The
HRA Journal, HRA-Dispatch
and
HRA- Special Delivery
are independent publications produced and distributed by Stockwork Consulting Ltd, which is committed to providing timely and factual analysis of junior mining, resource, and other venture capital companies. Companies are chosen on the basis of a speculative potential for significant upside gains resulting from asset-base expansion. These are generally high-risk securities, and opinions contained herein are time and market sensitive. No statement or expression of opinion, or any other matter herein, directly or indirectly, is an offer, solicitation or recommendation to buy or sell any securities mentioned. While we believe all sources of information to be factual and reliable we in no way represent or guarantee the accuracy thereof, nor of the statements made herein. We do not receive or request compensation in any form in order to feature companies in these publications. We may, or may not, own securities and/or options to acquire securities of the companies mentioned herein. This document is protected by the copyright laws of Canada and the U.S. and may not be reproduced in any form for other than for personal use without the prior written consent of the publisher. This document may be quoted, in context, provided proper credit is given.
©2009 Stockwork Consulting Ltd. All Rights Reserved.
Published by Stockwork Consulting Ltd.
Box 85909, Phoenix, AZ 85071 Toll Free 1-877-528-3958
[email protected]
www.hraadvisory.com