Recently, crude has been one of the best instruments to trade. As the chart below shows, since Sept 7th it has made no less than three 5% swings within its $68–$72 trading range. Alert traders using a typical 100:1 leverage could have caught a major chunk of those three 500% profit moves. Heck, with a total swing of 15%, even catching 20% of those moves would be 300% profit.
From a technical perspective: As shown in the chart below, crude is in a multi-month uptrend and forming a bullish rising wedge.
From a fundamental perspective: oil has tended to rise with stocks and risk sentiment, both of which are moving up for now. There are excellent arguments for a coming pullback in stocks, which would likely mean a drop for oil too. Moreover, there is near-term oversupply, which could pressure prices near term. However, markets look to the future, and sentiment has generally overridden near-term inventory data.
Trading Ideas
Play the momentum: buy on breaks above $74, or sell on breaks below the rising trend line of the bullish wedge. Just keep a stop loss order reasonably close to minimize losses if the move goes against you.
Play the range. Simply try to buy near $68, sell near $74, with stop losses not far from these levels to minimize losses if the reversal doesn't occur. If that's the case, use this as a signal to jump in and play the other direction.
Again, always use stop loss orders.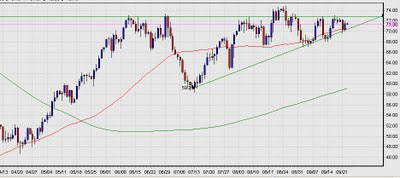 Crude Oil Daily Chart: Forming Bullish Rising Wedge. Chart Courtesy of AVAFX