Last November, James Bianco, a researcher, crunched the numbers adjusted them to inflation and discovered that the government bailout cost more than—are you ready for this?—the Marshall Plan, Louisiana Purchase, race to the moon, S&L crises, Korean War, New Deal, invasion of Iraq, Vietnam War and NASA combined.
Now let's take a look at how gold—generally known as the best inflation hedge—has fared in this turbulent year. Over the past year gold proved to be an excellent hedge at times of economic distress, and bounced with a vengeance after dropping due to margin calls. Contrary to the general stock market, gold is now much higher (and about to reach new highs) than it was back then. The only thing the PMs need to move substantially higher is a very favorable technical juncture. Are we there? Let's turn to charts (courtesy of stockcharts.com) for clues.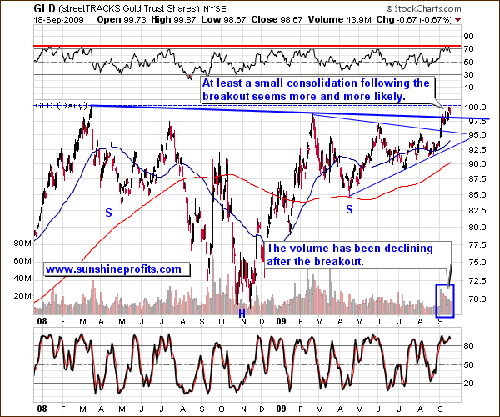 From the long-term perspective, gold is in a favorable situation, having closed above the $1,000 level in the last 4 trading days, confirming the move above that barrier. It hasn't yet pierced through the 2008 high, but I believe it's just a question of time before we see it break higher.
Volume has been declining after price moved sharply higher, generally a sign that a rally's end is near. In this case I think a consolidation is the most likely outcome.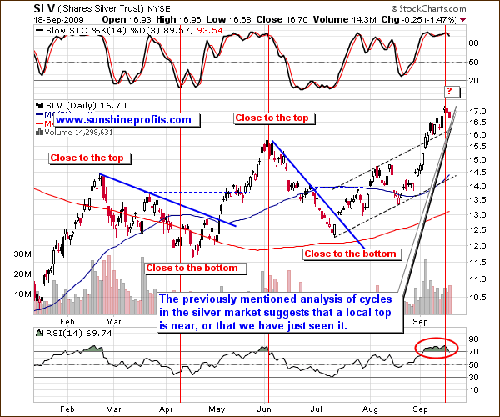 Gold's volatile brother has been rallying strongly in the past several weeks, yet one must remember that no asset moves straight up or down.
A particularly interesting cycle is visible in the silver market, which can be a profitable addition to one's trading tools. While it is not a crystal ball, the red vertical lines provide us with a somewhat reliable indication of when a market turning point may emerge.
Silver has just moved past the "topping line," meaning we can expect a local top. We have indeed seen an immediate-term top on the exact day that this line signaled it, but it is not yet sure whether or not price will move higher once more before taking a breather.