Gold hasn't made much headway since the beginning of the month, when COMEX futures surged $50 in the space of two days. With the dollar suffering from the vapors, there's no compelling reason the December contract should have loitered near $1,000 ever since. It's a nice, round number, and it probably works smoothly with put-and-call hedges that allow bullion dealers to borrow as they'd care to without risk. It's the same thing we see on expiration Fridays in the equity options market. When a stock gets "pegged" to a strike price, it's possible for even small players to transact quantities of stock with notional values in the millions or even tens of millions of dollars. Their tactics usually yield relatively small profits over short period of time, albeit with nearly zero risk.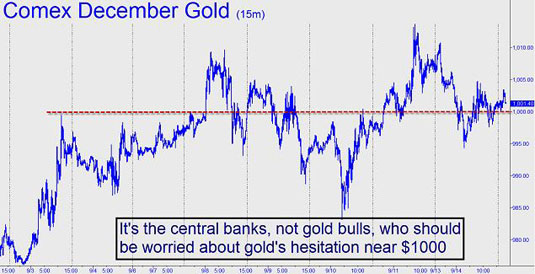 That's about the only reason we can think of for gold to have turned flaccid at $1,000: It is a price that is beautifully suited to arbitrage. Although this may have caused gold futures to flatline on the intraday charts (see above), it has set traders' otherwise stony hearts palpitating with anxiety: over Barrick's decision to cover its short hedges; the impending G-20 meeting; and the latest COT report, which showed the smart money to be betting the "Don't" line heavily. Relative to open interest in gold contracts, Big Four traders are long 18.5% versus short 28.9%. The figures are even more bearish in silver, where the big commercials are short more than four contracts for every one they are long.
We'll take our chances, as we've been expecting December gold to push up to at least $1,074 before bulls conceivably have something to worry about. But at $1,000? Gold is toying with the Powers That Be, not the other way around. It is messing with the Fed, messing with the central banks, and messing with G-20. They can gang up on bullion and pound it down by $50 to $100 whenever they feel like it, as we well know. But so what? That might have seemed impressive six or seven years ago, when gold was just beginning to rise off a floor near $300. But if these guys are really omnipotent, why has the price of gold more than tripled since?