Last week, the World Gold Council released demand statistics for gold for the second quarter. From the press release:
Investment demand for gold remained very strong in the second quarter of 2009, rising 46% on year earlier levels as investors continued a flight to quality. Overall demand for gold fell back from recent high levels as weak economic conditions and high gold prices combined to impact demand. . .Although gold demand remains very high on a historical basis, total demand in Q2'09 was down 9% on the levels of a year earlier, a 6% decline in USD value terms to $21.3 billion.
Normally when I compile the data into a chart, I collapse all the "investment" categories into one to eliminate busyness. This time around, I broke out the details in order to show the dramatic swing in ETF demand.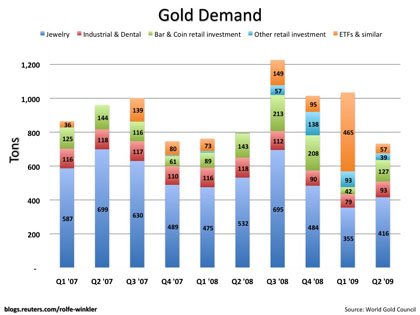 On the supply side there was an interesting bit of news:
Total supply of gold was up 14% relative to year-earlier levels at 927 tons, driven by lower levels of producer de-hedging, with mine output and recycling activity making a smaller contribution. Q2'09 supply was nevertheless 23% below the levels of the previous quarter. The main contributor was a 41% reduction in recycled gold, suggesting that profit-taking and distress selling has decreased.
The central bank sector had a dampening impact on supply—net purchases of 14 tons were recorded in Q2'09 compared to net sales of 69 tons in Q2'08, the figures indicating the first net purchase by central banks for a considerable length of time.