Commodities took a breather last week, while stocks slowly continued their march higher. This week (Monday) commodities moved lower with profit taking and fears of a much larger precious metals and broad market selloff being anticipated in the near future. While it sure looks like we are ready for a pullback in the entire market, we just may not get one for some time. We could get higher prices for 2-6 weeks still.
Everyone is anticipating a market correction, which is identical to what everyone thought back in March, yet prices continued to rise for two more months (June). I am anticipating a sharp 1-3 day pullback, but that is just what happens during rallies. Sellers are quickly met with buyers and the rally continues.
Take a look at the index DIA back in April and May, you see sharp pull backs followed by big bounces higher. I think we are at this point now. Also small cap stocks are still holding up better than large cap stocks. This is important because I look at small cap stocks as a leading indicator for the broad market.
USO ETF – Crude Oil Prices/Daily Chart
Crude oil broke out last week and is now taking a breather as it moves sideways. Oil could quickly go either direction from here. Could be a double top in crude oil prices or it could be a large bull flag, which points to much higher prices. We continue to watch as it unfolds.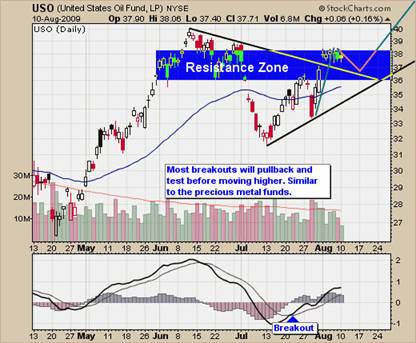 UNG – Natural Gas/Daily Chart
Natural gas is not to exciting at this time. It still needs 1-3 week of price action before I will be looking to enter into a position.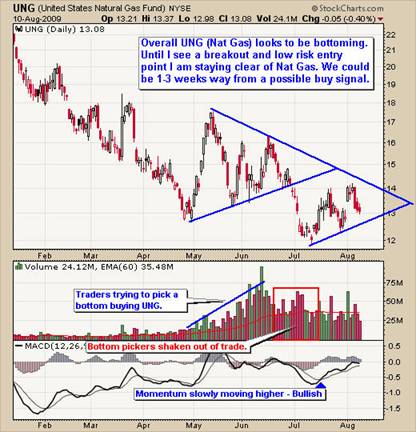 Commodity Trading Conclusion
Overall the entire market is unstable. The U.S. dollar looks ready for a big bounce or a big breakdown, same with Precious Metals, Oil and the broad market. Times like this become very difficult to trade because so many investments are at extremes. They are either way overbought or way oversold. I have really tightened up on my trading in the past two weeks because of this situation. My position sizes are small and I am taking profits quickly. Until we get some type of pullback/profit taking in the market, I do not feel comfortable putting much money to work. I think this is how most traders are feeling right now.
I would not clear the slate and sit in cash though; as I mentioned at the beginning of the report, we could see prices claw their way higher for some time.
If you would like to receive my Free Weekly ETF Trading Report visit:
www.GoldAndOilGuy.com
or if you would like my Free Weekly Stock Trading Report visit:
www.ActiveTradingPartners.com