Last week we saw commodities sell down then put in solid bounce, which allowed us to generate new pivot lows for drawing support trend lines. This is the exact type of price action I have been waiting for. Natural Gas did nothing special but crude oil put in a very strong bounce and is now trading at a double resistance level which is explained later in the report.
Natural Gas Prices – Natural Gas ETF Trading
Nat gas has taken almost everyone's money that I have talked to, which means it should be bottoming soon.
Have you ever bought a stock, watched it tick higher and all of a sudden see prices drop taking out your stop order or selling down to a point here you cannot take the pain making you exit for a loss. Only to see prices reverse and move in the direction of the trade you just exited but this time without you!
If this happens then not only is your trading strategy/model needing some tweaking but you also do not understand how the markets REALY work. The floor traders (market makers) are taking your money and it's as easy as taking money from a baby. There are tricks the market makers do on a daily basis with stocks, commodities etc… in order to make as much money as possible off the little uneducated trader. I will be sending out a special report about this in the next few weeks.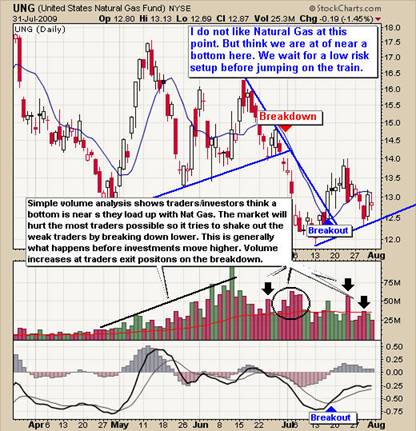 Crude Oil Prices – Crude Oil ETF Trading
Crude oil is currently trading at resistance. We could see a sharp move lower again or a sharp breakout to the up side. We continue to wait for a breakout and low risk setup in oil.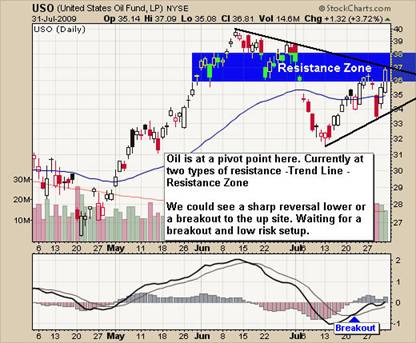 The Commodity Bounce Conclusion:
Last week was exciting with precious metals providing trading opportunities for us. We saw one of our Golden Rocket setups surge 55%. Gold stocks are becoming the flavor for investors as they anticipate gold bullion prices to spike in the coming months. Crude oil and natural gas are not providing any setups at this time. We are currently watching and waiting for some low risk setups.
If you would like to receive my Free Weekly Trading Reports or my Real-Time Trading Signals for ETF's and Stocks please visit my websites at:
www.GoldAndOilGuy.com
or
www.ActiveTradingPartner.com
If you have any questions please feel free to send me an email. My passion is to help others and for us all to make money together with little down side risk.