As we move deeper into the second half of 2009, oil demand and price forecasters appear to be getting more bullish about next year.
Oil industry consultant PIRA is the latest to weigh in with its 2010 World Oil Market Forecast.
PIRA sees global oil demand rising 1.5 million barrels a day (to 85 million barrels daily) next year as the world's major economies improve at the same time. The International Monetary Fund is now predicting 2.5% year-over-year growth in global gross domestic product.
PIRA also predicts that non-OPEC production will fall by 400,000 barrels per day.
The combination of greater demand and tighter production capacity will drive up the price of West Texas Intermediate crude to an average of $80 a barrel next year, up nearly a third from current prices, PIRA says.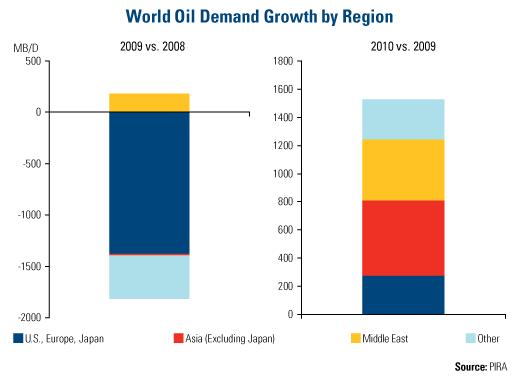 PIRA expects about 60% of the demand increase to come from Asia and the Middle East, with North America, Western Europe and Japan accounting for less than 20% of the growth.
That may seem like a small increase, but it would represent the first demand increase in the developed world since 2005.
PIRA's outlook is rosier than that of the U.S. Energy Information Agency, which expects oil to average just over $72 per barrel, up roughly 20% from where we are now, and demand to rise by 900,000 barrels daily.
Paris-based International Energy Agency is forecasting a demand increase of 1.4 million barrels per day, with the bulk of that new demand coming in emerging markets. The IEA did not offer a price prediction.
OPEC has lower demand expectations for 2010—earlier this week, it said that it sees a 500,000-barrel-per-day increase in consumption.
It's not unusual that OPEC's outlook is more conservative, but it is a bit surprising that OPEC's latest forecast is 300,000 barrels lower that its forecast just last week.
Part of the rationale behind OPEC's cautious outlook is based on its lack of confidence in a U.S. economic turnaround, saying rising unemployment and stretched balance sheets will continue to cast a shadow over any momentum toward recovery.