The most notable decline of the past week or so has been in the price of
crude oil
. As noted by us and most others, oil's gain hadn't been justified by supply-demand concerns. The gains have been a currency trade against the Dollar that ran out of steam with the passing of Q2. US regulators at the Commodities Futures Trading Commission are mulling over limitations on funds going into the energy sector. The CFTC is rarely heard from, and it seems only when prices are on upward trajectories.
The future of the Dollar continues to weigh on most things right now. The massive bond issuance by Washington is always in the room these days. The broader stock exchange rally had as much to do with that as anything else. As capital got skittish about being in US debt it simply began migrating to equities. While the swing in the SPX in percentage terms is obviously larger the performance chart below of the SPX and the USD Index clearly show the strong inverse correlations between these two indices this year. The gains have now been large enough that consolidation will continue until Q2 results are out. The balance of the year will be a stock pickers' market.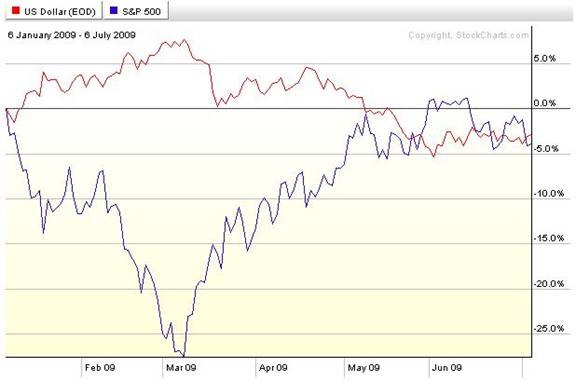 It will also be a market pickers' market. Going to the Euro hasn't after all been particularly unpalatable and more difficult given the common currency is weighted against a spread of economies. Just released figures indicate Germany's industrial output in May was up over 4% from the April figure. That is being viewed as bottoming rather than a true uptick, and it doesn't mean the rest of the zone is getting better. But France is in reasonable shape, so with Germany looking better the Euro remains in the mix.
What is missing is a coherent effort by the cashed up growth economies on how to shift away from the Dollar. China is making moves to convertibility of the Yuan at its usual gradualist pace. It is however also making it plain that it is not moving away from a Dollar priced world in a big hurry. The other BRIC economies keep calling for a new currency order, but until China is on side they are just making noise.
As the 18 month PMI charts the next page show, China's manufacturers have recovered confidence despite their peers in the industrialized world continuing to be mired in doubt. The boost China has given itself by subsidizing rural consumers is having an obvious impact on the country's mood as well its growth. Moods come and go, but at least this precursor to the next stage in the shift we have been talking about most of this decade is on the table. If that mood lasts, Beijing may finally be ready to take the next step of lowering costs to its consumer by letting the Yuan strengthen.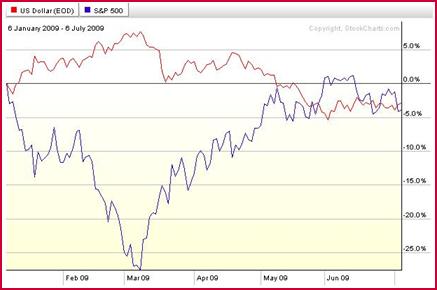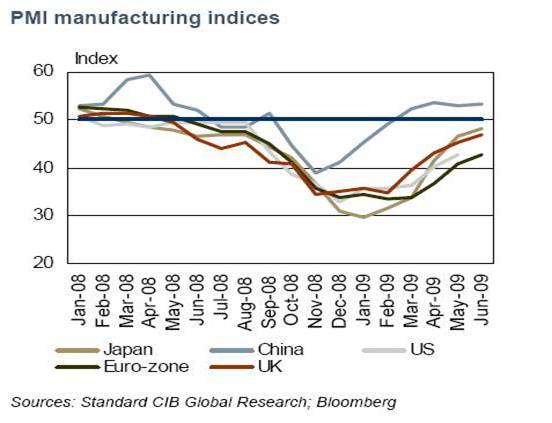 Decoupling, which many had tossed aside as fantasy during the worst bits of the debt crunch, is back on some lips. It never left ours, but we do stress again that our take on the subject relates to the sector we cover and not the general economy. Over the summer the real impact of the massive government spending plans in the west is going to properly sink in. Whether it is a needed stopgap or not, it is adding to already overbearing debt. Neither China, nor the growth economies as a whole, will be able to pull the debt economies out of this hole. But the next move is still theirs to make. World events increasingly anticipate great change.
Taking to the Streets
Any surprises through the summer doldrums are most likely to be on the geopolitical front. Tension between citizen and government is on the rise in some quarters, but as India's election showed not all of the news is bad.
Most recently the streets of Urumqi in western China have been bloodied. The
Uyghur
, who are a regional majority within the overwhelming Han majority in China as whole, are worried about being treated as second class citizens, and more basically about losing their identity. The latter point may be underscored by plans in historic Kashgar (or Kashia) to replace much of the original city; these narrow streets are considered the birthplace of Uyghur culture. This could become an important test of Chinese tolerance, and how the world is willing to respond to China as a rising power.
The post election protests in
Iran
appear more likely to actually generate some level of change. The number of polls with excess votes was too much of an insult from a conservative core group that had already redefined audacity. If this agitation continues, oil prices could rise.
The people and government of
Pakistan
continue their push back against ultraconservative Islamists. This is arguably the most important shift against luddite forces in Asia, and is hopefully a precursor to a general normalizing of relations in the Indian subcontinent.
Results are currently pending from
Indonesia
's second real election in a row for its Presidency. This hopefully will aid the cause of recapitalizing the archipelago's very impressive resource potential, and bring another large population more firmly onto the growth track.
On the whole, this period of great change is so far moving in a beneficial direction.
David Coffin and Eric Coffin produce the Hard Rock Analyst publications, newsletters that focus on metals explorers, developers and producers as well as metals and equity markets in general. If you would like to be learn more about HRA publications, please visit us
HERE
to view our track record, see sample publications and other articles of interest. You can also add yourself to the HRA FREE MAILING LIST to get notifications about articles like this and other free analyses and reports.
The HRA – Journal, HRA-Dispatch and HRA- Special Delivery are independent publications produced and distributed by Stockwork Consulting Ltd, which is committed to providing timely and factual analysis of junior mining, resource, and other venture capital companies. Companies are chosen on the basis of a speculative potential for significant upside gains resulting from asset-base expansion. These are generally high-risk securities, and opinions contained herein are time and market sensitive. No statement or expression of opinion, or any other matter herein, directly or indirectly, is an offer, solicitation or recommendation to buy or sell any securities mentioned. While we believe all sources of information to be factual and reliable we in no way represent or guarantee the accuracy thereof, nor of the statements made herein. We do not receive or request compensation in any form in order to feature companies in these publications. We may, or may not, own securities and/or options to acquire securities of the companies mentioned herein. This document is protected by the copyright laws of Canada and the U.S. and may not be reproduced in any form for other than for personal use without the prior written consent of the publisher. This document may be quoted, in context, provided proper credit is given.

©2009 Stockwork Consulting Ltd. All Rights Reserved.
Published by Stockwork Consulting Ltd.
Box 85909, Phoenix AZ , 85071
[email protected]
http://www.hraadvisory.com