Commodities have been driving up the past few months and now it looks like Natural Gas is going to be joining the party. This report quickly and clearly shows Gold, Silver, Oil, and Natural Gas from a technical trading point of view.
Gold Bullion – GLD Exchange Traded Fund – Daily Chart
As you can see, gold broke to the upside of this large bull flag/ABC retrace wave pattern back in May. This posted us a sold 7% gain last week. I have a feeling we are going to see prices test lower or consolidate sideways for a couple weeks. We will continue to hold a core position with an exit price set at my support trend line, which is slowly moving higher each day to lock in more profits.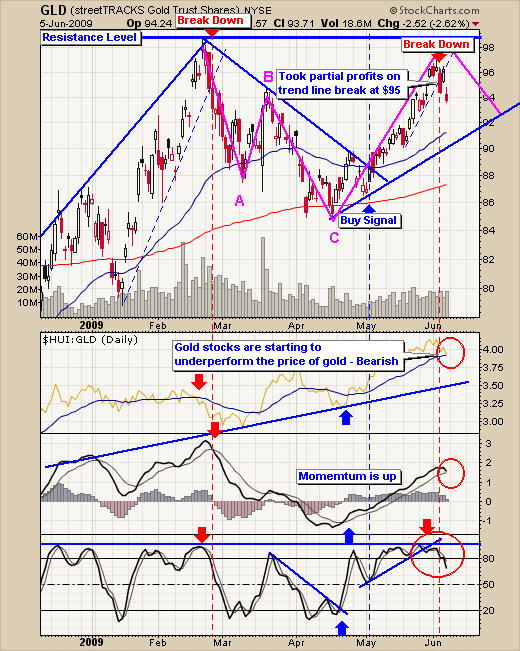 Silver Bullion – SLV Exchange Traded Fund – Daily Chart
Silver has provided the same opportunity but has not yet broken my support trend line. If we get a trend line break, I expect to see prices drop quickly. I suggest placing a stop just below the support trend line level to lock in some gains at the $14.75 area. With any luck we can buy back some silver at a cheaper price in the near future.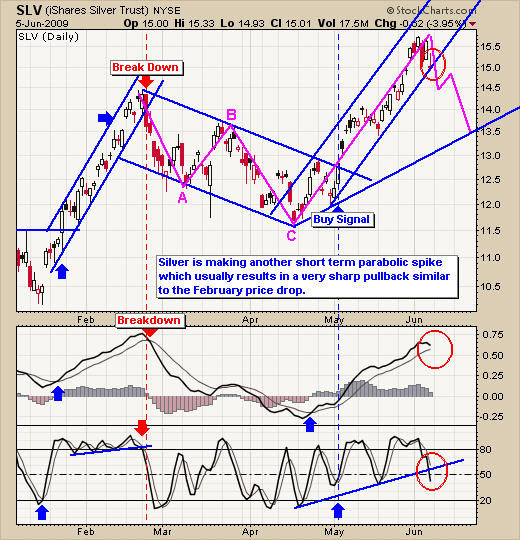 Crude Oil – USO Fund – Weekly Chart
Weekly charts provide powerful trading signals and I like to use this time frame for identifying possible trend changes. Oil made a reversal back in March and has been performing very well. At the current price, it is starting to look overbought and I expect a pullback of some type soon. I have provided a short term profit taking trend line, which would be the point to lock in some gains on energy trades.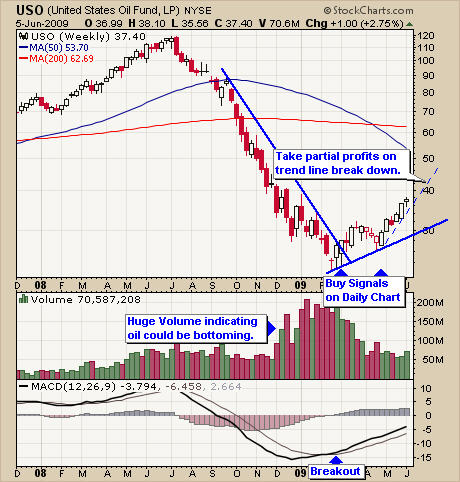 Natural Gas – UNG Fund – Weekly Chart
As you can see Natural Gas looks to be starting a reversal at this price level. Volume is surging higher, MACD is moving higher and we could get trend line break soon,which will provide us with an intermediate buy signal. I will continue to watch Natural Gas until I have a low risk entry point to buy. I think we are still 2-4 weeks away from a possible buy signal.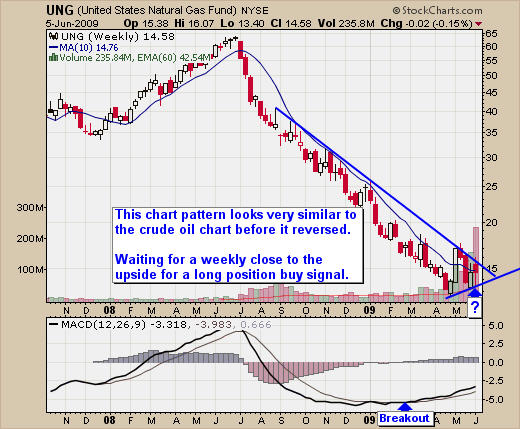 The Precious Metal, Oil & Nat Gas Trading Conclusion
Gold and silver are starting to move lower. This week will be interesting, as prices unfold. Because gold stocks are underperforming the price of gold bullion, I am leaning towards lower prices in the near term.
Crude oil continues to push to new multi month highs. Moving stops/exit points up in the energy sector is a wise decision for short term traders. So far it's been a great run.
I recommend locking in gains after a solid move higher. Too many times, the market will reverse and wipe out most of the unrealized profits in a few bad sessions. You can always add to the position again on a pullback, with a low risk entry point, or put that money to work in a new setup possibly Natural Gas.
If you would like to receive my Free Weekly Trading Reports or my Real-Time Trading Signals please visit my website: www.GoldAndoilGuy.com