As credit and markets collapsed during the past year, one of the more common measures cited as a gauge of the disaster was the Baltic Dry Index. The BDI fell off a cliff and dropped an incredible 95% during Q3 and Q4 of last year in the worst performance by far it has ever put in.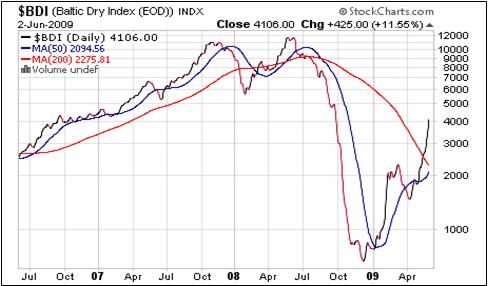 Since bottoming last December the BDI has staged an impressive comeback, especially in the past several weeks. The chart to the right, with the index in black, shows a whopping 11.5% increase for June 2nd. This has brought rates back to late 2007 levels, before bio-fuel madness would send them through the roof.
The Baltic Dry Index (the name is based on an old coffee shop in London and has nothing to do with the Baltic States) is considered a leading indicator for trade, and with above average objectivity. It is generated by polling a number of shipping companies to get rate quotes for standardized cargo on major sea lanes. It focuses on "dry" bulk carriers that transport things like coal, iron ore, grains and metallic ores. It's a good leading indicator of future growth since it measures demand for ships that handle industrial inputs rather than finished goods.
Because the BDI is not directly "tradable" it's considered more objective and less subject to sentiment or manipulation than other measures. We think that is true, though if we've learned anything in the past few years it's that everything is somehow tradable. BDI has certainly seemed to follow major stock indices on several occasions. Whether it is shipping agents keeping an eye on markets to gauge pricing or some other mechanism is open to debate.
There are several "sub –indexes" that make up the BDI based on vessel size. The biggest recent shipping-price increase by far has been for "Capesize" vessels, the largest size category that handles most of the trans-Pacific shipments of iron ore and coal. Cargo prices for smaller, less efficient ship sizes are however also starting to move up.
The BDI is taken as a proxy for shipping on average, but it's really a measure of shipping costs "at the margin." Most shipping is priced under longer term contracts or handled by captive shipping companies owed by large industrial conglomerates, and especially in Asia. BDI is more like a spot bid on available cargo. If there is one ship too many for available cargo everyone drops their prices; one ship too few and bids rapidly rise. This is why the index is so volatile and responsive to cargo volumes.
Staying with that "at the margin" theme, we see a second factor for the dive in BDI and part of the reason for its recovery: loose money. When the world was awash with cash, large shippers were loading up on debt. Shipping rates had done well through the decade and price increases were accelerating. Shippers got brave and started ordering new ships — a lot of new ships.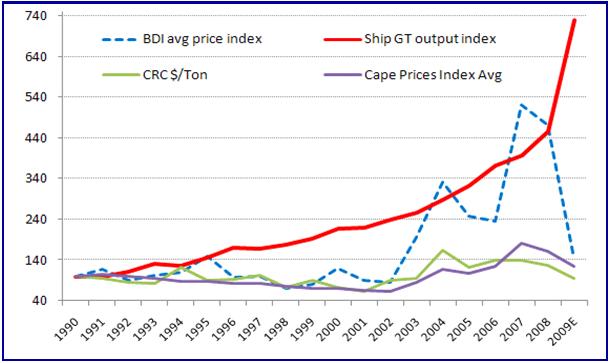 This chart (courtesy of Transport-Trackers.com, a Hong Kong based transport research group) shows annual changes in the BDI indices, plus annual changes on order shipping capacity expresses in gross tonnage in red. All of these are standardized to a value of 100 in 1990. The ships on order exploded in 2008, rising almost 60%. The combination of this potential overhang in shipping capacity plus the debt crunch caused rates to collapse.
A number of shippers heavily overleveraged, and many of them are in the midst of debt workouts. This has already resulted in some cancellation of new vessels, and it's likely more will be forthcoming. The easy money for new ships, like everything else, is gone. The swings in potential capacity exacerbated an already volatile market.
Fear of these new vessels coming to market was added to debt-crunchitis, so price cutting was vicious to keep customers. They now know many of build orders have been cancelled, often because the debt to pay for construction has dried up.
Bears saw the BDI dive as "proof" the rest of the world had to be "beached" without the USA to sell into. They are having more trouble explaining away the rapid ascent of an index they were crowing last winter could not be "manipulated."
We think part of the recent rise is shippers' greater confidence they don't have to face massive oversupply of vessels anytime soon. There is clearly also simply more trade moving about than was expected a few months back, at least in the dry bulk goods space. Based on the speed of the recent rise, shipping agents apparently expect it to continue.
Regards for now – David Coffin and Eric Coffin
David Coffin and Eric Coffin produce the Hard Rock Analyst publications, newsletters that focus on metals explorers, developers and producers as well as metals and equity markets in general. If you would like to be learn more about HRA publications, please visit us HERE to view our track record, see sample publications and other articles of interest. You can also add yourself to the HRA FREE MAILING LIST to get notifications about articles like this and other free analyses and reports.
HRA –Advisory is a set of independent publications produced and distributed by Stockwork Consulting Ltd, which are committed to providing timely and factual analysis of junior mining and other venture capital companies. Companies are chosen on the basis of a speculative potential for significant upside gains resulting from asset-base expansion. These are generally high-risk securities, and opinions contained herein are time and market sensitive. No statement or expression of opinion, or any other matter herein, directly or indirectly, is an offer, solicitation or recommendation to buy or sell any securities mentioned. While we believe all sources of information to be factual and reliable we in no way represent or guarantee the accuracy thereof, nor of the statements made herein. We do not receive or request compensation in any form in order to feature companies in this publication. We may, or may not, own securities and/or options to acquire securities of the companies mentioned herein This document is protected by the copyright laws of Canada and the U.S. and may not be reproduced in any form for other than personal use without the prior written consent of the publisher. This document may be quoted, in context, provided proper credit is given.
Published by Stockwork Consulting Ltd. Box 85909, Phoenix AZ , 85071
[email protected]
http://www.hraadvisory.com/
SUSCRIPTIONS 1-800-528-0559