Will This Upmove Last
Seasonally speaking, rallies can and do occur during May, with the second part of the month often turning weak giving back those gains. August, historically speaking, is a better seasonal time for a lasting rally to grab hold than are May, June or July.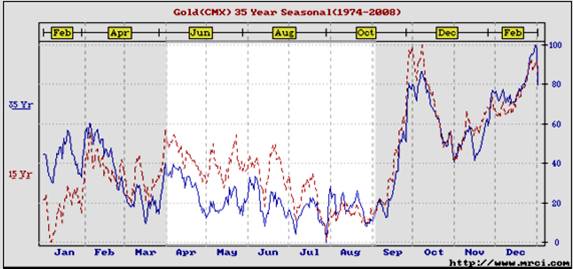 The chart was supplied by The Moore Research Institute
Bank Stress Tests
For the first time in a couple of months, stock indices have seen a meaningful correction. As stocks corrected gold was bid up, while the US Dollar broke down. Gold is acting as a "safe haven", which is what many expect it to act as. Gold seems to be waiting for something to occur. What that event is remains to be seen. It could be inflation. It could be the economy getting into more trouble or it could be that during the summer gold simply develops a trading range.
Regardless of the outcome, it appears that accumulation is taking place of gold via ETF purchases and via futures contracts. The "big boys" seem to want ownership.
Inflation
This is the most expected reason for gold to eventually rally. The "inflation bet" is that eventually world economies pick up and start consuming goods, which will be in short supply as manufactures cut back production due to today's woes. This demand will initially overcome supply, which should lead to inflation.
Another reason some are buying gold has to do with the nationalization of core US Industries. Banks and automakers are but two that many think have to some extent become nationalized. It's hard to argue the point when the US has the ability to remove CEO's, Corporate Boards and set policies. Once this type of power is given, it's very hard to take away. Daily we hear of banks wanting to give back TARP funds that the government won't yet take back. Therefore, a certain element now wants gold ownership as a means of transportable wealth.
Daily Chart
In last week's report I stated that June Gold Chart had established a short term uptrend. Looking back, that proved correct. The upside price objective is the Bollinger Band Top, which I have labeled on the chart below.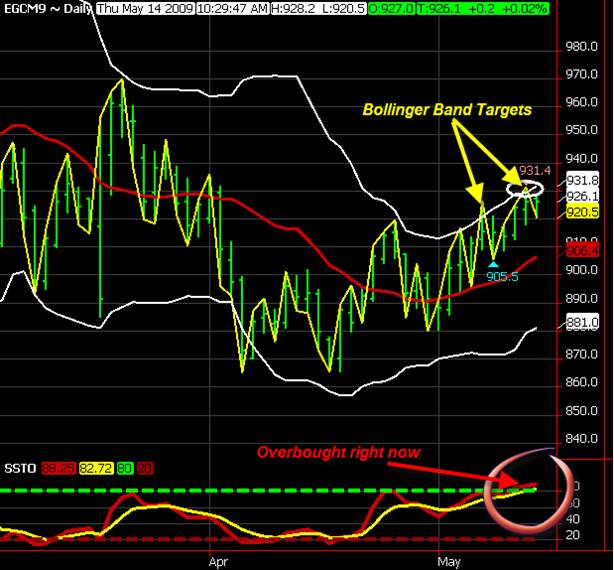 The bottom graph, the one showing the Slow Stochastic Graph (SSTO) on the gold chart shows that the market is overbought at this time, but trying to embed. Prices can resolve this in one of two ways. Prices either break or go sideways which typically moves the Stochastics numbers down. Should prices move up, Stochastics should move up and embed. If the two lines that make up Stochastics, the red and yellow lines named the "K" and "D" both move up over "80" for 3 consecutive days, the study changes from overbought to "embedded". When this study embeds, it often means that innately, this chart pattern is getting stronger and prices should be forthcoming.
Keep in mind that it is not typical for prices to embed. Therefore, being overbought is worrisome enough for me to tell customers to liquidate long positions against the Bollinger Band Top and to buy again on price break down to $906.5. I would not stay long if prices broke under $905.5. If prices embed, I would chase the market higher and enter long positions again, probably using Calls.
Conclusion and Recommondation
My bias is clearly bullish. Near term upside targets have been it. Pullbacks still look like buying opportunities as mentioned above.
Should the Stochastic Study embed, I will issue recommendations to try to take advantage of that, possibly using Calls to limit the risk.
Disclaimer: This publication is strictly the opinion of its writer and is intended solely for informative purposes and is not to be construed, under any circumstances, by implication or otherwise, as an offer to sell or a solicitation to buy or trade in any commodities or securities herein named. Information is taken from sources believed to be reliable, but is in no way guaranteed. No guarantee of any kind is implied or possible where projections of future conditions are attempted. Futures and Options on Futures trading involve risk. In no event should the content of this market letter be construed as an express or implied promise, guarantee or implication by or from Ira Epstein & Company or Macquarie Futures USA, Inc. that you will profit or that losses can or will be limited in any manner whatsoever. No such promises, guarantees or implications are given. Past results are no indication of future performance.