So money-supply growth of 18% plus consumer prices inflation half-as-great again as the official target now equals deflation. Right...?
OH HORRORS! "Deflation hits UK economy for first time since 1960," screams The Telegraph. "UK falls into deflation for first time in 50 years," wails The Times.
"Inflation sinks into negative territory on steep fall in the cost of household bills," gasps what used to be Fleet Street. "New phase heralds a fall in wages and freeze in pensions," or so "experts warn" according to Wapping.
That freeze in pensions and wages will in fact prove much worse than the stand-firsts imply, however. Because as ever, behind the headlines – and far from the news-desks as well – the true picture of Britain's new-found "deflation" is a long way from clear. It's also a long way from anything like true deflation.
You see, down in the devilish detail, blaming "deflation" for the Bank of England's record-low interest rates is now getting tough. Such historic accommodation can only be explained, instead, as a blatant attempt to reflate the housing market and also refloat the City, making it whole at savers' expense.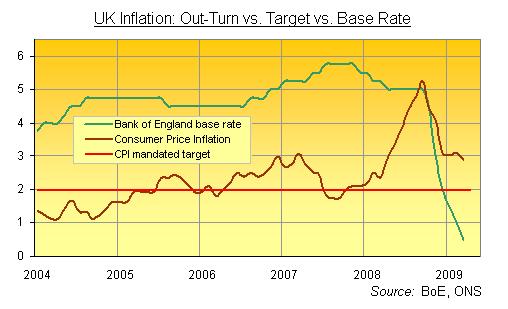 The commercial banks are now printing money, earning 8% and more between deposit and lending rates. And thanks to the national deflation scare – played up so hard on today's release of official inflation data – the banks can also borrow from the Old Lady almost 2.5% below the official Consumer Price inflation rate, while paying barely 0.6% per year to cash ISA savers.
The upshot? Just as in the 1970s, these negative real rates of interest are proving rotten for cash savers, but good for Gold Investment. Because the opportunity cost of holding metal – otherwise known as the lost interest you could have earned on paper – has been entirely removed.
Indeed, consumer price inflation – the Bank of England's mandated target – has now overshot the 2.0% bulls-eye in 32 of the last 36 months. Even the old Retail Price Index – apparently slipping into deflation this March, down 0.4% from a year before to fall into the red for the first time in five decades – continues in fact to rise, and rise strongly, once the more knocked-about and politicized items in the official data agency's shopping basket are removed.
Excluding mortgage-interest repayments (slashed by the Bank of England in its own deflation scare) together with indirect taxes such as VAT (cut by the Treasury in its debt-fed stimulus binge), the RPI rose in March at 3.2% year-on-year. That was half-as-fast again as the last decade's average rate. Thus deposit-account savers thus lost fully 3 pence in the pound of their purchasing power.
And all amid "deflation" remember...deflation which apparently coincides with 19% year-on-year growth in the money supply – and which is otherwise known, in a boring old technical sense, rather than a headline-grabbing shudder, as "inflation".
The gold price in Sterling, in contrast, stands 35% higher for UK investors from this time last year. And here at BullionVault, we guess Gold's appeal will only keep growing until the real returns paid to cash turn sharply higher.
Which ain't going to happen now that deflation's arrived. Right?
Adrian Ash
BullionVault
Formerly City correspondent for The Daily Reckoning in London and head of editorial at the UK's leading financial advisory for private investors, Adrian Ash is the editor of Gold News and head of research at BullionVault – where you can Buy Gold Today vaulted in Zurich on $3 spreads and 0.8% dealing fees.
(c) BullionVault 2009
Please Note: This article is to inform your thinking, not lead it. Only you can decide the best place for your money, and any decision you make will put your money at risk. Information or data included here may have already been overtaken by events – and must be verified elsewhere – should you choose to act on it.