Platinum, it was said long ago, was the preferred treasure of kings and queens. The rarest precious metal in recent decades has had its commercial uses diverge from jewelry, watches and coins into new markets: catalytic converters for automobiles, fuel cells and other industrial uses. Platinum's per-ounce price has risen to $1,240 an ounce from $850 or so in October/November. R. Michael Jones, a 45-year-old geological engineer with a Toronto pedigree, started Platinum Group Metals Ltd. (tickers PLG in USA and PTM in Canada) in the year 2000. Since then, Mr. Jones's Vancouver-based company and its partners have spent about $30 million developing a mining strategy for a platinum resource on South Africa's Western Limb of the Bushveld Complex. Mr. Jones also has a vested interest in MAG Silver Corp. (MVG IN USA and MAG in Canada), a Mexico exploration company that recently received a $180 million takeover offer. Mike Jones is chief executive officer and a director of Platinum Group Metals.
Q: Hey Mike. We have good memories of seeing you four or five years ago, working the conferences and the booths right there with Harmony's Ferdi Dippenaar (now CEO of Great Basin Gold). You have a forthright manner. So, you are ... divvying up your time these days?
R. Michael Jones: Hi to you. Platinum Group Metals (TSX:PTM) (AMEX:PLG) is the company I run every day, for sure. But yes, I am also considered a co-founder of MAG Silver Corp. (TSX:MAG) (NYSE:MVG) and of West Timmins Mining Inc. (TSX:WTM). Platinum is my life and has been for almost 10 years now. In South Africa, we have grown our Bushveld venture on the Western Limb to a resource of 10 million ounces. We call that area of the country 'Platinum Island.'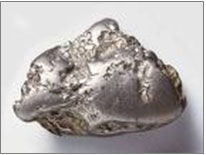 Q: Why's that, Mike? Like the movie 'Nim's Island?' Plat-Nim's Island?
Jones: Well, probably 70 percent of the world's platinum production comes from that area. There is that one place in the world that has it, has the platinum, and we have it right there.
Q: We've been there. Lots of platinum. But lots of tribes and poverty, junkyard dogs and dusty plains. So why isn't your stock reflecting the Bushveld's richness? Or the size of your platinum resource, your grades and the prospect of a mine in the next several years?
Jones: We are shocked and appalled at the marketplace. What can we say? The market has just started recovering for producing companies ... and when we look at our position we think we are extraordinary ... tons, grade and depth. We have a large tonnage deposit near surface and 7.5 grams per tonne platinum. It is very special. You know, everyone out there is mining the same bed sheet of platinum; that is the way it is with a very rare metal.
Q: Right. South Africa, like every nation, has its geopolitical risks, its economic risks and so on. But it is the leader in platinum, no doubt about that. Who else has the goods?
Jones: The Russians have platinum, largely as a byproduct of the Norilsk mine, Norilsk Nickel (Nasdaq:NILSY) (LSE:MNOD) (world's largest nickel and palladium producer – MNOD in U.K.). You have platinum in Canada, the Sudbury Basin in Ontario … and in the USA, the Stillwater property (SWC in USA) in Montana, which has palladium and platinum.
Q: And in your neck of the woods, or goods?
Jones: In South Africa, Impala Platinum Ltd. (JSE:IMP) is near us, 20 kilometers away on the Bushveld Complex, and is the second largest platinum producer in the area. Of course, you have Anglo Platinum Group (JSE:AMS), which is the biggest producer of platinum group metals in the world (2.4 million ounces of refined platinum expected in 2009). Our partners include Anglo Platinum. There are others, but in terms of producers, these are the biggest.
Q: What can you tell us about platinum, Mike, that no one else has before?
Jones: Depends on who you are. About 10 percent of the platinum market is recycled catalytic converters. People ask me all the time about that. What does the platinum do? Is it used up in the process of cleaning automobile exhaust? So, the platinum sits there as a surface for a chemical reaction to occur on. It reminds me of a Mike Myers movie …
Q: Oh sure, all you Canadians stick together, don't you?
Jones: Really, when Mike Myers' character Fat Bastard says, 'Damn sexy!' It is that damn sexy process the molecules cannot resist. The platinum pulls the carbon monoxide or the sulfur oxide or the nitrous oxide molecule and allows more oxygen into the combustion, oxidizes it all. A lot of applications these days rely on that damn sexy process; fuel cells for instance. This makes platinum an absolute essential metal in our economy. Did you know, jewelry now is only 20 percent of yearly platinum use vs. 40 percent just five years ago. The car industry probably accounts for 50 percent of all platinum use.
Q: Damn sexy, mundo. You know, 20 years ago, you'd be in Beijing or Bombay or even Taipei, and everyone was riding a bicycle. A sight to behold. That is so changing isn't it?
Jones: The car market is going crazy in India and China. The story for platinum and platinum group metals – for zinc and copper and nickel and stainless steel – is what we can call The Henry Ford Revolution. In North America there are something like 900 cars for every 1,000 people of driving age. That was in a November issue of The Economist. But in India it is something less than 30 vehicles for every 1,000 drivers. In China, fewer than 10 vehicles per 1,000 drivers.
Q: That low? Why is it called the Henry Ford Revolution? Not the Fat Bastard Revolution?
Jones: Ford's Model-T story back then was that he would make a car that people who worked in factories could buy with their own wages. All these years later, 80, 90 years, the assembly workers in China, in India, in Indonesia, they're buying cars.
Q: The slum dogs, pardon the cinematic reference, they are buying?
Jones: I would not phrase it that way. Let's say that now we have expanding mobility of the labor pool. These workers in India, in China, can compare wages at different factories because now they can drive from one to another and look-see for themselves. There is a power that comes with mobility.
Q: Wait until Africa kicks in. Tell us about the financial side of platinum. Platinum as money. It is similar to silver in that it has so much industrial use. Yet we see it used in coinage. One could see its becoming a monetary standard for the jet set as investment demand rises?
Jones: There is a new exchange traded fund for platinum pending approval in the USA – from ETF Securities. It will be like the PHPT ETF that trades in the U.K. (ETF Securities also has a palladium fund, PHPD, trading in London.) So consider: the gold market is 80 million ounces a year of use and supply and the platinum market is 7 million ounces of use and supply. An ETF can have quite an impact here as investors regard platinum as a monetary asset.
Q: Sounds … good … as long as the bank really has the metal in storage. How much platinum do the ETFs represent?
Jones: There is one in Zurich as well (run by Zurich Cantonal Bank – ZPLA in Switzerland). Together, the two have about 500,000 ounces. (Holdings for the two platinum ETFs are rising in double-digit percentages: see related article.)
Q: Let me switch subjects. Is there any interest in The Congo (DRC) or other areas of Africa for platinum?
Jones: We are solely focused on platinum and not copper or other metals that some sites are indicating in The Congo. South Africa has a great mines industry. It is making tremendous progress empowering the tribes that live on some of its rich-resource lands. The largest shareholder of one of our partners, Wesizwe Platinum Ltd. (JSE:WEZ) is a tribe. (Wesizwe is 51 percent black-owned; the Bakubung are the largest shareholder group at 22 percent.)
Q: Mike, looking at your Platinum Group Metals shares outstanding and your salaries at the company, we must say it all looks conservatively managed. You are not driving a Porsche, one would guess. Who is the other big partner, and how does a small platinum explorer with a 10 million-ounce resource go from $1.30 a share to $2.60?
Jones: I started the company in 2000 and started working in South Africa in 2002. We did the initial joint venture with our largest partner, Anglo Platinum (AMS in South Africa), in 2004. We have 67 million shares and 73.2 million fully diluted and we are very careful about dilution. At the end of the day, I have to find value to sell shares, so my job is to add value to my stockholders. If we trade at $1.30 U.S. a share I have to find another $1.30 of value and not depend on metals prices to do it. So I drill for it and do innovative ventures with the country of Japan (JOGMET, a 100 percent owned agency of the government of Japan seeking resource projects that can be passed onto private companies).
Q: So you are diluting the asset base, or hoping to, instead of the shareholder base? Seems to be the theme these days in natural resources.
Jones: Take Japan. It is taking a strategic relationship in a metal that is important to them. They give us a half-million dollars firm and we expect to do more exploration on the Northern Limb.
Q: And your specifics at the Western Limb?
Jones: The total resource is 10 million ounces, starting 80 meters from surface to 650 meters and 11 kilometers of strike length ... 7.5 grams per tonne ... Anglo Plat has right of first refusal for our concentrate to their smelter -- they have the right to purchase our ore or concentrate within 60 days of our signal that it is ready. We think our ore will have low chromium, which makes it high grade ore, front of the line and desirable.
Q: Tell us a little about silver and MAG Silver Corp. (TSX:MAG; NYSE:MVG).
Jones: It is a great precious and industrial metal but platinum is better. Right now, MAG Silver (MVG in USA), which I helped to start, is in a takeover tussle with Mexico's largest silver producer, Fresnillo PLC (LSE:FRES) trying to buy it. I am on the board of MAG. Fresnillo owns 20 percent and wants the other 80 percent for roughly $180 million. Whether this is undervaluing MAG or not remains to be seen, but this is a case in point for Mexico, which is a great place to mine silver. MAG comes along. The Fresnillo region has been mined for 450 years and MAG comes in with a little exploration and wham, a little technology, and MAG finds a resource with a grade thickness that is simply astonishing. Plus, the peso, Mexican peso, is cheap right now.
Q: Let's end on a platinum note, then, shall we? There was speculation toward the end of last year about Platinum Group Metals perhaps getting a takeover offer itself, from Impala or someone else. Like most speculation, that never materialized. What can you tell us, Mike?
Jones: Well, in platinum, as with other metals, there has been lots of speculation about companies with shallow ounces ... easily mined resources. I think we have three paths to go: build it; hedge it (by doing a venture with an end user partner -- diluting the asset level and not the public stock level); or sell the whole company.
Q: Is there not a fourth path? Nothing happens, no money comes in, no one makes an offer, South Africa goes on strike, the World Cup in 2010 gets postponed and …
Jones: We think in 60 to 90 days we will be at decision path and a path will emerge rapidly. We have one of the best deposits going in grade and depth and if we do not make a return, then no one else will either. As for the metal itself, we see $1,295-ounce platinum in our long term view. In our neck of the South African woods, you have Eastern Platinum Ltd. (TSX:ELR) with a producing mine and Anooraq Resources Corp. (AMEX:ANO) with one as well. Ours is projected at 185,000 ounces a year for our 74-percent share of the mine, with 22 years of life. Our cap-ex cost, total, would be $566 an ounce. We have between $4 million and $5 million of cash.
Q: Thanks Mike. Damn sexy. We enjoyed that.
-- Conducting this interview: Thom Calandra, editor and author of Ticker Trax on Stockhouse. Mr. Jones and Mr. Calandra spoke to one another Monday.