If you need any more convincing it's time to buy small mining stocks, the market just pleaded its case again...
Here's an updated chart of the Toronto Venture Exchange I showed you last month: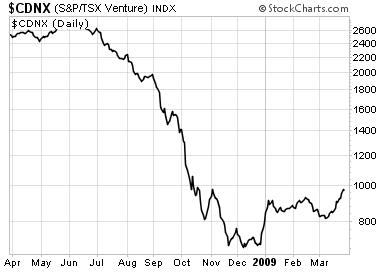 See that little "hook" at the right? That's the Venture making its highest high since November. It's the market telling you it "likes" small miners again.
Remember... you can think of the Venture as the Dow Industrials of small resource companies. It's the most widely followed gauge of the small companies that explore for commodities like copper, oil, diamonds, and precious metals. It's one of the most "boom and bust" indexes you'll ever see.
Why the boom and bust label? Well, consider what life is like for a small exploration company... You raise money from a group of excited investors who dream of hitting the next great gold strike. Your company focuses on one or two prospective projects. If one of these projects turns out to be a minable resource, your share price shoots up thousands of percent. If you don't find anything before the cash runs out, you're looking for a new job or waiting for the repo man to show up.
The repo man showed up last year and broke a lot of kneecaps. The Venture lost 75% of its value in about five months... an amazing decline.
Any good contrarian has to be attracted to this kind of washout. When a market falls that far, it forces a lot of bad businesses and shady characters into bankruptcy. This leaves the productive assets in the hands of smart investors. It also causes thousands of people to swear the sector off forever, pushing those assets to fire-sale prices.
That's what we have now in the junior resource sector... lots of valuable assets going for less than 75 cents on the dollar. And as you can see, we now have a nice little uptrend starting.
I encourage you to get familiar with the junior resource sector. I provided a list of terrific companies to check out in last month's essay. This "boom and bust" sector is turning boom again...
Good investing,
Matt Badiali
Matt Badiali is the editor of the (S&A Oil Report), a monthly investment advisory that focuses on natural resources - from small exploration outfits, to equipment companies, to the biggest commodity companies in the world. He's also a regular contributor to (Growth Stock Wire), a free pre-market briefing on the day's most profitable trading opportunities.
Matt has real-world experience as a hydrologist, geologist, and a consultant to the oil industry and he holds a master's in geology from Florida Atlantic University.