The Rant
Many of you probably remember the last serious "window of opportunity" presented by the bear market in metals. It lasted from 1997 to 2002. My memory of investments made during that time (selective and fragmented though it may be) is of a series of companies that were cheap by all previous metrics that just kept getting cheaper. Even when a company's results played out as expected, the market reaction was muted to negative. We were buying value at a discount, and top management teams for virtually pennies. This window of opportunity lasted several years, as the chart of Eldorado Gold below illustrates.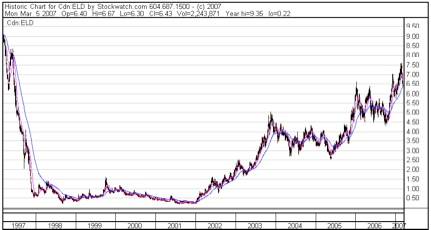 (Fig. 1- 10-year ELD chart from 1997 to 2007. The stock went from C$9.00 a share to C$0.24 and back again in 10 years.)
Take a hard look at the chart. The bottom took over a year to hit. ELD sold for about C$0.50 at the end of 1997 and again at the beginning of 2002. These were four long years with very little improvement and few opportunities to make money trading. This chart is specifically of ELD and its own issues but it typifies of the junior market over that time frame. It could very well prove to be a proxy chart for the current junior exploration market going forward. There is a second even more important point to this chart that I want to draw to your attention: between 2002 and 2007 ELD ran from C$0.24 to C$7.50: a 3,000% gain- well worth the wait.
Those years were hard times in the mineral industry and even harder stock purchases to make. Ultimately though it was these most difficult purchases that made me the most money. It took patience, persistence and selectivity with a very strict adherence to preserving capital and cutting losses immediately.
In the end I think it is more appropriate to judge your financial success not by how much you had at the peaks but by how much you retained during the troughs. This is the capital that will take you to the next level: be very cautious with it.
Even more important for most of us in the real world is not so much the money we have made but the friends and experiences we have accumulated between troughs. This brings me to another subject, one that a longtime subscriber brought to my attention.
It seems I have been a little guilty of deriding the mining and exploration industry occasionally over the past few years. So let's set the record straight. Although our industry has more than its fair share of characters, crooks and con men, the real and honest people striving to create wealth through minerals exploration more than compensate for the rogues. It's not the young suits with MBA's from high priced institutions or the fee parasites hanging about the room that get the job done. It is the entrepreneur who puts his savings into a dream supported by people of vision- in the field and boardroom. A person couldn't ask for a better bunch of characters to drink with or suffer through the good times and bad with.
Notice that no one in this industry expects or is standing in line for a public bailout, despite the crushing situation we are facing. The mining and exploration industry is used to surviving busts, and it's a good thing 'cause here we go again. This time however we are not alone (Fig. 2 below). The damage done to the greater capital markets will take time to heal, and weigh heavily on the demand for highly speculative investments.




(Fig. 2- March 5, 2009 "happy" headlines. These are remarkable are they not?)
One personal and very simplistic perspective on bull and bear markets is that in a bull market everything seems to go right; we are all so smart that even our failures and mistakes turn a profit. On the other hand, in a bear market everything that can go wrong invariably does. Well this week MAG Silver has had to retract the resource estimate they released just last week (discussed below). Through no fault of their own, the (heretofore) reputable engineering firm which MAG relied on made and published a basic data error. Likewise Hathor's results, although not necessarily damning, were found lacking.
You see, discovering an economic mineral deposit is a tough business and making money in the process, even harder. This is particularly true in a bear market- one that the preceding Bloomberg headlines suggests is a long way from ending. This time around gold is giving every indication that it will be our savior, as evidenced by the relative strength in the gold price and a flurry of gold equity financings to the tune of several billion dollars. As I have discussed previously, the massive global monetary inflation and debt monetization will eventually translate into higher US dollar gold prices. Between now and then the unexpected will be the norm and volatility will reign.
The "gold is our savior" theme was also quite obvious at this year's Prospectors and Developers Association of Canada (PDAC) conference in Toronto. Virtually anyone with cash was looking for some easy gold ounces ready to go into production-- or that one gold property no one else knew about. Pity the poor blokes with a base metal deposit. They were a lonely group only outdone by the seriously unfortunate base metal explorers who couldn't even get into the hospitality suites. I actually saw several having to buy their own drinks. Tough times indeed!
The PDAC and other such conferences are great places to screen dozens of companies in rapid succession. Rarely however am I able to come away with a company or project to put money into straightaway. I left this PDAC with no obvious additions to the EI portfolio. Of the roughly 20 companies I spent time with maybe six require further research. This means going over the company structure and talking through the geology and mineralization with the geologists. Although occasionally decisions can be made following the desktop review, ultimately you need to see the property to confirm or invalidate the ideas. If there is enough interest among subscribers, we can discuss in an upcoming letter why some of the companies ultimately failed to make the portfolio.
In our EI portfolio we have been focusing on companies with growing gold deposits, cash shells, imminent deals or takeovers and, high risk explorers with obvious potential for large discoveries. Without a particularly compelling reason I feel there is no rush to add to the portfolio just for the sake of doing something. The window will be open for quite some time.
Brent Cook
Brent owns shares in MAG Silver.
This letter/article is not intended to meet your specific individual investment needs and it is not tailored to your personal financial situation. Nothing contained herein constitutes, is intended, or deemed to be -- either implied or otherwise -- investment advice. This letter/article reflects the personal views and opinions of Brent Cook and that is all it purports to be. While the information herein is believed to be accurate and reliable it is not guaranteed or implied to be so. The information herein may not be complete or correct; it is provided in good faith but without any legal responsibility or obligation to provide future updates. Research that was commissioned and paid for by private, institutional clients is deemed to be outside the scope of the newsletter and certain companies that may be discussed in the newsletter could have been the subject of such private research projects done on behalf of private institutional clients. Neither Brent Cook, nor anyone else, accepts any responsibility, or assumes any liability, whatsoever, for any direct, indirect or consequential loss arising from the use of the information in this letter/article. The information contained herein is subject to change without notice, may become outdated and may not be updated. The opinions are both time and market sensitive. Brent Cook, entities that he controls, family, friends, employees, associates, and others may have positions in securities mentioned, or discussed, in this letter/article. While every attempt is made to avoid conflicts of interest, such conflicts do arise from time to time. Whenever a conflict of interest arises, every attempt is made to resolve such conflict in the best possible interest of all parties, but you should not assume that your interest would be placed ahead of anyone else's interest in the event of a conflict of interest. No part of this letter/article may be reproduced, copied, emailed, faxed, or distributed (in any form) without the express written permission of Brent Cook. Everything contained herein is subject to international copyright protection.