Deflation, Inflation, Depression
Take your pick what 2009 will bring. My expectation, no matter the outcome in 2009, is that Gold will prove to be one of 2009's better "safe haven investments".
Just this year alone we've witnessed a burst in the inflation bubble along with a massive onset of deflation. We've witnessed so much deflation that Crude Oil Prices are down in but a few months over $100 a barrel, a loss of nearly 2/3rds of its value. Corn prices have fallen nearly 60% or so. Most major stock indices are down 40% or more this year.
Gold is also down this year as well. Gold closed 2007 near $840 an ounce. The February Gold contract is currently trading near $765, so year to date Gold has lost nearly 75$ an ounce. A 9% loss year to date. Obviously Gold bought by foreigners trading in Euro's or other major currencies to buy Gold may have turned a profit since the Dollar has rallied about 12% against many major currencies. However, getting fancy about Gold investing is not what it's about.
As I see it, regardless of what economic outcome we see in 2009, my expectation is for Gold to play an important role in wealth preservation. Interest rates are so low that in some cases buying a treasury instrument costs more than the interest earned. More important, I see Governments around the world spending funds they don't have in a desperate move to shore up their economies. Seeing the enormous amount spent by the US Government on bailouts means at some point the value of the Dollar comes into question. As such, I don't have a lot of faith in the value of the Dollar holding up in 2009. If the Dollar falls, that should support Gold.
As simple as it seems, once money starts being lent by banks and Mortgage Company's, that lending process will go a long way in removing fear about the future. Right now, the mentality one of overwhelming doom and gloom, so much so that around the world people now fear another Great Depression.
Assuming Governments get money moving, once those funds begins to move through the economy, that money begins to chase goods and services. Goods and services that there will be fewer of due to the world economic slowdown. The seeds of inflation are therefore in place. It's a change in money movement and economic mentality that is necessary to trigger it.
Keep in mind that at market bottoms things always looks their worse, just as at tops they look their best.
Economically speaking, things are bad and look bad.
The Quarterly Gold Chart
When in the midst of Capitulation, I like to look at longer term charts. Namely the Quarterly Chart of Gold prices.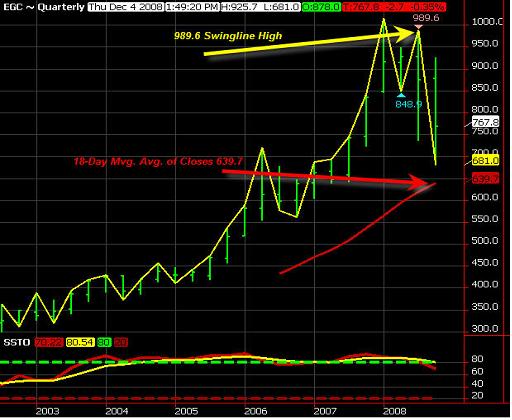 Prices on the Quarterly Gold Chart have prices trading over the 18-Quarter Moving Average of Closes, which is in and of itself "Bullish". Support in this case is the 18-Period Average at 638.4.
The negative is that the "Swingline Study" shown in yellow, currently has a pattern of a Lower Lows and a Lower Highs, which is the definition of a Downtrend
In order to reverse the momentum prices currently have to take out the most recent Swingline High, shown on this chart as 989.6.
Gold's Weekly Chart
Let's narrow in our time table and look at a Weekly Gold Chart.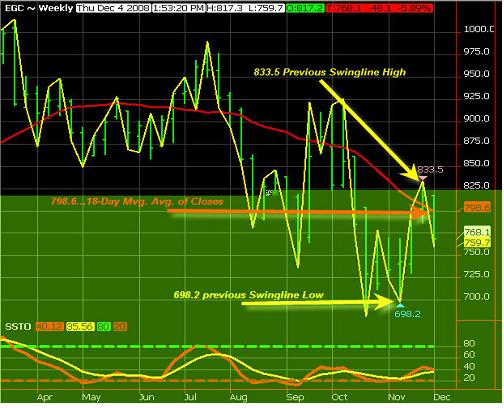 A bit different story is shown here. The Swingline is up but prices are trading under the 18-Day Moving Average of Closes. This chart could turn Bullish by just prices just closing back up and over the 18-Week Moving Average of Closes. If that occurred, a purchase might be in order.
Stochastics (SSTO) are neutral, with readings in the 30 to 40 zone.
Daily Chart
The Daily Chart of February Gold is in the process of determining what next.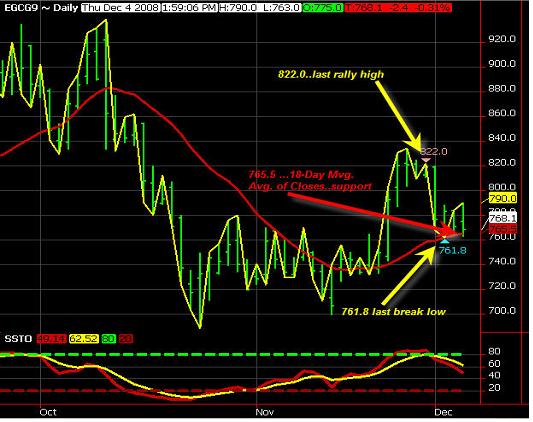 The Daily February Gold Chart is narrowing in. support is seen between the 18-Day Moving Average of Closes and the last Swingline Low, 761.8. Prices can go either way since the Swingline Study is pointing down but prices are trading over the 18-Day Moving Average of Closes.
Gold's Seasonal Story
To get an idea of the longer term picture, look at the Seasonal Chart below, as provided to us by The Moore Research Center... www.mrci.com.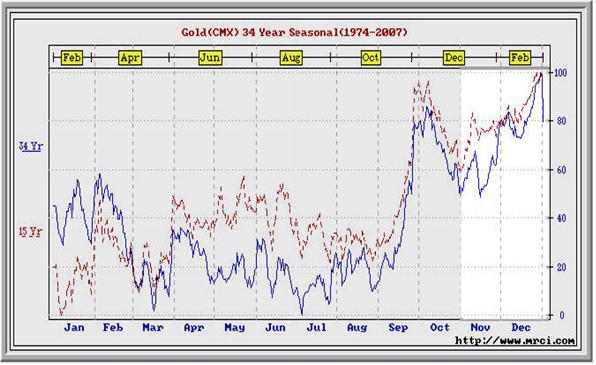 Seasonally speaking, there is reason to go with an Upside Breakout if one occurs. Assuming February Gold holds and get back over $822, the trend will turn up. On the Daily Chart this can also occur with a new Swingline High, one that moves down which is not difficult to do. Seasonality this year has been a hard act to follow, especially as outside markets continue to break down.
Deflation at anytime is something that can overwhelm Gold. It is Gold's enemy, but one that I question of the Automakers get their bailout and if the Fed figures out a way to get Mortgage Rates down.
To learn more about us or to get started trading through us simply go to our website at http://www.iepstein.com and fill out the New Investor Kit Form. A CD-Rom will be sent to you. At the same time you will instantly begin receiving access to and Instructions on how to access our daily market research, trading recommendations, charts and much more.
If phoning us is easier for you our phone number is 1- 800- 284- 3010. We handle trading accounts from individuals in a number of foreign countries as well.
Disclaimer: This publication is strictly the opinion of its writer and is intended solely for informative purposes and is not to be construed, under any circumstances, by implication or otherwise, as an offer to sell or a solicitation to buy or trade in any commodities or securities herein named. Information is taken from sources believed to be reliable, but is in no way guaranteed. No guarantee of any kind is implied or possible where projections of future conditions are attempted. Futures and Options on Futures trading involve risk. In no event should the content of this market letter be construed as an express or implied promise, guarantee or implication by or from Ira Epstein & Company or Macquarie Futures USA, Inc. that you will profit or that losses can or will be limited in any manner whatsoever. No such promises, guarantees or implications are given. Past results are no indication of future performance.