Chaos
If you watched the Capital Hill Hearings this week with guest stars Fed Chairman Bernanke and Secretary Paulson, you had to come away with the view that we're screwed. Mr. Paulson's decision to give back $350,000 of the approved $700 Billion Bailout Measure is his way of saying "let the next administration figure out this mess". He's done all he can do.
Stock markets around the world responded. They immediately broke in most cases to 5-year or greater lows.
Short-Term Interest Rates seem headed to zero.
Crude Oil is flirting with $50 a barrel.
US Jobless Claims are rising dramatically with overall unemployment on its way to 7.5% or higher.
The length for Jobless Claims will probably jump to 52-weeks.
New Home Start Statistics showed new starts to be basically non-existent, which I term a bright spot as that means new homes won't be built and therefore won't be competing with older ones, which ultimately removes housing inventory. The negative of course is that in the process, demand for materials and labor to build new homes is hits the skids.
Capitulation
You are witnessing market capitulation. It matters not what you trade: Metals, Live Stock Markets, Grains, or Energies, demand and pricing for these raw materials are in a downward spiral. Yes there will be bumps along the way, but unless the US economy begins to see some bright spots, the odds of further price deflation will persist.
This particular price meltdown is one of the most pronounced prices swings seen in modern times.
What's hard to understand for many to understand is that capitulation ultimately leads to market bottoms. Yes bottoms.
Capitulation at the top of the market is termed a "burst bubble". This was witnessed this past July in many markets and recently in housing. Bubbles by nature rise, bottoms don't. Bottoms sink and end with capitulation, a price where the market sees no value at all.
At tops and bottoms, no one rings a bell nor says that the "Capitulation Phase" is over. Rather, what is seen in looking back are sharp price movements along with big volume, seemingly coming out of nowhere. It is this combination that captures those short at bottoms as it does those long at tops.
I do not play nor look for either. I don't know how to. As a Swingtrend Trader, I find it easier to go with what I perceive to be the shorter term, swing trend. Right now the trends in many, but not all markets, are down. As the Stock Indices decline, that decline produces a general negative psychological influence. That influence accentuates the downtrend, carrying it down to "prior value areas", which either ends up holding or breaking.
Many markets are now at multiyear lows. Only Interest Rate Futures, the Dollar and Yen are challenging longer term tops.
The Quarterly Gold Chart
When in the midst of Capitulation, I like to look at longer term charts. Namely the Quarterly Chart of Gold prices.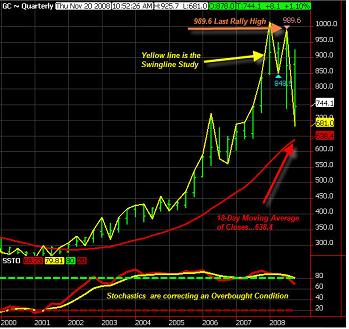 The Quarterly Gold has prices are trading over the 18-Quarter Moving Average of Closes, which is in and of itself "Bullish". Support in this case is the 18-Period Average at 638.4.
The "Yellow Swingline Study" has currently has a pattern of a Lower Lows and a Lower Highs. This is a negative pattern, pointing to lower prices with price support at the 18-Quarter Moving Average of Closes, 638.4.
In order to reverse the momentum prices currently have to take out the most recent Swingline High, shown on this chart as 989.6.
Gold's Weekly Chart
Let's narrow in our time table and look at a Weekly Gold Chart.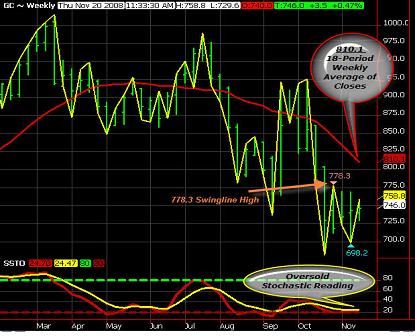 A bit different story is shown here. Stochastics are oversold, which means new short sales are not warranted.
Prices are trading under the 18-Week Moving Average of Closes, which places resistance above the market, at 810.1.
Even if the Swingline High of 778.3 were taken out, because prices would be under the 18-Week Moving Average of Closes, a purchase would not be warranted.
Daily Chart
The Daily Chart of February Gold is in the process of determining what next.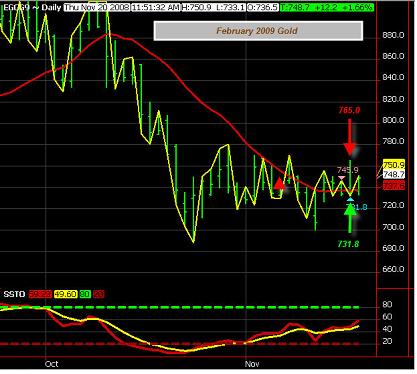 This past Tuesday, November 19th, February Gold witnessed what is called an "Outside Day Up". That days' range was $765 down to 731.8. Prices traded on either side of the 18-Day Moving Average of Closes, 737.6 and are currently trading over that number.
I see a "line in the sand".
A close over the most recent spike high of 765 should offer the Bulls ammunition to say that a base of 700 up to the 770-765 level has been formed and Gold is breaking out of that base to the upside. A close under 731.8 will offer the Bears with ammunition to say that upside momentum has failed and a retest of the base low at 700 is the next downside target.
We have our breakout points. Since the Weekly and Quarterly Charts are under their key moving average, but remain either Overbought or Oversold, the story becomes one of trading short term and going with the flow that the Daily Chart provides.
Gold's Seasonal Story
To get an idea of the longer term picture, look at the Seasonal Chart below, as provided to us by... The Moore Research Center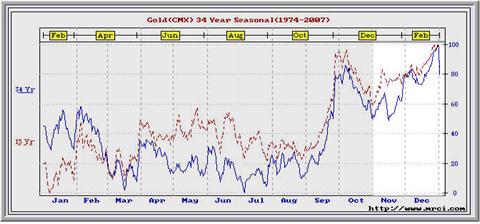 Seasonally speaking, there is reason to go with a breakout to the upside if one occurs. If this is all that Gold can break, the next move in terms of Historical Seasonality is to the upside. As we all know, seasonality this year has been a hard act to follow, but one that I always pay attention to.
To learn more about us or to get started trading through us simply go to our website at http://www.iepstein.com and fill out the New Investor Kit Form. A CD-Rom will be sent to you. At the same time you will instantly begin receiving access to and Instructions on how to access our daily market research, trading recommendations, charts and much more.
If phoning us is easier for you our phone number is 1- 800- 284- 3010. We handle trading accounts from individuals in a number of foreign countries as well.
Disclaimer: This publication is strictly the opinion of its writer and is intended solely for informative purposes and is not to be construed, under any circumstances, by implication or otherwise, as an offer to sell or a solicitation to buy or trade in any commodities or securities herein named. Information is taken from sources believed to be reliable, but is in no way guaranteed. No guarantee of any kind is implied or possible where projections of future conditions are attempted. Futures and Options on Futures trading involve risk. In no event should the content of this market letter be construed as an express or implied promise, guarantee or implication by or from Ira Epstein & Company or Macquarie Futures USA, Inc. that you will profit or that losses can or will be limited in any manner whatsoever. No such promises, guarantees or implications are given. Past results are no indication of future performance.