Welcome to the opening ceremony of a modern depression.
The effects of the financial shock are starting to make themselves felt in my neck of the woods. Neighbors on three sides not involved even peripherally in the financial markets are unemployed now. Vacations for the year have been cancelled.
Even Paramount Pictures announced this week that they would only be "green lighting" 20 films for production instead of their originally budgeted 25.
General Motors (NYSE:GM), Ford (NYSE:F) and Chrysler (DCX) are laying off thousands upon thousands.
Copper and nickel mines are closing, and feasibility studies are being postponed. Yahoo is laying off 10% of its workforce.
There is barely a single industry outside of anything related to home foreclosure that is not in the process or about to enter the process of hunkering down and trimming the workforce to survive what is now universally perceived to be lean times ahead.
The joke of the week I heard was this: I went into Starbucks (NYSE:SBUX) to buy a coffee and they offered me a free bank with it.
Starbucks is closing 600 stores this year. Bah humbug.
If for some reason you're still wearing rose colored glasses through all of this, now is the time to prepare for the biggest social upheaval these generations will ever see.
Crime is about to become rampant. As police forces start laying off due to reduced tax revenue at the municipal, state, provincial, county and federal level, desperate times will force good people to do bad things. Bad people won't even wait for times to toughen up.
And I don't know about where you live, but here in Portland, the city is literally crumbling…the many bridges that criss-cross the Willamette River seem to be in generally good repair – they double as housing for a good number of the city's shelter-challenged. But a truck dropped into a sinkhole that opened up in the middle of the street not so long ago, which was very entertaining while at the same time vaguely nerve-wracking.
Fortunately, the federal government isn't hesitating in its stated promise of economic stimulus packages. $12.8 billion is being distributed to get crews working on bridges, tunnels and highway projects. The Federal Highway Administration claims 34 jobs are created with every million dollars spent.
That will come as cold comfort to the 6.1% of the population who is unemployed. That's 9 million people, according to Bureau of Labor statistics. Including those who can only find part-time work or are otherwise not looking for work, the figure of under-employed Americans extends to more like 15.5 million, according to the American Federation of Labor.
There is nothing but trouble as far as the eye can see. Major threatened industries include airlines, tourism, automotive and of course, the financial industry.
For many, a Merry Christmas is as likely as gold falling from the sky. At least Fed Chairman Benranke has promised to dump dollar bills from helicopters…by the time that happens, they'll probably be more useful as litter box liner.
Which brings us back to gold.
The sheer magnitude of hate mail coming my way from people who revile my advocacy for gold is almost as mind boggling as the price weakness in the face of almost zero supply of small denomination coins and bars.
The chart below demonstrates the strong increase in gold lease rates in the last 90 days.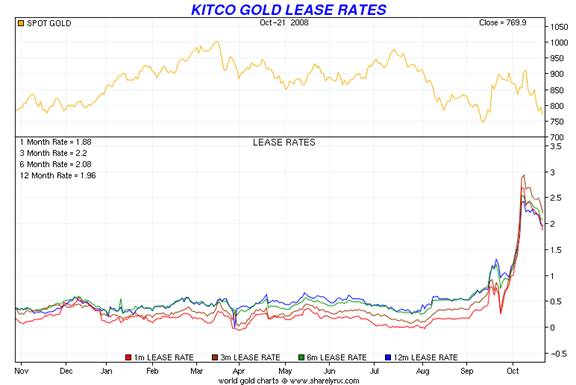 What does that tell us about the future price of gold?
Well, for one thing, it now costs as much to borrow gold as it does to borrow currency, which is a clear indication that the supply of gold for leasing is tightening while demand remains strong. Most central banks have ceased lending gold completely.
The most common question being asked is, "If gold is in such strong demand and short supply, why is the price so weak?"
And that's a little bit complicated, but like most everything in these most volatile times, nothing makes sense. At least, not in the short term. Instead of re-iterating the explanation of the downward pressure created by the gold carry trade and the futures market, I refer readers to the excellent work of John Embry and Andrew Hepburn, who published a work called "Not Free, Not Fair, and which is available here: http://www.sprott.com/pdf/not_free_not_fair.pdf .
The bottom line is this: the massive repatriation of US Dollars as a result of de-leveraging globally and the unwinding of so many credit contingent deals is making the US Dollar look strong, while the gold manipulation cartel is exerting its utmost effort to keep the spot price of gold low through concentrated short positions on COMEX. The price of gold will emerge from this negative influence on the next leg down and the economy goes into a broader paralysis instead of being limited as it is now to real estate and financials. Most credible analysts are recommending a minimum 30% exposure to gold for institutional portfolios.
Though its hard to imagine in the current price environment, both gold and silver are on the verge of a tremendous breakout to the upside, and if you can't get your hands on the physical bullion over the next 24 months, the producing companies will be next followed closely by well cashed up junior explorers with million ounce+ deposits in National Instrument 43-101 compliant categories.
Ignore the negative press on gold, and recognize the current price weakness for what it is: the last time you'll see gold this cheap in a long time, and therefore a huge opportunity.
James West is the editor of MidasLetter.com, a subscriber-based financial newsletter that alerts readers to opportunities and threats to their financial well-being. A subscription is US$499 for one year. Visit
www.MidasLetter.com
to learn more.