Gold Capitulates
Given the financial economic world meltdown, some die hard Gold Bulls have to be wondering what it takes or will take to get Gold to move up. What we now know is that the current world credit crisis is not the situation it will take to do so. That leaves inflation. My guess is that once inflation comes back, Gold will bottom and move up and over $1000 an ounce. Another possibility is the failure of the Bailout Plan that is being implemented in practically every major world economy today.
As I have been pointing out for months, October is rarely a friendly month for Gold or Silver. Stock indices fall into the same camp. No, I did not see the size of this meltdown coming, but the size of the meltdown is not to me as important in being on the "right" side of things.
The move to the Dollar, which is causing the Dollar to appreciate, is simply too much pressure for Gold to handle in today's environment. As such, Gold has broken down. The next downside target in Gold looks to be the September 11th low of $740 per ounce. Currently, it will take a move over $859.3 to reverse my thinking.
Deflation vs. Inflation
Last week I wrote about deflation. You might want to revisit last week's Metal Report as deflation is now taking place at a pace not many are ready for. It seems the world, yes the world, is pricing in recessionary prices in all commodities. No commodities look to be immune.
The pace of the breakdown in Grains, Energies, Softs and Metal Markets has been nothing short of breath taking.
There is however a silver lining. It is that prices will make a bottom much sooner than many expect. The downward spiral will end as the Credit Markets straighten themselves out and credit becomes more available to buy goods. Once that takes place, it will mark the beginning of and a shift to an inflationary environment in my opinion. I say this because as prices have broken down, credit has remains tight. Read the newspapers. Many projects have either been put on hold or simply eliminated. Expansion in mining, farming, retailing, restaurant expansions and so on are all affected. As such, fewer goods are available. The key to watch for is when demand begins to outstrip supply. Right now the opposite is taking place. In fact the pace of change to those traders new to the Futures Markets probably has them frozen in place. It is something they have never witnessed. Those of us who have years of trading experience have seen this and know that the market will do as it did in the past. It will overshoot to the downside. That's the event that will cause the market to forge a bottom. When that happens you'll see it. The chart action will show it.
So, right now the trend in metals is down and my guess is that the largest part of the decline in Silver and Copper is already behind you. Gold remains something of a question, as a rising Dollar will continue to pressure it.
Safe Haven
Gold played its role as a Safe Haven. It held up until the worldwide Bailout Package was announced. As such, the only Safe Haven play at work now seems to be the US Dollar. A rising Dollar is not bullish Gold nor commodities priced in Dollars, which along with ongoing a seizure in the Credit Markets have created massive demand destruction and explains in large part why commodity prices have been and are continuing to fall.
Once the market believes the Bailout Plan will work and credit actually eases, I would expect to see price reversals to the upside.
Gold's Seasonal Story
It's important to look at the Seasonal Chart below, as provided to us by The Moore Research Center...
www.mrci.com
.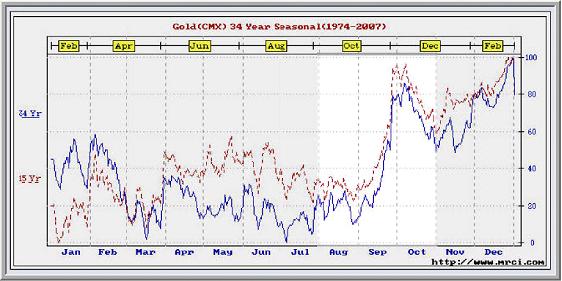 Look at what typically takes place in October. Be it longer term, the past 34-years or shorter-term, the past 15-years. October is rarely friendly to Gold prices.
December Gold
Now let's look at a Daily Chart of December Gold Futures.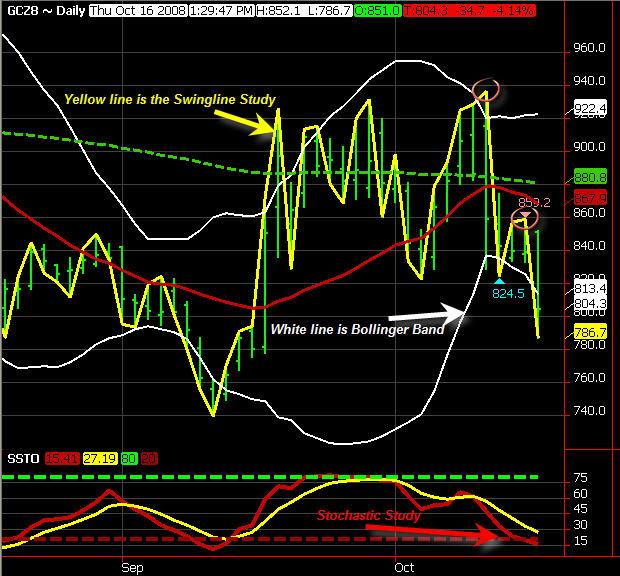 Last week I mentioned that I needed to see the Daily Range and Trading Range of the gold market narrow in. This did not occur. As such, the risk-reward ratio of getting involved in gold made no sense to me.
Since last week, we've seen governments of the world band together to formulate and implant a coordinated Bailout Plan. In the process, the US Dollar has risen, putting downward pressure on gold.
In looking at the above chart, the pattern has changed to one that is Bearish. The Swingline Study shows that market to be making lower highs and lower lows, which is the definition of a downtrend.
The initial downside target as taught in my school, The Futures Academy, is the Bollinger Band. As you can see that number as shown on the "white band" was hit today. As such, the odds favor no longer being short. Not being short is not a buy signal. It is simply a signal that says the "easy money" is no longer available since 95% of the time the market will trade within the Bollinger Bands.
The trend remains down and until prices reverse the downtrend pattern, sales, not purchases are warranted. Given the oversold condition of the market in terms of the Stochastics Study, I recommend a sideline position.
Demand Destruction
Silver has seen more demand destruction than gold. This is in large part because silver is an industrial metal. Industry worldwide has been shaken to its knees. As such, any supply is too much supply.
As in gold, the credit crisis shut down demand for silver taking silver from a high of 19.755 on July 15, 2008 down to a low today of 9.25. A 50% drop in prices in but three months. Wow!
Q. Have prices gotten too cheap. A. Probably.
Q. Is there demand for silver? A. Not much just yet.
Q. What will turn silver up? A. The freeing up of credit, which will create demand from industry for silver in the production of goods.
Q. Is it wise to sell a 50% reduction in prices that has taken place in but 12-weeks? A. No.
Silver Seasonal Chart
The Seasonal Chart of Silver in place as provided to us by The Moore Research Center...
www.mrci.com
.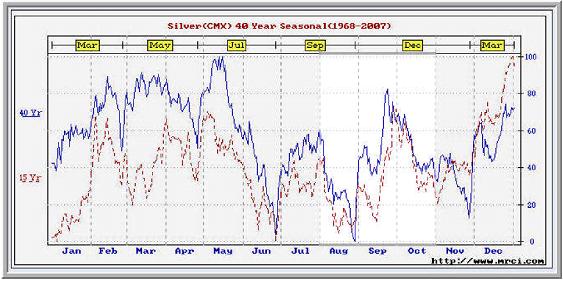 Daily December Silver Chart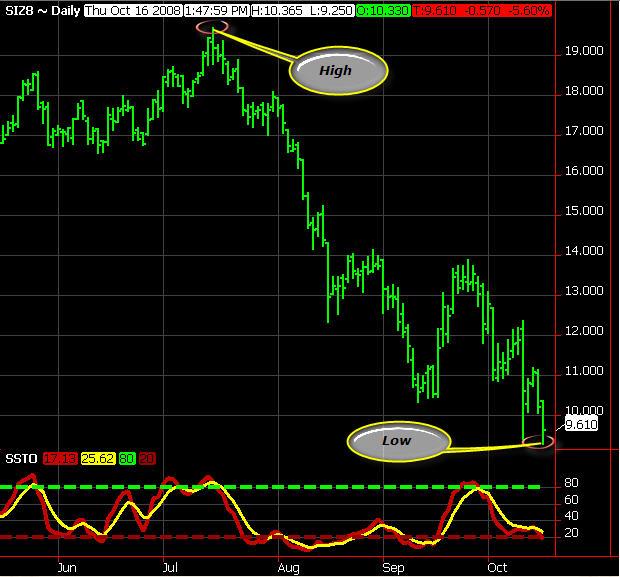 Recommendation
As you can see on the chart above, Silver has fallen 50% in value in but 12 or so weeks. At the same time, it has gotten itself oversold as Stochastics now have a 17 reading.
My advice is to simply sit on the sidelines and wait for a better chart picture to trade from.
To learn more about us or to get started trading through us simply go to our website at
http://www.iepstein.com
and fill out the New Investor Kit Form. A CD-Rom will be sent to you. At the same time you will instantly begin receiving access to and
Instructions on how to access our daily market research, trading recommendations, charts and much more.
If phoning us is easier for you our phone number is 1 800 284 3010.
We handle trading accounts from individuals in a number of foreign countries as well.
Disclaimer: This publication is strictly the opinion of its writer and is intended solely for informative purposes and is not to be construed, under any circumstances, by implication or otherwise, as an offer to sell or a solicitation to buy or trade in any commodities or securities herein named. Information is taken from sources believed to be reliable, but is in no way guaranteed. No guarantee of any kind is implied or possible where projections of future conditions are attempted. Futures and Options on Futures trading involve risk. In no event should the content of this market letter be construed as an express or implied promise, guarantee or implication by or from Ira Epstein & Company or Shatkin Arbor, Inc. that you will profit or that losses can or will be limited in any manner whatsoever. No such promises, guarantees or implications are given. Past results are no indication of future performance.