Pumping Money
When in doubt, throw money at the problem.
For as long as I can remember, this is what has gotten economies around the world out of jams. It's what the Central Bankers in Europe and Asia are doing today, with our help.
Good economics or not, the alternative is much too nasty. Banks are not lending to each other which is tying up world credit markets. You can't blame the banks, since without liquidity they would have a tough time surviving in today's environment.
Merrill Lynch and Lehman Brothers are the latest casualties of the credit crisis in the USA. JP Morgan and Washington Mutual are on the current list of those unlikely to survive as they do now.
New "short selling" rules went into place today, offering more transparency. Transparency is but one issue. The "uptick rule", a rule that came was done away with last year and the rule that I believe would act as a "circuit breaker" in crashing stock index markets, was not addressed and is still not in place. It needs to be activated.
Whether or not yesterday was the beginning of a trend remains to be seen. What occurred yesterday was a shift in sentiment, a shift out of the Dollar and into hard assets. With the 90-T-Bill Rate less than .4 and hourly questions about what US financial institution will be the next to fail, it was only a matter of time until those short metals and commodities, markets that have been deflating due to economic slowing around the world, saw short covering.
Inflation
With all the printing of money and guarantees being made by Central Banks around the world, inflation will most assuredly come back. Not right away since consumption demand is hurt, but as economic strain lessens.
The incredible run up in metals over the past 24-hours was caused, in my opinion, because of a shift by asset managers into hard assets, a shift that caught many traders short and is not going to go away quickly. Whether this shift has "legs" to it is the question.
Frankly, I think too much gain in this short a time frame of 24-hours will be hard to hold onto in unless we see or the market believes more major financial institutions fail soon.
I am not bearish. Not bearish at all. I simply see that the initial upside targets have been hit and consolidation is probably needed.
I would not blindly by other commodities. Gold is special as it has a history of "safe haven" about it. A haven that many will run to if they don't want to won Dollars. Crude Oil by way of example is not a safe haven in my opinion.
Gold's Seasonal Story
A pull back in prices into mid September has occurred. This pullback skewed this chart. Look at the Seasonal Chart below provided to us by The Moore Research Center,
www.mrci.com
.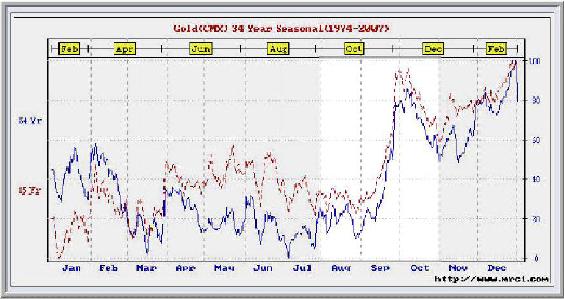 It certainly looks like a Seasonal Low is now in place. It shifted into September, but looks in place.
December Gold
Lets look at a Daily Chart of December Gold Futures.
On Monday I wrote that what was needed to start an Uptrend in Gold was to get over 824.2. Since getting over 824.2, Gold has moved up and into resistance at the:
•Bollinger Band High
•100-Day Moving Average of Closes
•Stochastics are in overbought territory
This is not the where I would begin a buying campaign. Rather this combination of the Bollinger Band High and the 100-Day Moving Average of Closes is where some profit taking should be done, if you initiated a buying strategy over 824.2 or own a Gold Call Spread.
Silver
Let's start off by looking at a Seasonal Chart of Silver as provide to us by The Moore Research Center,
www.mrci.com
.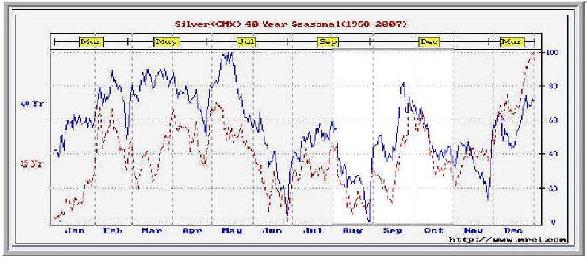 Like Gold, I now think the seasonal low is in place.
December Silver
Let's look at a chart of December Silver.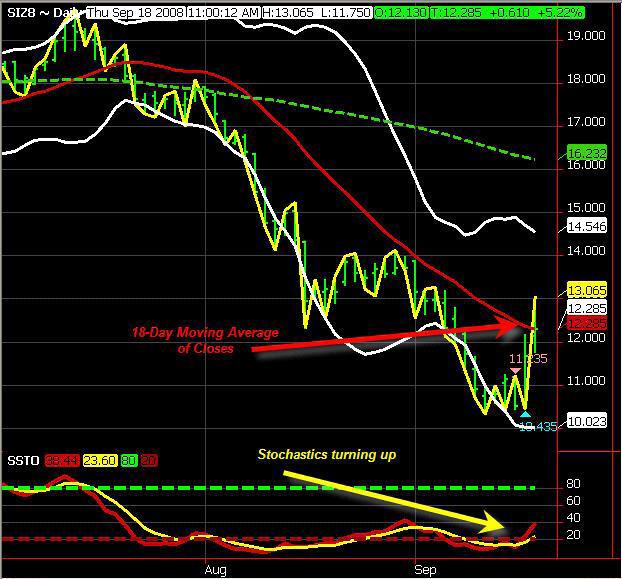 Stochastics are no longer embedded. The immediate upside target when they lost their embedded status yesterday was the 18-Day Moving Average of Closes, 12.28, which has been hit today.
Like Gold, Silver needs to consolidate. Keep in mind that Silver shifts back and forth between being considered an economic metal and a hard asset play. I think it falls somewhere in between.
Recommendation
Those that follow my Twice Daily Recommendation know that you remain holding some Silver Call Spreads. If you followed my recent recommendations you should have successfully bought and sold some Calls, at profit, reducing your exposure on this spread.
I want to keep this position on; using it as a lever should you get out of Gold. If I cannot get you back into Gold and prices spurt to the upside, you still have a metal leg at work.
I still like Silver, so either way, holding on makes sense to me as Silver is not overbought and has a ways to go if there is a further run into metals.
As Exchanges and Vendors raise and/or lower rates, those changes are passed on. The Fees and Commission being quoted are on a per-side basis and are all inclusive! Volatility is here. The biggest Bull Market ever...yes ever in the Futures Markets is at hand.
Take advantage of trading conditions by using our super low commissions and great trading software which make it feasible to enter trades where commissions aren't much of a decision factor, placing the burden where it belongs. On being right the market! It's really that elementary.
To learn more about us or to get started trading through us simply go to our website at
http://www.iepstein.com
and fill out the New Investor Kit Form. A CD-Rom will be sent to you. At the same time you will instantly begin receiving access to and instructions on how to access our daily market research, trading recommendations, charts and much more. If phoning us is easier for you our phone number is 1 800 284 3010.. We handle trading accounts from individuals in a number of foreign countries as well.
Disclaimer:
This publication is strictly the opinion of its writer and is intended solely for informative purposes and is not to be construed, under any circumstances, by implication or otherwise, as an offer to sell or a solicitation to buy or trade in any commodities or securities herein named. Information is taken from sources believed to be reliable, but is in no way guaranteed. No guarantee of any kind is implied or possible where projections of future conditions are attempted. Futures and Options on Futures trading involve risk. In no event should the content of this market letter be construed as an express or implied promise, guarantee or implication by or from Ira Epstein & Company or Shatkin Arbor, Inc. that you will profit or that losses can or will be limited in any manner whatsoever. No such promises, guarantees or implications are given. Past results are no indication of future performance.