The Other Shoes are Dropping
For the longest period of time, what seems now an eternity to me, the world markets have been in a credit crisis. Today Lehman Brother filed for Bankruptcy Protection and Merrill Lynch has been sold.
I was thinking back to the first of the year. Had anyone told me that Bear Stearns, Fannie Mae, Freddie Mac, Lehman and Merrill Lynch would either cease to exist or have happen to them or try to tell me that in but 30-days 4 of the above would see ownership change or bankruptcy, I would have thought them nuts.
The other shoes are dropping. The "cleansing process" as I like to call it is taking place, reeling financial markets, but not causing them to fail. As such, as this process takes place, the mess gets cleaned up. I now am wondering other than AIG and WaMu, if the market is starting to run out of shoes to drop as eventually all the
shoes are out of the closet.
Rest assured, the financial markets will survive. Not all firms will, but the market will.
Yes, stock indices are getting hit hard and yes, investors are getting beaten up as valuations on everything from housing to metals have dropped. However, at some point, probably much sooner than most think, the panic ends, values surface and things stabilize.
The Dollar
Investors have to be stunned today. As such, all day long I walked around my office asking myself one question, what is the rationale for the Dollar holding up? I can find none that makes sense over the long term.
Read the headlines. These are not foreign institutions being liquidated, taken over or being spoken about as the next firms to fail. These are large, brand name US institutions. Yet the Dollar is holding up relatively well.
My guess is that investors believe that Europe or Asian Investment Bankers are next in line for problems. I question this thinking; while at the same time do agree that banks outside of the US have some exposure. How much exposure, well that is the question.
Seeing interest rates collapse as investors seek "safe haven" is probably reason for the Dollar holding on. Low interest rates this time around the crisis avenue means to me that the Fed, because of its ability to "guarantee" is not having trouble attracting funds for investment in US debt. Times are so uncertain that investors are simply going to the world's largest economy and saying it's the safest place to park funds. Regardless of the rate of return!
Questions abound about where to park funds. If you had funds at Lehman, you have reason to worry. Not a lot seems rationale in emotionally charged times. As such investors are temporarily doing whatever they need to do in order to feel protected. It doesn't have to make sense in the short-term. So T-Bonds and T-Notes are in favor. The problem with both is that I don't see this working as a long term investment.
The markets act like the Fed is going to do something. They meet tomorrow, so maybe they will lower interest rates, open borrowing windows or whatever. The Fed has many tools at its disposal. Don't count them out.
I have to believe that the Fed knew the markets would "puke" once they made their decision to let Lehman go bankrupt. As such, I believe that today's break was most likely factored in by Mr.'s Bernanke and Paulson. Therefore, they are watching and can be expected to something, as needed, to calm the markets down.
Inflation
Market conditions, not the US Government has tamed inflation. Demand destruction via a slowing down of world-wide economic activity has taken place. Very quickly.
As such, hurricane threats no longer mean much to energy markets. The market now puts a Bear spin on supply disruptions by saying lack of demand for Crude Oil from shut in refineries is bearish. As crude oil arrives at port, without refineries running, any supply is too much supply. Cities that were in the hurricane's path are now closed down, temporarily reducing energy demand. Two months ago you'd have not thought hurricane damage could do this. Today it is the case.
How low will energy markets go, well that's everyone's guess. There will be a bottom. When, where or how it shows up is anyone's guess.
Gold's Seasonal Story
A pull back in prices into mid September has occurred. This pullback skewed this chart. Look at the Seasonal Chart below provided to us by The Moore Research Center…
www.mrci.com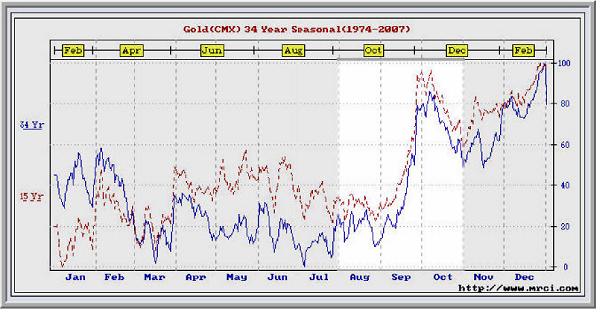 If a low was made, it was made in September. Any new low simply doesn't fit in if the Seasonal trend is to kick in.
December Gold
Now lets look at a Daily Chart of December Gold Futures.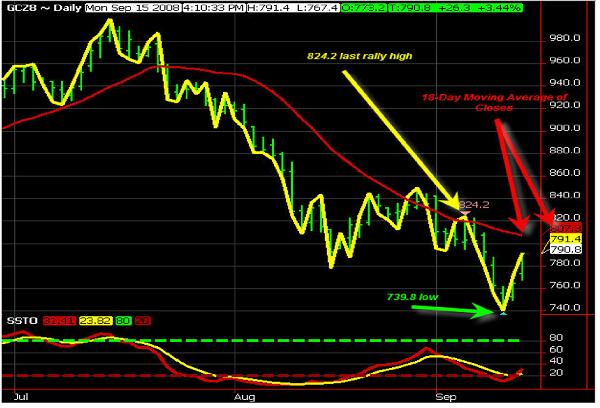 Yes, December Gold is up today, however it is not trending higher. Rather, it rallied in a market that as of this writing is still in a Downtrend.
Resistance is up at the 18-Day Moving Average of Closes at 806.7. A move over 824.2 is needed to begin a pattern of "higher highs". That number is nearly $50 away.
Will investors begin to look at Gold as a refuge? I think so, but what's even clearer to me is that Gold does better with economic growth coupled with inflation than it does as a "safe haven" refuge.
I do not see myself recommending blind buying. Possibly others will be doing it tomorrow, once today's losses are registered. As the stock market plummets waves of buying may come into Gold. There is simply no way to know until it occurs.
Conclusion and Recommendation
Those who follow my Twice Daily Trade Recommendations continue to own the December Bull Call $1000-$1025 Spread at 6.30. Hold it as it has until November before it runs out.
If the seasonals in Gold and Silver take hold, expect me to issue another Buy Signal in Calls or another Call Spread.
Silver
Let's start off by looking at a Seasonal Chart of Silver as provide to us by The Moore Research Center…
www.mrci.com
.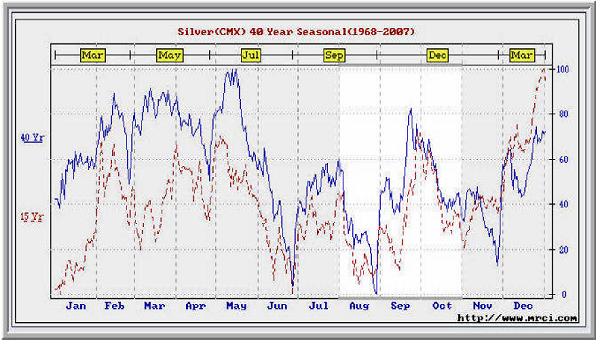 Like Gold, the Silver Seasonals Chart ended up with a lower September low than that of August, which has pressured prices.
December Silver
Let's look at a chart of December Silver.
Stochastics remain embedded. Until they lose their embedded status, it is my opinion that rallies should have difficulty holding.
Once or when Stochastics lose their embedded status, I think a challenge of the 18- Day Moving Average of Closes will take place. The current rate of decent in the 18- Day Moving Average of Closes in December Silver is approximately 10-cents a day. Stochastics would have to lose their embedded status fairly quickly if I were to get a Buy Signal that had a large profit objective. Time is the enemy right now, as I see it.
Silver has historically rallied from mid through late September. Today's "Outside Day Up" probably means more of a rally is in store, but without Stochastics losing their embedded status, the longer-term momentum remains with the Bears.
Recommendation
Those that follow my Twice Daily Recommendation know that you remain holding some Silver Call Spreads. If you followed my recent recommendations you should have successfully bought and sold some Calls, at profit, reducing your exposure on
this spread. Should Silver throw out another buy signal, I intend on once again issuing a Buy Signal for a fast in and out trade. Right now there is no new signal. In fact, so far the rally looks suspicious as it doesn't seem to have any "zip" to it.
To learn more about us or to get started trading through us simply go to our website at
http://www.iepstein.com
and fill out the New Investor Kit Form. A CD-Rom will be sent to you. At the same time you will instantly begin receiving access to and
instructions on how to access our daily market research, trading recommendations, charts and much more. If phoning us is easier for you our phone number is 1 800 284 3010. We handle trading accounts from individuals in a number of foreign countries as well.
Disclaimer: This publication is strictly the opinion of its writer and is intended solely for informative purposes and is not to be construed, under any circumstances, by implication or otherwise, as an offer to sell or a solicitation to buy or trade in any commodities or securities herein named. Information is taken from sources believed to be reliable, but is in no way guaranteed. No guarantee of any kind is implied or possible where projections of future conditions are attempted. Futures and Options on Futures trading involve risk. In no event should the content of this market letter be construed as an express or implied promise, guarantee or implication by or from Ira Epstein & Company or Shatkin Arbor, Inc. that you will profit or that losses can or will be limited in any manner whatsoever. No such promises, guarantees or implications are given. Past results are no indication of future performance.