Gold, Silver and the US Dollar
In last week's report I spent considerable time pointing out that outside market influences were having no positive impact on either Gold or Silver prices. Yesterday, Crude Oil hit nearly $127 a barrel and both Gold and Silver prices fell.
What I suspect is taking place is that the marketplace is now pricing in the likelihood that the Dollar has made a bottom, maybe a major bottom. Many commodities such as metals, cocoa, coffee, sugar and grains respond strongly to value of the Dollar as the strength of the Dollar effects demand. A rising or strong Dollar often curtails demand. We don't have a "strong" Dollar yet, but we do have one that looks as though it has bottomed out.
Students of the market may counter this by saying that the Dollar is but 250-points off of its all time low. I agree with that. What I don't agree with is this. The Futures Market's function is to perceive what future trends are or are going to be. That perception has changed in favor of the Dollar. The reasons for this are numerous.
Given the subprime mess, the continuing write downs in loans at US and foreign institutions that "handled" those loans along with soaring inflation in food commodities along with the dragging on of the Presidential election, one would think the Dollar would stay under pressure. It isn't and probably won't make an attempt at doing so in the near future unless some unknown even takes place.
I say this since at some point in time all markets reach a point where the flow of "bad news" from the same "items" eventually become fully discounted. That is part of what the world of finance and financial projecting is about. It is more of an art than a science in my opinion, but nonetheless a force that must be dealt with if you want to be a nimble trader in the Futures Markets.
No, I don't see the Dollar roaring back up anytime soon. Rather, I see it as having bottomed out and trading sideways to higher over time.
In summary, until another "event" takes place that shocks the Dollar, I think for the time being a bottom has been made in the Dollar, maybe a major one. Only time will tell. Should the Dollar get back under 71.05 that will cause me to rethink my bullish Dollar bias. However, until that takes place, I am taking the position that the Dollar has bottomed. As such, I have to adjust my thinking as to how that impacts metal prices.
The Impact of a Strong Dollar
The impact of a bottom in the Dollar is moving markets. The move comes in the form of waves. The initial wave is clearly one of bearishness in metals. You might ask "why"? The reason has to do with fear. Fear of "something" is often the driving force, driving both to higher prices. A collapsing Dollar, war, inflation and so on motivate investors to abandon things they think will lose value and covet things they believe will gain in value. That time has temporarily come and gone for Gold.
Gold has temporarily lost its "coveted" position. The key word here is "temporarily" as I believe that once the US economy rebound sets in, even with a stronger Dollar, metal prices will rebound due to increased inflation along with increased real physical demand for Gold and Silver. However, the market is not yet near that point. Rather, I see the metal markets as being in a liquidation mode.
As such, rallies my expectation is that rallies will not hold and that price breaks will come easier and at times be larger than most expect.
Not all is lost for the longer term Bulls. This phase in my opinion is but a correction in a market that will once again turn bullish from lower but not dramatically lower price levels. The key for now is to play both sides of the market, looking for profit opportunities, while keeping tight control of Dollar risk.
Seasonal Chart of June Gold
Let's look at a Seasonal Chart of Gold provided to you by the Moore Research Center…
www.mrci.com
The Seasonal Chart shows what Gold has done over both a 15 and 34-year time span in term of price momentum. I use the comparison to view and compare longer-term historical data versus shorter-term, more recent data.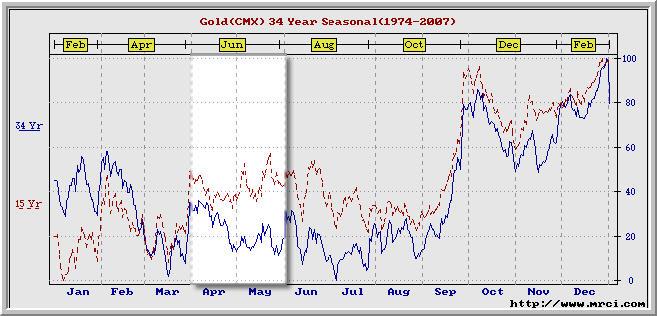 As you can see, the downside momentum doesn't bottom out until July. There are bounces of course, but nothing in terms of historical importance until the summer low sets in.
June Gold
Let's look at a Daily Chart of June Gold.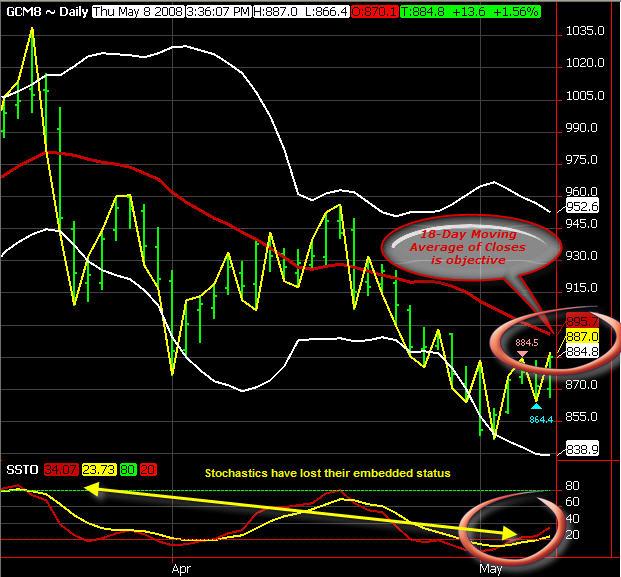 Gold is in a Downtrend. The "yellow" lines I have placed over the daily bars have a pattern of lower-lows and lower-highs. That is what technicians like me use to define a Downtrend.
Gold is not oversold as the graph at the bottom of the chart, the Stochastic Study, is going sideways with readings of both the "K" and "D" lines staying in the 30"s. That means that downside momentum has locked in.
The "white" lines are Bollinger Bands. Bollinger Bands are an algorithm in which I use 2-standard deviations from a mathematical mean to derive a 95% probability. In plain English, this means that 95% of the time market prices will stay within these "white" bands. When prices hit them, the hitting of them to me becomes a profit objective given that there is only a 5% chance prices will stay above or below them.
Therefore, my initial downside target is $844.3, the current value of the Bollinger Band Bottom. That number will change daily as prices change, but the $840 level seems a reasonable downside target. You can easily plot this value out in our OST-IraChart Software.
Conclusion and Recommendation
I see no reason in the short-term to become bullish gold prices. As a market technician, I am temporarily in the Bear Camp and will most likely stay there until prices close back up and over the 18-Day Moving Average of Closes, the "red" line on the above chart.
Unless the market gets itself oversold, rallies are short sales opportunities. At this time, I prefer being short with a stop on that short position at 890.9 looking for the 845 price level as my downside profit objective.
Silver
Like Gold, the influence of a rising Dollar is taking its toll on silver prices.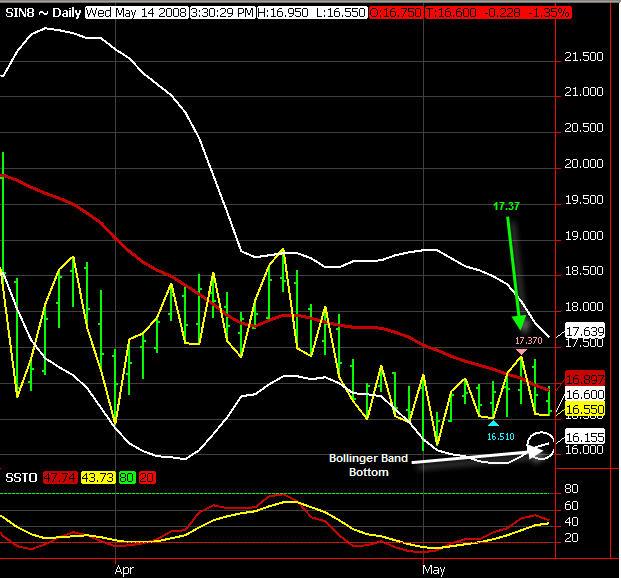 Silver is locked into a broad trading range, with a current range top of 17.37 and a trading range bottom of 16.05. That represents a lot of ground, meaning there is no 'breakout" point that makes a lot of sense.
Rather, what I see is a market that has downside bias. I say this since the 100, 45 and 18-Day Moving Average of Closes are all above current price levels. When this occurs, downside bias takes over and rallies often falter as price action will need some event to get prices back over these three key moving averages.
Stochastics are neutral, with reading in the mid forties. With prices under the key moving average, I take this to mean that the price break down to the last low of 16.05 has not left the market in an oversold condition. This leaves this market ripe for further downside testing.
Volatility is here. That's what traders thrive on.
To learn more about us or to get started trading through us simply go to our website at
http://www.iepstein.com
and fill out the New Investor Kit Form. A CD-Rom will be sent to you. At the same time you will instantly begin receiving access to and instructions on how to access our daily market research, trading recommendations, charts and much more. If phoning us is easier for you our phone number is 1 800 284 3010. We handle trading accounts from individuals in a number of foreign countries as well.
Disclaimer: This publication is strictly the opinion of its writer and is intended solely for informative purposes and is not to be construed, under any circumstances, by implication or otherwise, as an offer to sell or a solicitation to buy or trade in any commodities or securities herein named. Information is taken from sources believed to be reliable, but is in no way guaranteed. No guarantee of any kind is implied or possible where projections of future conditions are attempted. Futures and Options on Futures trading involve risk. In no event should the content of this market letter be construed as an express or implied promise, guarantee or implication by or from Ira Epstein & Company or Shatkin Arbor, Inc. that you will profit or that losses can or will be limited in any manner whatsoever. No such promises, guarantees or implications are given. Past results are no indication of future performance.