Gold has not, I repeat, has
NOT
been influenced by all time high, energy prices. Rather, Gold is being influenced by what appears to be a bottom in the US Dollar.
Until and unless 71.05 is taken out in the June Dollar Index, I think it fair to say that a short-term, if not a much more important longer-term low is in place for the Dollar Index. I see the Dollar's next upside objective as being 74.50, the high it made on April 18th.
The news media is ripe with inflation stories. Rice sales for example are being rationed, not in some third world country as you might expect, but here in the US by some food chains. Getting food into the hands of those who need it in Africa and other needy countries is not only difficult, but now due to transportation costs, very expensive. India has stopped futures market trading in a number of food products. Iran continues to do what Iran wants to do concerning nuclear development. Turkey continues incursions into Iraq.
Copper just a few days ago hit a new all time high of $4.26 a pound. There is a move underfoot in Congress to curtail futures trading in energy markets.The Stock Indices just completed there best upside month in a very long time.
Oil prices are almost daily setting new all time highs, being just shy of $125 a gallon as I write this report. CNBC now has new graphics of an "Oil Alert" section playing. Come on………
And Gold, well Gold is down nearly $170 from its high made on March 17 at $1038.60.
Why the Change in Market Perception
The answer is simple. The sky is no longer falling. Yes, believe it or not, things actually seem to be getting better. Let me explain what I mean by "better".
A turnaround in the US economy and the housing sectors has not yet occurred. Rather the slowing down of negative issues affecting both is what is taking place. And, most importantly, the markets are no longer discounting the same bad news over and over. In other words, bad housing data and the subprime mess on their own are yesterday's news.
We're just now beginning to hear the first whispers of a housing bottom in some select markets. A bottom does not necessarily mean a turn around. It means that house prices may no longer be declining as fast or for that matter even declining as they were just a month ago. In some areas sales are actually picking up. This should not come as a surprise to anyone, as eventually this event will occur. Maybe not in Vegas or Miami, but in other markets this is starting to occur.
You and I become accustomed to hearing nothing but bad news. However, as I've been writing about, there is a "sliver of light at the end of the tunnel". The market seems to sense it.
In the first quarter of this year, there was a rotation concerning Gold going on. Gold either tied itself to the value of the Dollar, the value of the Stock Market or to energy prices.
Now gold seems tied to nothing as all have rallied in the past two weeks while at the same time Gold and Silver prices have fallen. Even Copper surged ahead to a new all time high, having absolutely no impact Silver or Gold.
The first signs of a possible Bear Market Rally are now taking place. Not a turn around just yet, rather a bounce.
Seasonal Chart of June Gold
Let's look at a Seasonal Chart of Gold provided to you by the Moore Research Center…
www.mrci.com
The chart below shows what Gold has done over both a 15 and 34-year time span. The reason for the comparison is simply to view and compare longer historical data versus shorter more recent data. The shorter the data frame the more the data evenly weighs current events. However, too short a time span doesn't tell a very good story, so we strive for balance by comparing 15 versus 34-year data.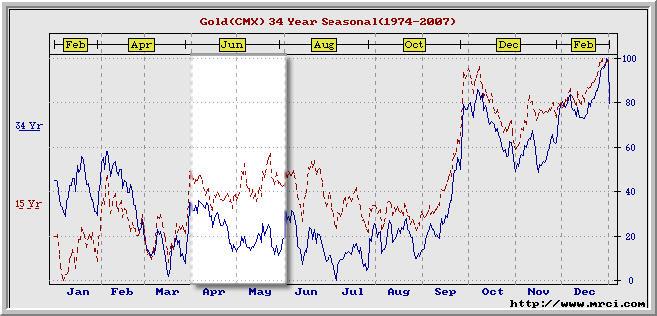 The overall pattern of Gold doesn't bottom out in terms of downside momentum until July. Yes July. There are bounces of course, but nothing in terms of historical importance until the summer low sets in.
June Gold
Let's study the June Gold Chart to see if any shorter term opportunities are presenting themselves.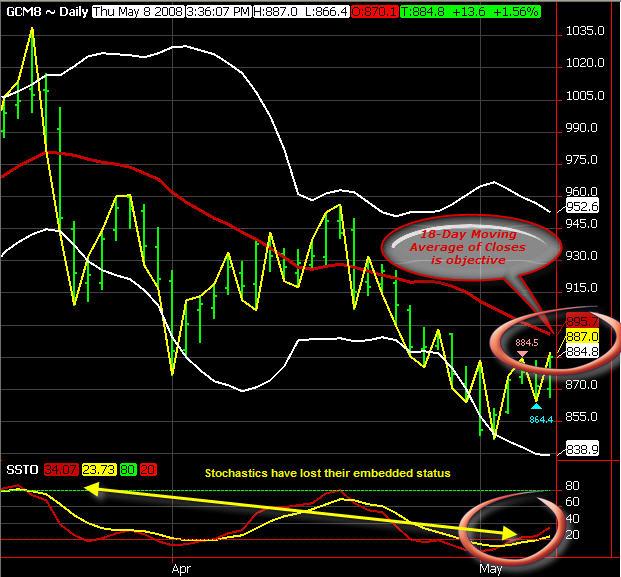 The first thing to notice is that Stochastics, the study on the bottom of the chart have turned up. Stochastics measure market momentum. Unless the red line, called the "K" Line turns down under the yellow one, the "D" Line, momentum is up.
The 18-day Moving Average of Closes, the red line currently shown to have a value of 895.7, is the immediate upside target.
Is this market ready to soar again? I don't think so. It needs to build a base first to work off of. Certainly there is plenty of inflation around for it to do so. Doing so however is what needs to be done.
So, how do you play Gold? I think by trading Option on Futures for a while, slowing the game down a bit while letting the market setup an uptrend.
Conclusions and Recommendations
Regular readers of this report know that I issue new trade signals in my Twice Daily Updates, which you can find out more about by reading below.
A new buy signal was issued just yesterday, when I recommended buying the June $900 Call Option for $6. Those that placed their orders to do so shortly after I issued the recommendation should have been filled at $6.
Last night, Wednesday Night, I wrote to take 50% profit at $9.80 on that Call. The $9.00 Gold moved up and through the $9.80 level today, trading at $10.00 and closing the day today at $9.70.
Those who followed my recommendation and were filled took a nice profit today. I now recommend moving your stop order on your remaining long position(s) up to breakeven including commission. This means you keep an eye on your Gold Option. How it does at $895, assuming $895 is hit will be very important to me. If prices simply run up and keep going, you hold. If prices stall out, I will write in my Twice Daily Update what you are to do.
The idea is to give the market room to move, but not risk beyond what you paid on your open position.
I see nothing to do in Silver, so I will not write on it this week.
If you haven't had a FREE 4-Week Trial to our Twice Daily Market Recommendations and access to our nightly videos where we review charts nightly, go to http://www.iepstein.com and fill out the New Investor Kit Form. We will send the kit and access to our research to you.

As long as you haven't had access in the past year, you can obtain a Free Subscription to receive access to all of our research, including Nightly Audio/Video Recordings where we cover in detail all the metal markets, when you fill out the New Investor Kit Form on our website.Disclaimer: This publication is strictly the opinion of its writer and is intended solely for informative purposes and is not to be construed, under any circumstances, by implication or otherwise, as an offer to sell or a solicitation to buy or trade in any commodities or securities herein named. Information is taken from sources believed to be reliable, but is in no way guaranteed. No guarantee of any kind is implied or possible where projections of future conditions are attempted. Futures and Options on Futures trading involve risk. In no event should the content of this market letter be construed as an express or implied promise, guarantee or implication by or from Ira Epstein & Company or Shatkin Arbor, Inc. that you will profit or that losses can or will be limited in any manner whatsoever. No such promises, guarantees or implications are given. Past results are no indication of future performance.