The State of the US Economy
March CPI was up 0.3% and the core CPI was up 0.2% as reported this morning. These figures matched market expectations. Consumer prices however rose 4% on a year-over-year basis. Core CPI grew 2.4% on an annual basis, which means that inflation is running "hotter" than the Fed wants to see it.
Today's Housing Report showed Housing Starts and New Permits fell as expected. I do not expect to see a trend change in these two statistics in the near future.
The Dollar is breaking down while stock indices are rallying and interest rate futures are breaking sharply lower. This is all indicative to and part of the process where a market prices in inflation.
A lot of customers have asked me about what I see going forward in regard to the US economy. What I see is an economy that has to deal with inflation. Not traditional labor inflation, but price inflation stemming from the food and energy sectors. Normally economists strip these sectors out as they attempt to get to a more basic reading, commonly referred to as "core inflation". This old time mental rigidity makes little sense to me, given the food riots taking place in a number of countries and energy prices in a run away mode.
Europe is now feeling the contagion of inflation. Given the EU's current inflation readings, any idea of immediate rate cuts there look bleak and is at the heart of the Dollar break today. The hope for an immediate cut in European Interest Rates was removed today from the currency markets, which resulted in the Dollar falling hard, which in turn drove up commodity prices in a number of commodity markets.
At some point markets begin to look over the horizon. Light at the end of the tunnel dimly appears. The black hole doesn't appear so black and so on. My point here is that once economies get shaken, their populace braces for the worst. Once the worst occurs, it doesn't seem as bad as what was being braced for. This is where I think the USA economy at least from a psychological perspective, is now at. Merrill Lynch's front-page story in the Wall Street Journal of them reportedly getting read to take another $6 Billion in write-downs did not keep stocks down. There is a small change taking place.
Inflation
A title I used in last week's letter was:
"Inflation has a way to go and will get worse"
. This has proven true. However, it would be foolish to forget that trends have setbacks. At some point, even the energy market will correct, but maybe not as hard as many would have you think given the demand for energy. Each time the market breaks a couple of dollars intraday; the overbought status of the market is alleviated.
Don't get caught up in the emotion of inflation and market movements solely based on euphoria. Pay attention to your charts and use an inflation bias in your trading strategy.
June Gold
Last week, in the June Gold Section of this letter I wrote: "I think gold is bottoming. In my opinion it is in the first stage of basing out once again. This time near the $900 level. There will be starts and stops, but I suspect the current low of $876.30 will hold".
Gold did bottom out. In fact, since last week's letter June Gold has continued to rise and has just hit 952.7. My stance on inflation has not changed and I expect to see gold prices get back over $1000 an ounce again this year.
Let's look at a chart of June Gold.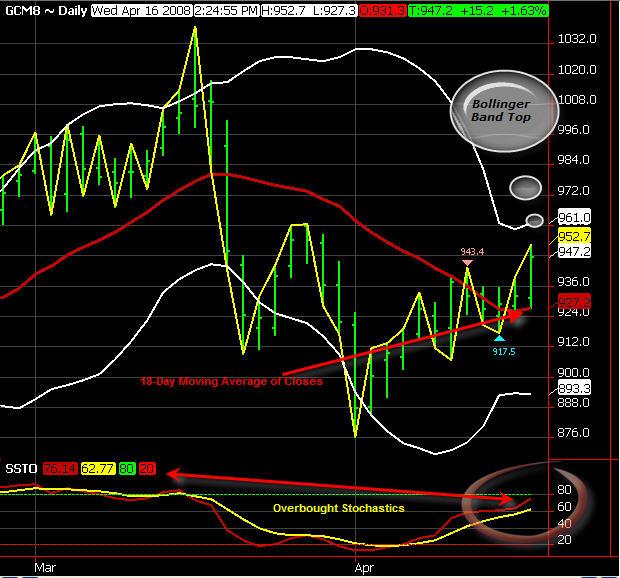 The 18-Day Moving Average of Closes is 927.2, which is where I currently expect support to be found. Stochastics are overbought with a reading of 76.39. This combination means we know where support should show up, but until Stochastics either embed or correct, you should stand pat.
Should you remain bullish? Yes. Should you look to get long? Yes.
The question now is where to enter. I am not fearful of buying higher, if Stochastics embed. If they do not, you should wait for them to correct their overbought status.
Now lets look at a Seasonal Chart of Gold provided to you by the Moore Research Center…
www.mrci.com
Seasonal Chart of June Gold
From time to time I like to show what Gold has done over both a 15 and 34-year time span. The reason for the comparison is to "weight" more current events against events with a time span nearly double the "current event" time span.
The 15-year pattern on the Gold Seasonal Chart below points to more upside ahead as Gold often bottoms out in March and rallies back into April. This is certainly the pattern holding up right now.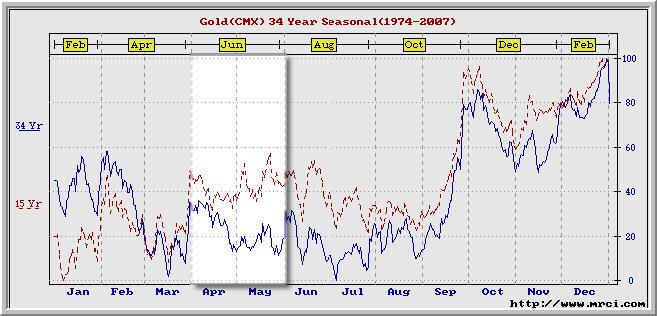 Given the high price of Crude Oil, the sagging US Dollar and the strength in outside world economies, I continue to like the prospect of higher gold prices this year.
Conclusion and Recommendation
On a pullback to the 18-Day Moving Average of Closes, I intend on recommending an entry point for those of you not yet involved in this market. Currently followers of my Twice Daily Market Reports are holding a small core long position in June Gold using the 970-1000 June Call Spread. Depending on how prices act here, I intend on adding gold positions.
I will issue the signal in my Twice Daily Updates, which you can find out more about by reading below.
Silver
I see silver prices moving higher.
What we have to be on the look for in late May is a strong seasonal tendency for prices to break down in the last week of the month into mid-June. Given this is only mid-April; I see nothing in terms of seasonal studies to stop the uptrend now in place.
Let's look at a Seasonal Chart of July Silver.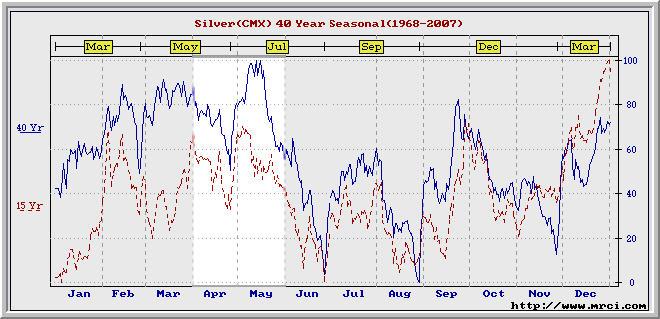 If I am correct, this current rally may just have one more month end set back in store. It doesn't have to, but both the 40 and 15-year charts show a momentum setback from mid-April until about a week from now, when prices bottom out again.
Please remember that past history does not predict the future. You have to take into account many factors. However, I think that there are so many bullish factors at work that looking for an entry spot on the long side seems appropriate. It's also necessary to keep in mind that seasonally speaking, a top of sorts often develops in May.
What to do now?
Let's look at a Daily Chart of July Silver.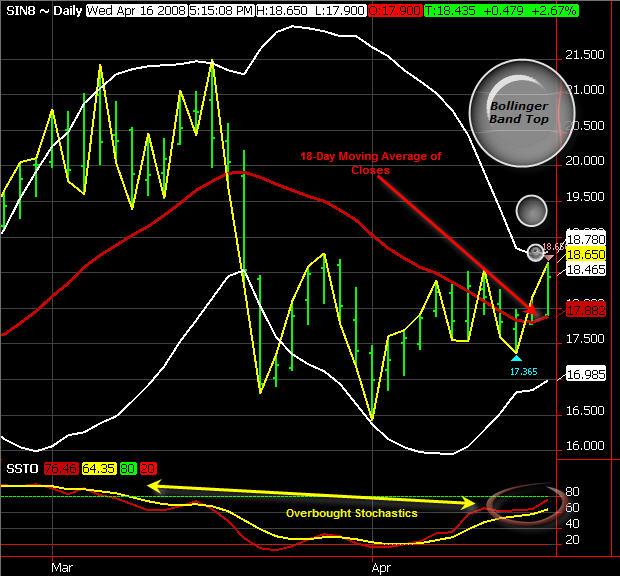 Like gold, silver is bullish and overbought. Stochastics have a reading of 76.46. Unless Stochastics embed, the odds favor a market correction back down to the 18-Day Moving Average of Closes, currently at 17.882.
Unless prices somehow get under 17.365, the most recent low on this chart, I expect further upside.
Even if prices broke down to 17.882, the risk back to 17.36 represents as 50-cent plus risk. In order to avoid this, if the chart does not offer a better setup should prices simply break over the next week, I will look to put on a Silver Call Spread.
If Stochastic embed, which by my definition means the K and D Lines stay over 80 for three days in a row, I will not look for a return back down to the 18-Day Moving Average of Closes and will have to adjust to a higher buy zone.
However, as there is nothing to do with the current chart formation, we don't have to make any decision right now other than paying attention to the Seasonals and the Daily Chart action.
To learn more about us or to get started trading through us simply go to our website at
http://www.iepstein.com
and fill out the New Investor Kit Form. A CD-Rom will be sent to you. At the same time you will instantly begin receiving access to and instructions on how to access our daily market research, trading recommendations, charts and much more.
If phoning us is easier for you our phone number is 1 800 284 3010.
We handle trading accounts from individuals in a number of foreign countries as well.
Disclaimer: This publication is strictly the opinion of its writer and is intended solely for informative purposes and is not to be construed, under any circumstances, by implication or otherwise, as an offer to sell or a solicitation to buy or trade in any commodities or securities herein named. Information is taken from sources believed to be reliable, but is in no way guaranteed. No guarantee of any kind is implied or possible where projections of future conditions are attempted. Futures and Options on Futures trading involve risk. In no event should the content of this market letter be construed as an express or implied promise, guarantee or implication by or from Ira Epstein & Company or Shatkin Arbor, Inc. that you will profit or that losses can or will be limited in any manner whatsoever. No such promises, guarantees or implications are given. Past results are no indication of future performance.