Market Corrections...
The old saying, "what goes up must come down" took place over the past two weeks, in a number of futures markets. Gold and silver did get away unscathed. Both have seen corrections, which in and of itself is a good thing as it punctured what I believe to have been a "price bubble".
From high to low, June Gold Futures fell $129.60 from its price peak, which equates to a price drop of approximately 10%. May Silver's drop equated to $3.93, which was a 19% drop in prices from high to break low.
These were the first serious prices corrections in a very long time and were very much overdue.
In looking at markets that impact gold and silver, I specifically look at energy, the US Dollar and grains. In the two weeks since my last letter, all have seen corrections that impacted metal prices. Let's review outside market action over the past two weeks.
May Crude Oil prices broke from a high of $110.35 down to $98.65. Over the past 3-trading sessions prices have rallied back up to 107.70, carrying gold and silver prices higher with it.
The US Dollar rallied from a low of 71.20 up to 73.67. Over the three sessions the Dollar has retreated from its high down to 71.75. In the process both gold and silver rallied.
Grain prices in the past two weeks have all seen substantial price corrections to the downside and been rallying over the past 3-days, again carrying gold and silver prices higher.
My point here is that gold and silver seem to be currently looking to outside markets, not their own internal fundamentals. By way of example, today terrorists blew up pipelines carrying 1/3 of Iraq's oil for export. Crude is up about 1.00 but the US Dollar is 12 point higher and grain prices are lower. Gold is flat to down as I am writing his Report and silver is down approximately 6-cents.
Had an event like this bombing occurred 6 or so weeks ago, gold would have been many Dollars higher and silver many cents higher. Therefore, a change of sorts has taken place.
Inflation…
Inflation is alive and doing very well thank you. Not only here in America, but in Europe and Asia. The subprime mess has certainly taken its toll. Bear Stearns is gone. Banks balance sheets are shot. Grain elevators across the country are closing down because banks don't have the funds to finance grain hedges, which is at the core of the grain elevator business.
The world is changing and the change in my opinion is long term and here to stay. Clear Channel's sale my not go through due to banks wanting to back out of their pledges for financing of the deal. Hedge Funds that made fortunes in the past, due in large part to access to easy capital are finding times very difficult. Many are or will soon be underwater.
However, inflation is not about to abate. The reason is that the US is not the center of the universe. Yes we are a mammoth consuming nation, certainly a "major player" in the world of finance, but no longer the only mammoth out there. The other mammoths are growing their economies, yes at a slower pace than they previously did, but nevertheless growing them.
Let's assume the Fed gets it right; which I believe will be the ultimate outcome. Liquidity comes back to the financial markets, housing problems slow down and slowly go away, home sales increase as home values tapper off a bit more from current distressed values and job loss in he US slows down or stabilizes. Maybe no real job increase at first but stability comes back.
Under this scenario, the scenario I think to be the immediate goal of the Fed, the American Consumer does what he does best. He starts spending. He spends that $600 he gets in May as a tax rebate. He spends using a home equity loan that he will soon be able to get as moves by the Fed to allow banks to make mortgages and sell them back to Fed agencies gains a foothold. Whatever it takes, the consumer will once again begin to spend.
Once the spending begins, what do you think happens to inflation? Do you think it stays where it's at? No way. It increases at first until the cycle of tighter money begins, which I believe to be a long way off.
Therefore, assuming my thesis to be correct, the inflation plays are still alive.
June Gold
Prices have corrected, ending what I term the first phase of this Bull Market. 10% corrections do not happen often and to think that having one has no meaning is to close your eyes to an event.
My take on corrections is that once the correction occurs, the market flounders a bit, looking for new direction. That direction can once again be in the direction the market had prior to the correction or the direction can be an opposite one. The verdict is out on Gold, technically speaking, since prices are currently trading between the high and low points, as displayed on the chart below.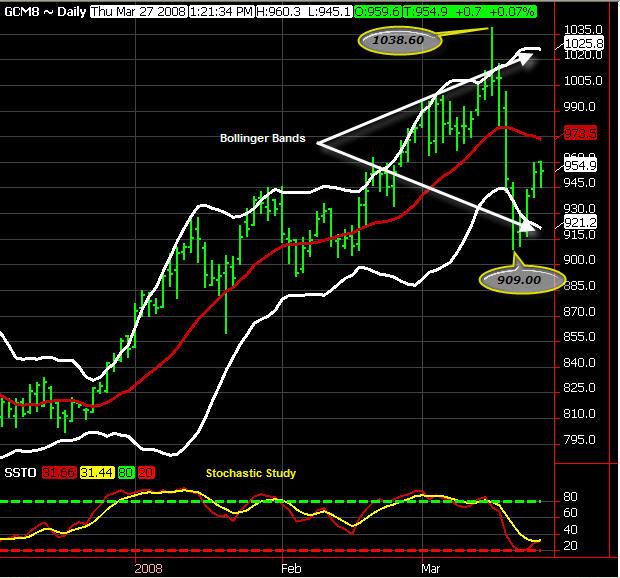 June Gold is under the influence of being under the 18-Day Moving Average of Closes, displayed on the above chart as a "
red
" line with a value of
973.5
. At best, I expect that when and if price hit 973.5 they will play around there for a while.
The damage the correction did to this chart is not inconsequential, at least from a technician's point of view. Of course I can point to a Monthly Chart and from a longer term perspective prove that nothing in terms of the longer term, overall trend has changed. However, most of us make our trading decisions using Daily Charts as we have to be practical in terms of Dollar risk. As such, this is the chart I base my trading decisions from and as such, the current trend is down with resistance at 972.5.
What I think will occur….
As most who read my reports or who have taken the trading course I created, "The Futures Academy" know that I heavily rely on a chart study I call Swinglines. The Swingline Study is currently in a downward formation. To turn up the market needs to crate a new chart pattern. It will do so by one day soon having a higher high and a lower close. I will show this and talk about it both in my Nightly Audio and Mid-Day Videos. As it has not occurred yet, I am simply waiting for it to develop. Once it occurs and the market then next day makes a "lower-low" the signal will be activated.
Conclusion and Recommendation
Those that follow my trading recommendations in my Twice Daily Reports are left 50% long the June Gold 975-1000 Call Spread, having taken nice profits recently on half of your position. I now am looking for Gold to restructure itself in order to buy more of these spreads. I expect a new chart pattern to soon develop, one that is Bullish and ends up making a run for the contract high. At this time I am left simply watching current price action, keeping my "toe" in a long Call Spread and wait to add to this position as soon as the chart action warrants.
Silver
The strongest metal, according to Seasonal Trends is silver. It also is the metal that broke in percentage terms, the most during last week's price break.
Let's look at a Daily chart of May Silver to gain an idea as to what is going on. On this chart I will use the same studies as used on the Gold Chart above.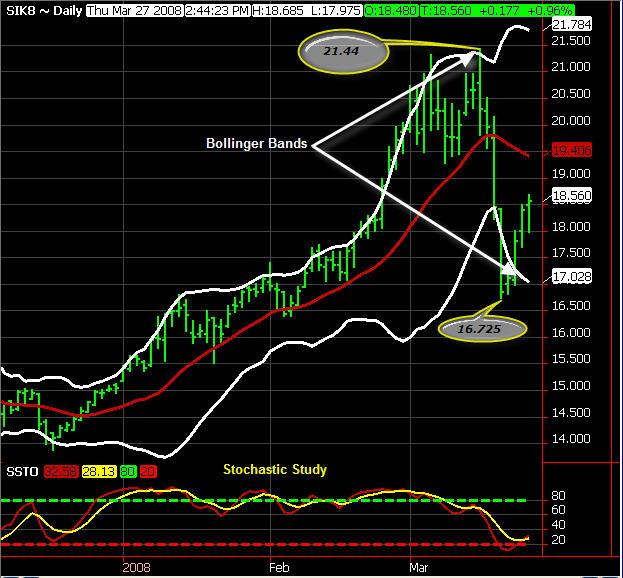 Without wasting time and being redundant, the Silver Chart picture is a mirror image of that of gold. The chart and price numbers are different, but that is about it.
Stochastics are oversold wit a reading of 28.13, which means that the current rally has not yet succeeded in removing the "oversold" tag from this chart. Until it does, more of a rally can be expected.
The 18-Day Moving Average of Closes, displayed as a "red" line on the chart has a current value of 19.40. This means resistance should come in at 19.40, nearly 80-cents higher.
Like in gold, I expect this chart to soon develop a Swingline that turns bullish. This can happen in one of two ways. Either the market makes a "higher high and closes lower, or prices do not take out a previous day's high. After this formation, a move over the most recent high will turn the Swingline up. Turning the Swingline up however has no meaning to me unless prices are trading over the 18-Day Moving Average of Closes, an event that seems unlikely right now given that prices are nearly 80-cents under that Moving Average.
Recommendation…
My recommendation at this time is to just sit tight. Yes, I believe a challenge of higher prices will come about in time due to the inflation scenario I lay out above. However, laying out a scenario and placing trades off a chart that doesn't yet warrant being long are two very different things.
I do not expect a quick turnaround in silver. It will take days for the 18-Day Moving Average of Closes to fall down to current price levels, as its rate of decent is about 10-cents per day. Expecting prices to rally and hold over this Moving Average right now is expecting too much, given that silver needs to build a base. Without such, sustaining a move higher will be difficult.
As for going short, I would not. The market is oversold and the Dollar risk is too large to do so.
To learn more about us or to get started trading through us simply go to our website at
http://www.iepstein.com
and fill out the New Investor Kit Form. A CD-Rom will be sent to you. At the same time you will instantly begin receiving access to and instructions on how to access our daily market research, trading recommendations, charts and much more.
If phoning us is easier for you our phone number is 1 800 284 3010.
We handle trading accounts from individuals in a number of foreign countries as well.
Disclaimer: This publication is strictly the opinion of its writer and is intended solely for informative purposes and is not to be construed, under any circumstances, by implication or otherwise, as an offer to sell or a solicitation to buy or trade in any commodities or securities herein named. Information is taken from sources believed to be reliable, but is in no way guaranteed. No guarantee of any kind is implied or possible where projections of future conditions are attempted. Futures and Options on Futures trading involve risk. In no event should the content of this market letter be construed as an express or implied promise, guarantee or implication by or from Ira Epstein & Company or Shatkin Arbor, Inc. that you will profit or that losses can or will be limited in any manner whatsoever. No such promises, guarantees or implications are given. Past results are no indication of future performance.