Ron Miller's Portfolio Action Update is a periodic update of his technical analysis viewpoint of the financial market environment and the current portfolio management posture for his precious metals portfolio strategies. Ron Miller and Martin Truax, Managing Directors at Morgan Keegan & Co., lead the Investment Planning & Management Group (IPMG) in Atlanta . Martin and Ron moved their group from Salomon Smith Barney, where they had been for 29 years, to Morgan Keegan at the beginning of 2001.
The table below includes both Short Term (S - T) and Intermediate Term (I - T) Rating results of our technical analysis of the price direction for the Styles and Sectors we follow. The intention is to give you insight into the time frames that are involved in our portfolio management process. Short Term ratings capture more of the wiggles in the market while the Intermediate Term ratings capture more of the trending aspects of the market. If we are in a period where the market is in a trading range with little trend direction, the Short Term ratings are more useful. On the other hand, if the market is in a longer term trending mode, we put more emphasis on the Intermediate Term Rating results. Note that signals can change in between reporting periods which may be confusing at times. For example, a Green light may have changed to Red and back to Green since the last report. The Rating Table would still be Green but the signal date would have changed from that shown on the previous report.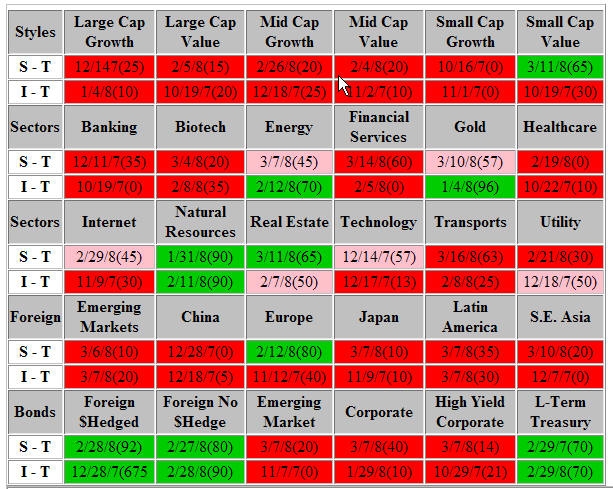 MARKET COMMENTS FOR WEEK ENDING MARCH 16, 2008The Federal Reserve, on Sunday night, announced that they were backing J.P. Morgan with $30 Billion dollars in the buy out of Bear Stearns at $2 per share.
However, J.P. Morgan estimated that their actual cost in completing this transaction, by the end of the year, could be between $6 and $7 Billion, much more than the approximately $230 Million or so represented by the $2 price per share. I believe that the lesson for all to take away from this episode is that, if you live by the 'leverage' sword, you may also die by the 'leverage' sword. That applies to all walks of life and business activity in my opinion. The process of deleveraging can be very painful and very swift in many cases. Sunday's action reminds me of the 1907 stock market crash that was personally bailed out by the original J.P. Morgan. That intervention action by a private banker set the stage for the formation of the Federal Reserve in 1913.
The Fed also took some 'outside-the-box' action by opening up the Discount Window to Prime Dealers (i.e., Investment Banks) and expanded the type of collateral that they would except in additional efforts to unfreeze the credit markets.
They are also expected to lower the Fed funds and Discount rates again at the Tuesday meeting. We will have to see how Sunday's action works out, but it seems to be a step in the right direction in my judgment. As I said last week, we are in 'unchartered deep credit waters' and the rescue is going to be difficult. Keep in mind that the Federal Reserve charter gives it essentially unlimited powers to try and prevent economic and financial system turmoil.
I am going to keep this short this week.
The stock market is in oversold territory by many technical and sentiment metrics. So, heightened two way volatility is most likely in the cards next week. On balance, we remain is a defensive mode in our equity strategies. However, we would not rule out becoming somewhat more bullish, at least on a short term basis, in response to the current oversold environment.
We have also updated our 'Investment Philosophy' link to discuss in more detail the "Global Inter-Capitalization Era" that we believe describes the new investment era that will have a major influence on investment activity going forward.
It is the follow-on to the 'Internet Era' and in many ways will be similar. However, the massive global capital creation is going to dramatically change the relative economic and political position of America, in the Global scheme of things, in our opinion.
PORTFLIO ACTIONS FOR THE MARKET WEEK ENDING 3/14/08Energy/Defense/Resources Plus - EDRP:
No changes last week. The allocations for the EDRP portfolio are 10% Energy Services, 15% Energy Exploration & Production, 6% Alternative Energy, 14% Defense-Major, 7% Defense-Components, 6% Security Systems, 17.5% Precious Metals, 6% Natural Resources and 3% Agricultural Resources. The Bear hedge is 8% (4% invested) Energy index. The net market exposure is 76.5% with Money Market reserves of 11.5%.
Natural Resource Plus - NRP:
No changes last week. We have remained cautious in response to general stock market weakness. The current allocations are 4% Gold bullion, 3% Silver bullion, 30% Precious Metals Mining (including a 5% direct silver mining position), 5% Energy Services, 10% Energy Exploration and Production 7% Alternative Energy, 8% Agriculture and 16% Natural Resources. The Bear Energy index hedge is a 8% (4% invested). Net market exposure is currently 75% with Money Market Reserves at about 13%.
Gold Portfolio - GLD:
No changes last week. We remain bullish for the major trend as the Fed's response to the ongoing credit crunch continues to put pressure on the US Dollar. The current GLD allocation is a 10% gold bullion position, a 5% silver bullion position and 61.5% precious metals mining securities, which includes a 10% specific silver mining allocation. Money Market reserves are 23.5%.
Tactical Asset Allocation Style & Sector Signals:
Ratings 60% and Above are a Green Light
Ratings 40% and Below are a Red Light
Ratings 41% to 59% are Neutral
Light Green indicates going from Green to Neutral since last Signal Date
Pink indicates going from Red to Neutral since last Signal Date
This is a reduced version of Ron Miller's Tactical Asset Allocation Style & Sector Signals table. Ron's portfolio management process includes the technical analysis of over 400 mutual funds that have been selected to represent forty four different styles and sectors that are tracked daily for both Short Term and Intermediate Term direction signals. These include the 9 Morningstar portfolio management style boxes plus 16 equity sectors, 10 international styles/sectors and 9 bond sectors. Ratings are based on the percentage of securities followed in each category that are on buy signals. Short Term (S - T) signals are based on daily price data and may be different and change more frequently than the Intermediate Term (I - T) signals that are based on price action for a trailing 5-day period. These ratings are subject to change at any time and obviously their accuracy is not guaranteed. Individual securities may perform differently from these signals. These direction signals are a useful tool in the portfolio management process but are not the sole determinate of actual portfolio style or sector weightings. They should not be interpreted as a buy or sell recommendation for any specific financial securities and do not reflect positions of Morgan Keegan. Market data used in this analysis is believed to be from reliable sources but its accuracy can not be guaranteed.

Portfolio Action Update Explanation: I try to confine my comments to a discussion of what recent action has occurred in these portfolios and my current technical analysis posture. In general, my portfolio management approach is to determine current market conditions through technical analysis and to position the various portfolios strategies to participate in the current environment. Although I usually have an opinion of the future direction of the market, I don't rely heavily on my opinion in the portfolio management process. Neither opinions, technical analysis or fundamental security analysis produce perfect results. There is always a degree of risk present.

These comments will usually be written on the Weekend. However, a few days may transpire from when they are written and when they are posted on the web site. Obviously, the technical analysis signals and portfolio positions could have changed in that timeframe. Therefore, this technical information and related comments should only be read from a historical perspective, and may not reflect what the current analysis and portfolio positions actually are when you read this update. You can call us for the most current update if you wish.

Although the Technical Analysis Ratings illustrated in the table above are a very useful tool in our portfolio management process, these ratings are not the sole determinate of the asset allocation positions held in our various portfolio management strategies. This information is not intended to be a solicitation of a buy or sell of any financial security. The opinions expressed herein are my own and do not reflect the position of Morgan Keegan & Co., Inc. Past performance is not a guarantee of future results.