The Falling Dollar...
No matter what I write, it seems pretty clear that world, not just US markets, think the Dollar is falling off a cliff and nothing the Fed is doing ends up supporting it. As the Euro approaches 156 and the Yen roars up to highs not seen since 1995, holding long Dollars is simply too "hot a potato" to hold onto. This is the primary reason that items priced in Dollars have and are roaring to the upside.
The two most talked about Futures Markets, Gold and Crude Oil are priced worldwide in Dollars. Both are at all time record highs today, as the Dollar falls to a record low against the Euro and new recent lows against practically every other major currency.
As for the unwinding of "Carry Trades" and the negative impact on Gold and other markets, well that event is long gone and ended up having news wise, a short life span. Sooner or later the new news event will be "Bank Intervention". While this in the long term doesn't work, it will create jitters since currency traders, including this writer have had a fairly easy time in calling the trend in the Dollar and other key currencies.
Look at the Monthly Chart below of the Dollar Index. This chart goes back 9-years. Not only are new lows being made, but the all important Stochastic Study remains embedded under a 20 reading, meaning innately, as the market keeps dropping the Downtrend is getting stronger.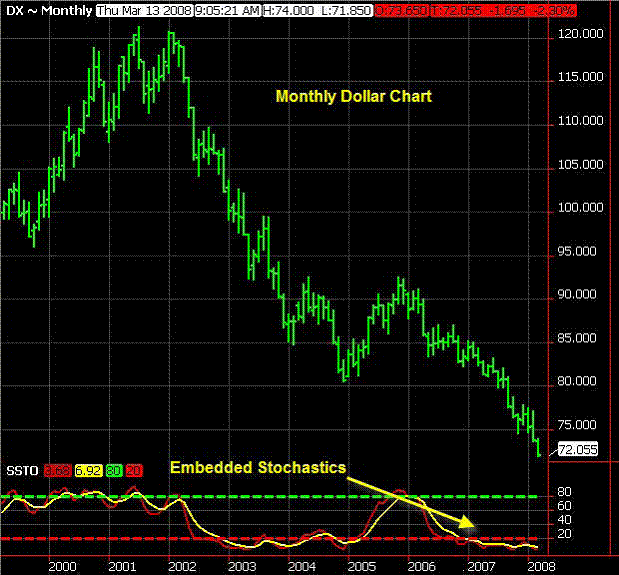 So what has the impact of a falling Dollar been? It's been inflationary with Gold at $1000 an ounce, Silver near $21 an ounce, Copper at $4 a pound, Chicago Wheat at $13.50 a bushel, Corn near $6.00 bushel, Crude Oil at $110 a barrel and so on.
Yet, when the government issues its inflation reports, they see inflation slowing down going forward. Why? My guess is that they believe that the Dollar will stabilize and items priced in Dollars will stop rising.
Until the Dollar stops falling, this theory cannot be put to the test and the "Hot Potato" theory of dumping Dollars and owning hard assets will continue.
June Gold….
When June Gold first hit $1000 an ounce last week, I wrote to look for a correction to soon set in. My hope was for a correction of between 3-10%. As it turned out, the correction was brief at 3.5%.
June Gold today hit a new all time high, as the Dollar Index is hit new all times lows. Expect corrections at anytime. If trading using futures, keep an eye on Stochastics readings and Bollinger Bands to measure profit objectives and internal strength.
The simple fact is this. Until the Dollar turns up, metals should remain bullish.
Here's a chart of June Gold…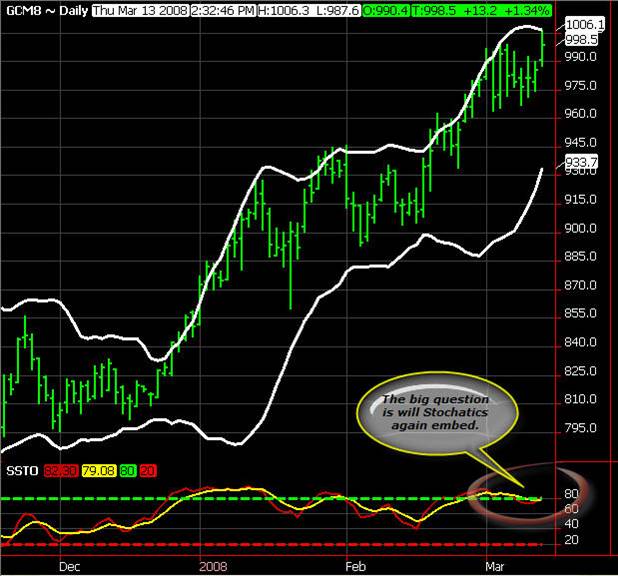 On the above chart, look at White Band at the top of the page. That is the Bollinger Band. Its value was 1006.1. Look at today's high. That was 1006.3. This means if you were long futures, you should have liquidated part of your position at 1006.1.
What Next?
The key now is for Stochastics to embed. That occurs when the K and D lines, the Red and Yellow values next to the symbol SSTO both stay over 80 for three consecutive days.
Conclusion and Recommendation
Right now you per this report and my twice daily recommendations, you should be in the June Gold 975-1000 Call Spread. I recommended this to remove the "noise" of every day trading.
Until the Dollar reverses its Downtrend, I see no reason for metals or energy markets to enter sustained downtrends. Yes, there can and most likely will be bumps along the road. However, without a real trend change in the Dollar, the dumping of Dollars should continue. As the Dollar dumps, hard assets and assets based in Dollars become more in vogue to own and to rise in price against the falling Dollar.
I intend on adding to the June Call Spread, possibly rolling into higher strike prices should Stochastics embed. I will announce entry points in my twice daily e-mails should that event unfold.
Silver
As I've mentioned in past reports, Silver has more reasons to rally through the March than Gold has, speaking in terms of Seasonal Trends. I will write more about this next week.
In April it is common for silver prices to drop and form a bottom from which a large rally into May often develops.
Let's look at a chart of May Silver.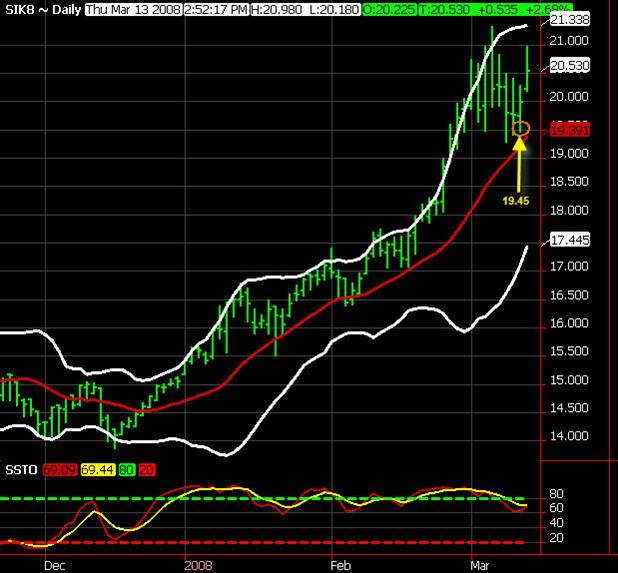 Under the current chart formation, silver is about to become overbought as any Stochastic reading over 70 initially becomes such. Given the 69.44 reading in the Stochastics (SSTO), we are just about there.
Being overbought does not mean prices have to fall. Prices can surge ahead, go sideways or move down. No matter what they do, they silver is still about to enter an overbought stage.
Should silver prices surge ahead the first upside target is 21.339. Should prices pullback, support should be found near 19.45, the most recent low. A move under 19.39 could spur an even larger price break.
Recommendation
I think we wait to see how Stochastics resolve themselves. Do they end up embedding? If so, you should jump on board using Call Spreads.
If they pullback towards 19.45, I think you buy the pullback to that number, especially if Stochastics lose their overbought status. Should prices get under say 19.39, I would abandon the long position.
They key is to be flexible. Be ready to move when I issue a signal, which could be early next week.
If you haven't had a FREE 4-Week Trial to our Twice Daily Market Recommendations and access to our nightly videos where we review charts nightly, go to http://www.iepstein.com and fill out the New Investor Kit Form. We will send the kit and access to our research to you. As long as you haven't had access in the past year, you can obtain a Free Subscription to receive access to all of our research, including Nightly Audio/Video Recordings where we cover in detail all the metal markets, when you fill out the New Investor Kit Form on our website.Disclaimer: This publication is strictly the opinion of its writer and is intended solely for informative purposes and is not to be construed, under any circumstances, by implication or otherwise, as an offer to sell or a solicitation to buy or trade in any commodities or securities herein named. Information is taken from sources believed to be reliable, but is in no way guaranteed. No guarantee of any kind is implied or possible where projections of future conditions are attempted. Futures and Options on Futures trading involve risk. In no event should the content of this market letter be construed as an express or implied promise, guarantee or implication by or from Ira Epstein & Company or Shatkin Arbor, Inc. that you will profit or that losses can or will be limited in any manner whatsoever. No such promises, guarantees or implications are given. Past results are no indication of future performance.