$1000 an ounce Gold...
Gold is currently acting pretty much as I expected. Here's what I mean. All you need do is look at a chart of Crude Oil to understand what is taking place in Gold. For reasons unknown to me, "Century Numbers" as I call them, are numbers "large" numbers, markets have never seen. Be it $3000 a foot real estate prices or $100 a barrel in Crude Oil, these numbers when hit often stall markets out. As you may recall, CNBC had reporters and cameras at the ready to make a live event of reporting when Crude Oil hit $100 a barrel. Once the event occurred, Crude Oil retraced. In fact, prices ended up retracing very hard as seen on the chart below.
June Gold….
Let's look at a chart of June Gold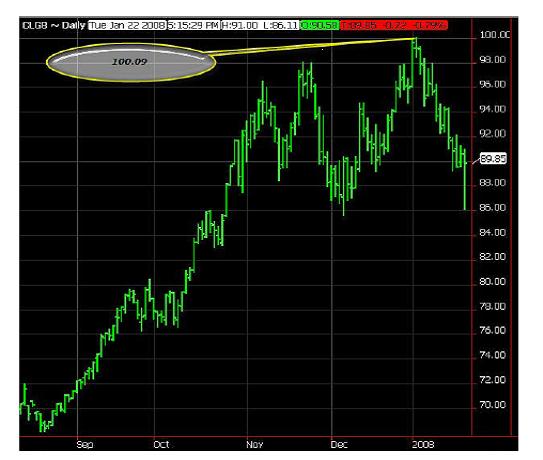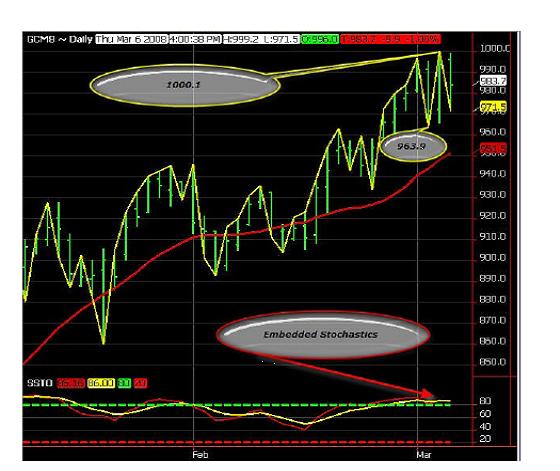 Just yesterday, June Gold Futures hit the magic number of $1000 an ounce. Just as in Crude Oil, gold prices managed to just squeak over what I term a "Century Number". The result today has been an approximate 3% price drop. Last night I was interviewed on the TV Show "First Business", where I pointed this phenomenon out and said to viewers to expect a downside correction. How much of a correction is what will end up being important. The last Swingline Low, which I've labeled on the chart comes in at 963.9. However, even if that number is broken, since prices are trading over the 18-Day Moving Average of Closes, the overall trend will remain technically speaking, Bullish.
In fact, the ideal spot to buy is as usual a bit difficult to pin point. A lot depends on your trading style. For Futures Traders, buy gold near 967 and risk to 963.8. For option traders, I like the idea buying the 975-1000 June Gold Call Spread if and when Gold hits the 18-Day Moving Average of Closes. This average is climbing at the rate of about $3 a day, so s gold nears the $955-960 area it might be worth nibbling into.
I would do either strategy as long as when you purchase the Stochastic Study stays embedded. By embedded I mean that both the K line and the D line are both over 80. The K line is in red and the D line is in yellow. Futures markets are always a bit more difficult to trade, as you have to be more correct with Futures than Options. Regardless of the strategy you choose, the key thing to remember is that you still have to be right the trend.