Mr. Bernanke...
Fed Chairman and Fed Vice Chairman Donald Kohn have their acts together. They are on the same page, saying the same things. Keep in mind that the Chairman will again speak tomorrow.
Today's Chairman's statements were crystal clear. Simply put the Fed sees downside risk to the economy as being greater than inflationary threats at this time. When asked about inflation, the Chairman acknowledged that inflation was running "hot". However, he thinks it will abate. I have my doubts given the break in the Dollar and run away commodity prices.
When questioned by Ron Paul about the declining Dollar, the impact of continued rate cuts along with questions on how we were going to pay for the Stimulus Package, the Chairman's answer was in my opinion, as it should be. Mr. Bernanke stated that the Fed was created to smooth out the economy in rough times and to foster its growth. He made it clear that that is what he is going to do.
Last Fall I wrote an article about the "Perfect Inflation Storm". It's now here and you're right in the middle of it. Remember what you are learning. You will see it again, at another time in the future.
The Dollar and Inflation….
Each time Mr. Bernanke makes a statement about doing whatever he feels has to be done to put the economy back on track, the Dollar seems to fall. The reason for this is that the Fed really has but one weapon, the lowering of short term interest rates.
Longer-Term Interest Rates are not greatly influenced by Fed actions, as the market place decides those values. Short-Term Interest Rates are impacted by Fed actions.
Currency values are based on a number of factors. Safety of the investment in that currency, the size of that currency's underlying economy and what interest rate is paid to place funds in that currency. These aren't all the factors for sure, but my point here is that a key factor is how Short-Term US Interest Rates fare against those paid to put funds into competing currencies.
As our shorter term interest rates fall, there is a direct correlation to both the value of the Dollar and to inflation. We are in a cycle now where the lowering of interest rates, no matter the reason or cause seems to be the catalyst for a lower Dollar value against other major world currencies. As the Dollar falls, goods priced in Dollars seem to be going higher.
The end result of all this is that a dropping Dollar is bullish for Gold and Silver.
Seasonal Gold Trend…
Let's look at the Historical Gold Chart below…….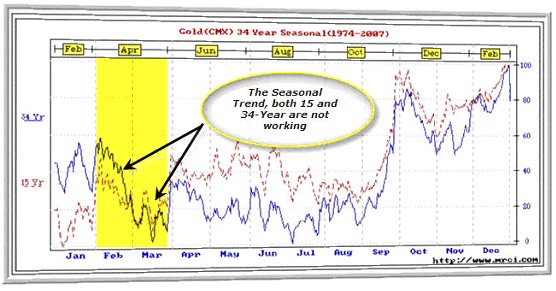 Last week I wrote, "The most obvious thing is that Gold is
not
paying attention to its seasonal price trend. It is rallying and has made new contract highs. In other words, a "Contra-Seasonal" move is taking place."
Boy…was that on the money!
My guess now is that gold prices will find good support on setbacks, as the market is expecting the Fed to cut interest rates very soon, possibly before the next FOMC Meeting which many expect to result in an even weaker Dollar. The question we'll soon be asking is; how many rate cuts are left and what size cuts remain before our economy "rights" itself.
Markets that don't pay attention to their seasonal tendencies often have sharp moves in the opposite direction of their seasonal tendency, due to hedgers and the like being thrown off their game. This is what I believe is now taking place.
June Gold
In my last letter I wrote that I thought you had to be involved, as Gold was going to run to the upside. I also made mention of Dollar risk. Risk is very important because as prices move into new highs, the inevitable downside corrections can be very sharp. Admittedly, I wasn't counting on a straight up move to take place.
Let's look at a chart of June Gold.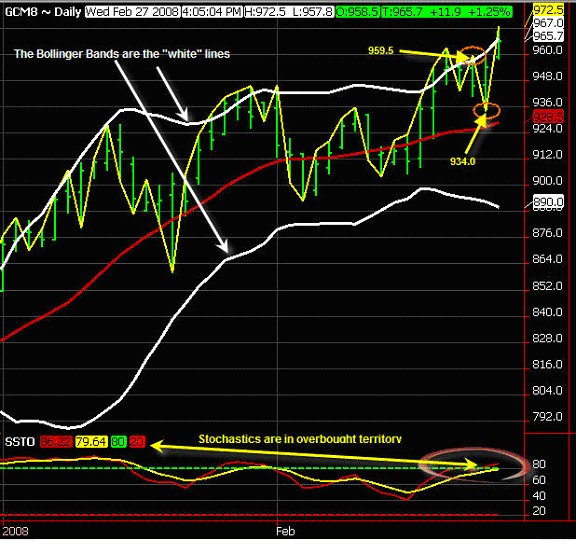 Today the market formally ended its corrective stance that began with last Thursday's high of 963.0. Up until today the market had a pattern of making lower highs and lower lows. This fit in perfectly for a test of the 18-Day Moving Average of Closes. Unfortunately, that test came to an end with today's rally into new highs, which now sets up a new pattern of higher highs and unfortunately, a lower low.
Until prices take out 934.0 or make a higher low, after a price correction, things will remain very high risk.
Keep your eye on the Stochastic Study. It is overbought with at reading of 86.22 and 79.64. It takes 3-days of Stochastics being over 80 to embed. Therefore, prices now are simply overbought, but in an uptrend.
Now look at the Bollinger Band Study are the two white lines on the chart. The upside target of 966.5 was hit today. When the Swingline Study, the lines in "yellow" made lower lows over the past two days, the Stochastics Top Band became the upside target if, the key word here being "if" prices rose and turned made a new high by getting over 959.5, which occurred today. In plain English, this means that Gold has met its current upside target, is overbought and in an uptrend.
I receive a lot of questions on how I use Stochastics in my price analysis. I teach how I use them in my trading course called
The Futures Academy
. I've created a short video that explains my teaching style. In the video I speak about The Futures Academy and the indicators I use in my trade analysis. You can click on the link below if you are online or simply type the link address below the video image into your web browser.
Video Link:
http://www.iepstein.com/videoAds/fa_video_1/fa_video_1.html .
Conclusion and Recommendation
My ultimate target for Gold on this leg consists of two numbers. One is $975 and the other is $1000 an ounce.
For a long time Gold has been working higher, in $25 increments. I do not expect this to stop, which is the reason for the $975 resistance.
Like what occurred in Crude Oil, expect that when a "big" number like $1000 an ounce in Gold is hit for first time, for Gold to spend some time trading around that level. All you need do is look at how Crude Oil has been handling $100 a barrel to understand my point.
Margins and volatility are going up. Because of this I want to use long Call Option Spreads to play Gold. I tried to get involved all week, to no avail. Now that prices are in what I call a "dicey" zone, I prefer to see if Stochastics embed or if prices correct.
It doesn't matter all that much to me which occurs, since I intend on recommending a long position either way. It's where I recommend putting on the Spread(s) that I care about.
If Stochastics embed, I may elect to put the 970-1000 June Call Spread on at the market. If Stochastics break down, I will probably wait for an entry point near 940 to 950 to begin putting on 950-975 Call Spread.
I have a game plan. Now I have to wait to see which way the market moves to initiate it.
Silver
Silver as predicted and expected has been a lot stronger than Gold. The Seasonal Chart shown below, prepared by my good friends at
MRCI, Moore Research Center
has certainly been of interest to many recently.
Let's look at it.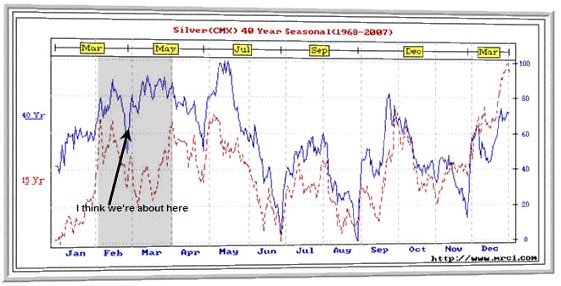 The first thing I see is that the steep mid February break never occurred. Now we're at month end where the 15 and 40-year cycles fight. By this I mean that history has two different stories, depending on whether you go back 40 years or just use the last 15. Since we had no inflation "stories" like we do today, I will watch both but use the 40-year in my trade planning. Inflation was rampant more than 15 years ago. It is again, at least in terms of commodity prices again.
The simple fact is that Silver and come to think of it, Copper, have a double reason to be rising. Both are needed in economies that are growing and to a large degree, both are being fed by the falling US Dollar.
If you run a chart of Gold prices versus Oil prices, things look fairly steady. This is not so when you price Gold or Silver against the US Dollar.
What's really interesting to me is the manner in which Silver is simply blasting up to new highs. Not all time highs due to the Hunt Brothers escapades a few decades ago, but certainly new highs in more modern times.
Risk? Well it's simply "off the wall". Silver has taken to moving 40, 50 or even 60 cents at a time. For the feint of heart, better get your oxygen bottle ready as $25 or higher looks in the cards.
Let's spend a moment or two looking at a Daily Chart of May Silver.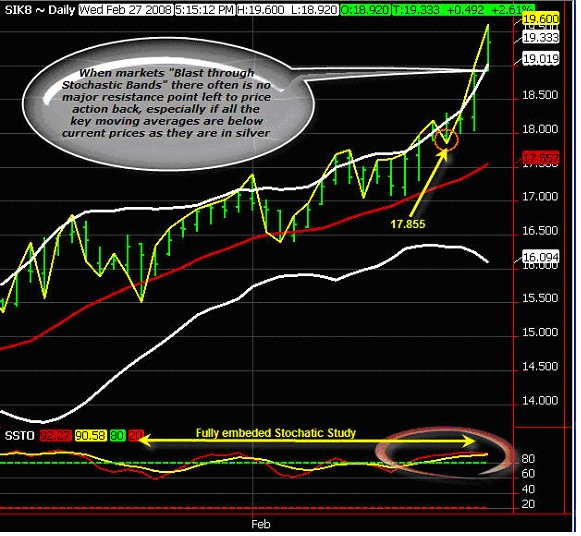 When looking at the above chart, the first thing I notice is that Stochastics are fully embedded, which is bullish. The second thing is that since the most recent break low of 17.855 is nearly $1.80 away from where prices are now at. This rally has occurred in but 3-days and in the process prices have shot through the Bollinger Band High, the white line above, leaving no resistance points on the chart.
It's not about getting long. Rather it's about doing it in a way that allows you to manage risk, at least to some degree. This run away move doesn't allow for that.
Recommendation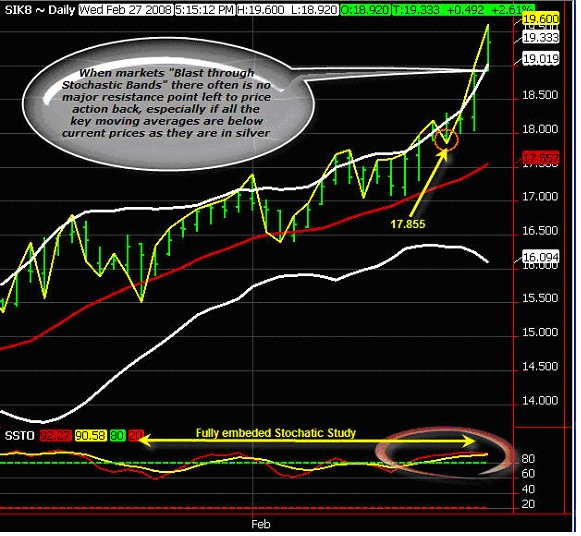 I have none just now. I know I will recommend using Call Spreads once prices correct.
Last week I said, "Experience tells me that we're seeing a bit of a "feeding frenzy". Funds are probably buying up hard assets like there is no tomorrow. This often sets the stage for downside corrections."
Obviously the downside correction hasn't yet been seen. Be patient as there is always one. Get yourself ready to enter once it sets in, as the downside correction may not last very long. I will keep all updated through my Twice Daily E-mails.
To learn more about us or to get started trading through us simply go to our website at
http://www.iepstein.com
and fill out the New Investor Kit Form. A CD-Rom will be sent to you. At the same time you will instantly begin receiving access to and instructions on how to access our daily market research, trading recommendations, charts and much more.
If phoning us is easier for you our phone number is
1 800 284 3010
.
We handle trading accounts from individuals in a number of foreign countries as well.
Disclaimer: This publication is strictly the opinion of its writer and is intended solely for informative purposes and is not to be construed, under any circumstances, by implication or otherwise, as an offer to sell or a solicitation to buy or trade in any commodities or securities herein named. Information is taken from sources believed to be reliable, but is in no way guaranteed. No guarantee of any kind is implied or possible where projections of future conditions are attempted. Futures and Options on Futures trading involve risk. In no event should the content of this market letter be construed as an express or implied promise, guarantee or implication by or from Ira Epstein & Company or Shatkin Arbor, Inc. that you will profit or that losses can or will be limited in any manner whatsoever. No such promises, guarantees or implications are given. Past results are no indication of future performance.