Ron Miller's Portfolio Action Update is a periodic update of his technical analysis viewpoint of the financial market environment and the current portfolio management posture for his precious metals portfolio strategies. Ron Miller and Martin Truax, Managing Directors at Morgan Keegan & Co., lead the Investment Planning & Management Group (IPMG) in Atlanta . Martin and Ron moved their group from Salomon Smith Barney, where they had been for 29 years, to Morgan Keegan at the beginning of 2001.
The table below includes both Short Term (S - T) and Intermediate Term (I - T) Rating results of our technical analysis of the price direction for the Styles and Sectors we follow. The intention is to give you insight into the time frames that are involved in our portfolio management process. Short Term ratings capture more of the wiggles in the market while the Intermediate Term ratings capture more of the trending aspects of the market. If we are in a period where the market is in a trading range with little trend direction, the Short Term ratings are more useful. On the other hand, if the market is in a longer term trending mode, we put more emphasis on the Intermediate Term Rating results. Note that signals can change in between reporting periods which may be confusing at times. For example, a Green light may have changed to Red and back to Green since the last report. The Rating Table would still be Green but the signal date would have changed from that shown on the prevous report..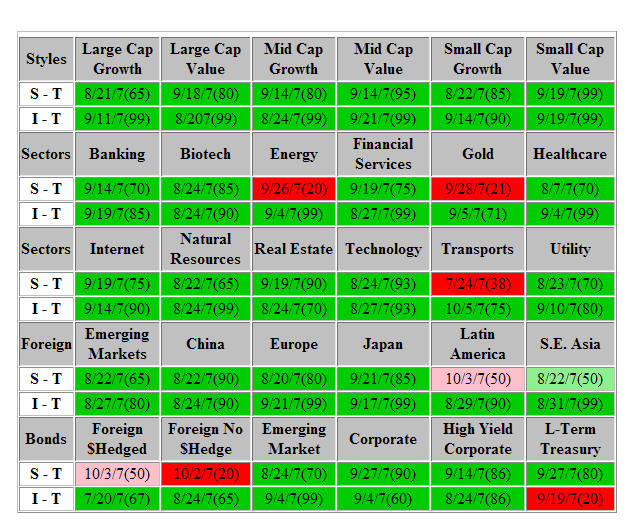 Rating Table remains bullish with predominately Green lights.
However, the stock market is moderately overbought on a short term basis as indicated by a number of short term overbought/oversold oscillators. For example, the McClellan Oscillator closed Friday at an moderately overbought reading of 180.3. The American Association of Individual Investors (AAII) ratio of Bulls to Bears is over 2 to 1. In July it peaked at 1.5 to 1.0. The Investors Intelligence Advisor Sentiment ratio of Bulls to Bears is at 2.26 to 1, which is moderately bearish, however, it reached 3 to 1 at the July peak. It is bullish when this ratio is closer to 1.0. Therefore, short term weakness would not be a surprise. However, if the economic data begins to indicate that Fed may not lower the Fed Funds or the Fed Discount Rate any further and/or the monetary growth of MZM turns back down sharply, a more normal correction could occur before the end of the year.
There has been an obvious ratcheting up of the negative talk about Iranís actions in Iraq in recent weeks. This may be setting the stage for increased military action across the Iran/Iraq border or beyond. At least initially, this would not be a plus for the stock market, in my opinion. We believe that the financial markets will likely sense any pending military actions that may be in the works and become more defensive ahead of time. We will be keeping a close watch on the Rating Table, as always.
The stock market closed Friday around the previous July highs for many indexes with some above and some below the July peak. The list below gives us an indication of the relative strength and weakness of the rally since the July highs and the August lows. The percentage change shown is from the closing price high, during the month of July, to Fridayís close.
NASDAQ 100 Index + 10.93%
Philadelphia Gold Mining Index + 8.22%
Goldman Sacks Commodity Index + 4.97%
Light Sweet Crude Oil (NYMEX) + 3.96%
NAADAQ Composite Index + 1.48%
S&P Energy Index + 1.09%
Dow Jones Industrial Average + 0.47%
S&P 500 Large Cap Index + 0.29%
Dow Jones Utility Index - 1.12%
Russell 2000 Small Cap Index - 1.27%
S&P 400 Mid Cap Index - 1.35%
Value Line 1700 (Equal % weighted) Index - 3.78%
Amex Oil Co. Index - 5.17%
Dow Jones Transportation Index - 8.25%

The NASDAQ 100, which is heavily weighted with technology stocks, has produced the best performance, whereas the Dow Jones Transportation Index has seen the worst. Technology and natural resources, in general, have shown the best relative strength, so far. However, although the price/barrel of Light Sweet Crude traded on the NYMEX has risen 3.96% to close Friday at $81.3, the S&P Energy index of major oil companies has only increased 1.09% and the Amex Oil Co. Index of smaller oil companies has actually declined 5.17% since the July high. On the other hand, the relative underperformance of the DJ Transportation Index may be waning, as discussed in Industrial Sectors section.

Capitalization Styles

Double Green lights across the Capitalization Styles. The Intermediate Term lights have all but one with Rating numbers of 99 (100). The only holdout was the Small Cap Growth style with a reading of 90. These high rating numbers are a reflection of the strong surge in the Capitalization Styles since the low back in mid August. The Rating Table bullish bias shortly after the stock market low on August 16, has kept our equity growth and income strategies participating in this sharp rally. Obviously, the market liked the Fed action of lowering both Fed Funds and the Fed Discount Rates, as we expected and discussed in previous reports.

The Growth Style continues to lead the way YTD, but we do detect improvement in the Value Style Rating numbers. Last week, the S&P500 Barra Large Cap Value index was up 2.59% compared to the S&P500 Barra Large Cap Growth index rise of 1.34%. Similarly, the S&P400 Mid Cap Value index was up 3.28% compared to the S&P400 Mid Cap Growth index that was up 3.25%. The S&P 600 Small Cap Value index was up 4.53% compared to the S&P600 Small Cap Growth index that was up 4.34%. Although the relative gains in Value over growth were modest, this is a big improvement in the relative performance seen for most of the year. I believe that last weekís Value Style performance is likely an indication that the big underperformance of Value relative to Growth is due for some further closure if this rally phase continues.

Industrial Sectors

I believe the Short Term Red lights for the Energy and Gold mining sectors is an indication that there is a lot of short term oriented money in these sectors that have a hair trigger on their sell buttons. This includes all types of natural resources including real estate. That is ok, as these sectors have had remarkable growth over recent years and are subject to some rest from time to time. Nevertheless, we remain secular bulls on the natural resource sectors. Apparently, some investors still donít quite understand the global secular demand for natural resources that is being powered by the growth of emerging economies with massive populations. These formerly under developed and primarily agrarian societies are becoming modern producing societies with a growing appetite for consumer goods and services.

All of this globalization is being fueled by the enormous amount of investment caital and unbounded access to knowledge and technology. I believe this is an amazing and historical journey that is underway with an exciting but undefined destination. As history teaches us, their will likely be some bumps and pot holes along the way to try to avoid..

PORTFLIO ACTIONS FOR THE MARKET WEEK ENDING 10/5/07

Energy/Defense/Resources Plus - EDRP: The Energy Services allocation was increased last week. The current sub-sector allocations for the EDRP portfolio are 8% Energy Services, 16% Energy Exploration & Production, 5% Alternative Energy, 14% Defense-Major, 7% Defense-Components, 6% Security Systems, 17.5% Precious Metals, 8% Natural Resources and 3% Agricultural Resources. The net market exposure is 84.5% with Money Market reserves of 15.5%.

Natural Resource Plus - NRP: We added to the Energy Services and Energy Exploration & Production over the past couple of weeks. The current allocations are 8% Gold Bullion, 27.5% Precious Metals Mining, 5% Energy Services, 15% Energy Exploration and Production and 23% Natural Resources. Net market exposure is currently 78.5% with Money Market Reserves at about 21.5%.

Gold Portfolio - GLD: No changes last week. The Gold Mining sector generated a Short Term Red light on 9/28/07, but the Intermediate Term light remains on Green. The Gold mining sector has been in a mild correction for a couple of weeks with a sideways consolidation pattern. Not bad action after the surge that began in mid August and Friday was a nice up day. However, we will see what happens early next week before taking any action either way. A drop below the low last week for the Gold Mining Index (XAU) would be a further negative sign for the near term. The current allocation is a 15% gold bullion position and 70% precious metals mining securities, which includes a 10% specific silver mining allocation. Money Market reserves are about 15%.


Tactical Asset Allocation Style & Sector Signals:
Ratings 60% and Above are a Green Light
Ratings 40% and Below are a Red Light
Ratings 41% to 59% are Neutral
Light Green indicates going from Green to Neutral since last Signal Date
Pink indicates going from Red to Neutral since last Signal Date
This is a reduced version of Ron Miller's Tactical Asset Allocation Style & Sector Signals table. Ron's portfolio management process includes the technical analysis of over 400 mutual funds that have been selected to represent forty four different styles and sectors that are tracked daily for both Short Term and Intermediate Term direction signals. These include the 9 Morningstar portfolio management style boxes plus 16 equity sectors, 10 international styles/sectors and 9 bond sectors. Ratings are based on the percentage of securities followed in each category that are on buy signals. Short Term (S - T) signals are based on daily price data and may be different and change more frequently than the Intermediate Term (I - T) signals that are based on price action for a trailing 5 day period. These ratings are subject to change at any time and obviously their accuracy is not guaranteed. Individual securities may perform differently from these signals. These direction signals are a useful tool in the portfolio management process but are not the sole determinate of actual portfolio style or sector weightings. They should not be interpreted as a buy or sell recommendation for any specific financial securities and do not reflect positions of Morgan Keegan. Market data used in this analysis is believed to be from reliable sources but its accuracy can not be guaranteed. Past performance is not indicative of future results.

Portfolio Action Update Explanation: I try to confine my comments to a discussion of what recent action has occurred in these portfolios and my current technical analysis posture. In general, my portfolio management approach is to determine current market conditions through technical analysis and to position the various portfolios strategies to participate in the current environment. Although I usually have an opinion of the future direction of the market, I donít rely heavily on my opinion in the portfolio management process. Neither opinions, technical analysis or fundamental security analysis produce perfect results. There is always a degree of risk present.

These comments will usually be written on the Weekend. However, a few days may transpire from when they are written and when they are posted on the web site. Obviously, the technical analysis signals and portfolio positions could have changed in that timeframe. Therefore, this technical information and related comments should only be read from a historical perspective, and may not reflect what the current analysis and portfolio positions actually are when you read this update. You can call us for the most current update if you wish.

Although the Technical Analysis Ratings illustrated in the table below are a very useful tool in our portfolio management process, these ratings are not the sole determinate of the asset allocation positions held in our various portfolio management strategies. This information is not intended to be a solicitation of a buy or sell of any financial security. The opinions expressed herein are my own and do not reflect the position of Morgan Keegan & Co., Inc. Past performance is not a guarantee of future results.